Montreal BBQ is now a thing, and here's where to get it
Historically, BBQ has never been particularly huge in Canada, probably because the cheese curds keep falling through the grill. Armed with cast-iron skillets and oak-burning smokers, however, a few brave confederates have set up shop in Montreal's frozen promised land to try and change all that. These char-illuminati are here to baptize Canada in the holy flavors of Dixie, and these are the restaurants where you can find them…
Dinette Triple Crown
Little Italy
What you're getting: THE BIG NASTY
Kentucky-bred Chef Colin Perry's Southern recipes have become so popular, there's a line out the front door most days. Although Triple Crown does everything from shrimp & grits, and red beans & rice, to crispy pig's head -- it's the Big Nasty that'll make you come to Jesus. This Carolina-style pulled pork sando is loaded w/ smoky BBQ sauce, topped with a crunchy 'slaw, and served on a soft potato bun. They'll even pack your to-go order in a picnic basket (checkered blanket included) to take across the street to Parc de la Petite Italie.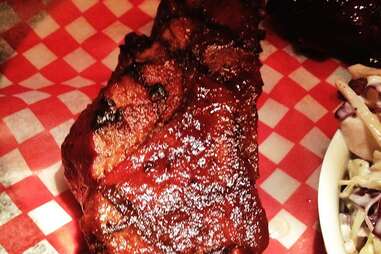 Diablos
Latin Quarter
What you're getting: RIBS
Correction: go here for the rib. Singular. Their badass beef bone comes painted in sweet & smoky BBQ sauce, hulking on the plate like an enormous dinosaur leg, and's paired w/ their cast-iron cornbread and signature fried pickles. The restaurant concept was inspired by owners Jason Joyal and Rick Escaravage after a road trip to Texas in a '53 Pontiac -- they hit every smokehouse along the way, and've poured that knowledge into this place.
Blackstrap BBQ
Laval
What you're getting: BRISKET
Don't know BBQ "bark" from a "smoke ring"? The pit masters at Blackstrap do. And they're about to school you. Over the course of the 12-hour smoking process, their authentic Memphis dry rub creates blue ribbon-worthy "bark" (or crust) on the brisket outside and deep pink smoke rings on the inside. But don't get your feelings hurt if there's nothing left when you show up. With a limited supply of succulent meats each day (there's only so much room on the grill), you'll need to keep tabs on their Twitter and Facebook feeds to know if supply runs low. Good things come to those who... line up early.
Icehouse
Plateau
What you're getting: THE SAUCE, ON ANYTHING
Every hog's dying wish is to be coated in Icehouse's signature Dr. Pepper BBQ sauce. Equal parts sweet, spicy, tangy, and smoky, pour it over baby back ribs, tacos, chicken, or pulled pork. Order your meat by the bucket (half or full bucket are the portion sizes -- no joke), and pull your napkins out of the wall-mounted paper towel dispensers. Lined with benches and bar stools, the tiny interior feels like a cozy Texas roadhouse. The menu is full of other surprises, too, like the lobster burrito and pickled watermelon rind. Wash it all down with spiked lemonade or whiskey ice tea.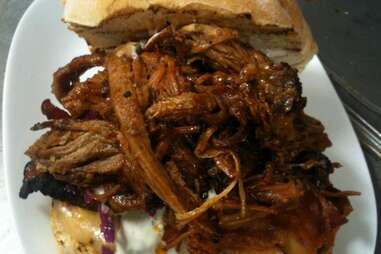 Le Fumoir Rubs
The Main
What you're getting: PULLED PORK
Its much anticipated reopening has BBQ lovers lining up at both Laval and Montreal locations. After winning People's Choice for best pulled pork at Brossard's BBQ Olympics, Le Fumoir proves this ain't their first rodeo. Their Southern recipes have a unique Quebecois-twist: meats are smoked over Montreal maple wood for a smoky, subtly sweet, maple flavor -- their motto is, "Smoking is good for you."
Le Boucan
Little Burgundy
What you're getting: SMOKED CHICKEN
After being featured on Food Network's The Opener, Le Boucan can't hold down an empty table. The dining room is paneled with reclaimed wood from country barns, and hand-written menu tiles hang over the bar. While the ribs and pork are feats of meaty glory, their smoked chicken is the real star. Crispy blackened skin, moist smoky meat -- this is the only chicken that makes ordering white meat at a BBQ restaurant sensible. But hold your horses. Don't leave without a slice of buttermilk pie topped with salted caramel.