Our dear cousins to the South may have their faults, but inventing meat-laden, bunned treats is not one of them. The burger renaissance that has rocked Montreal for a few years is now paying off big time, so we've rounded up the finest burgers in town for your edification...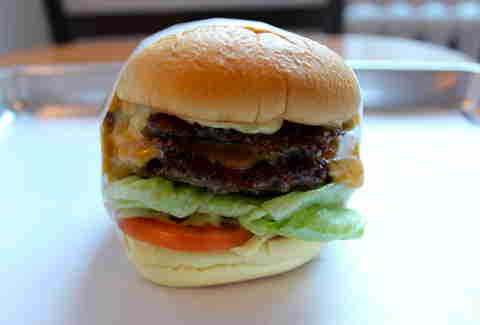 The Uniburger
Uniburger (address and info)
Quartier Latin
It took some guts for Uniburger to open shop in the ex-home of La Paryse (RIP), a famous burger joint whose loss was mourned by many. But this might be a blessed address, because Uniburger continues the burger magic with this amazingly juicy number, thanks to the AAA Canadian beef (minced daily), molten cheese lava, and special Uniburger sauce. Hey, they didn't win last year's Burger Week with this one for no reason.
The Mob
QDC Burger (address and info)
Downtown
High-end steakhouse La Queue de Cheval recently opened this back alley counter that serves up haute buns on the go. The Mob is a mean deal of pepperoni, sautéed mushrooms, mozzarella, spicy harissa tomato sauce, and spring truffles. Alleluia.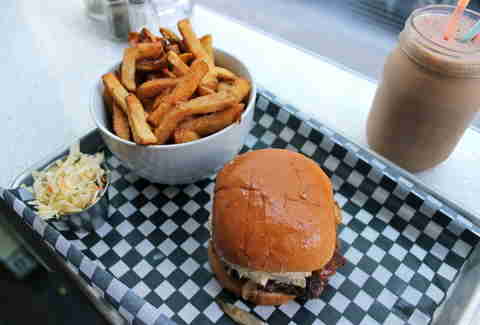 The Coke burger
Le Gros Jambon Diner (address and info)
Old Montréal
This charming little Old Port address with a friendly and cool staff delivers this amazing meatwich made with caramelized onions, real and crispy bacon, and their signature Coca-Cola mayo. Oh -- and a deep-fried dill pickle, which is as amazing as it sounds.
The Shrimp burger
Kazu (address and info)
Downtown
Mastermind Chef Kazuo Akutsu offers this must-devour haute burger for a knockout price ($12) in his tiny and always-busy Downtown Japanese resto. The grilled patty is made with fresh Atlantic black tiger shrimp and is well worth the line (because there is always one).
The Hangover burger
Burger Bar Crescent (address and info)
Downtown
This beast is the Hangover burger. Winner of the 2012 Burger Week People's Choice Award for Best Burger in Montreal, it's a tower featuring a AAA beef patty, American cheese, bacon, "mini" poutine, fried egg, caramelized onions, and truffle oil. Yes, that's everything you like in one bite.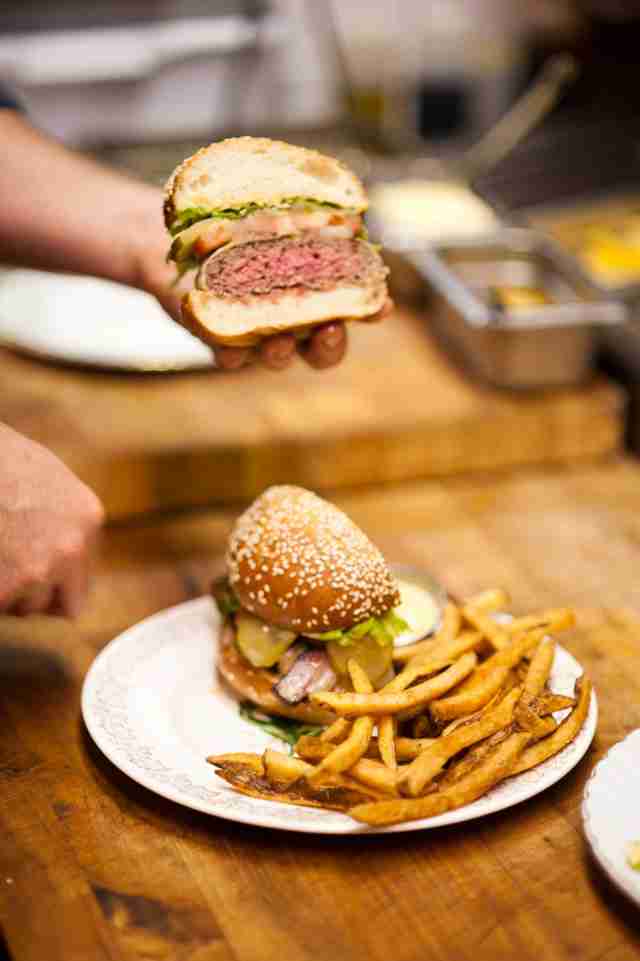 The Sparrow burger
The Sparrow (address and info)
Mile End
This hip, Mile End bar famous for its brunches also serves this delicious made-to-order burger for lunch. Get it medium rare. I'd also run across the street to get former Sparrow Chef Marc Cohen's burger (lunch only), at his must-try, all-the-rage British restaurant: Lawrence.
The Copoli Burger
Copoli (address and info)
Various locations
Hungry? Well at 8in across, this beast is likely the largest burger in Montreal -- and if you want to add a little more quality to that quantity, then spring for the cheese & bacon toppings.
The Buck Burger
Dilallo Burger (address and info)
Various locations
Italians making burgers? Yep, since 1929, you go to Dilallo for its Buck Burger, a perfected layering of spicy Italian capicollo, beef patty, cheese, relish, mustard, tomatoes, lettuce, and delicious homemade spicy Italian pepper, tucked inside their signature upside-down hamburger bun.
The Hulk burger
Jukebox Burgers (address and info)
Dollard-Des-Ormeaux
Just make the trek to this out-of-the-way, '50s-style diner for the Hulk burger. They've replaced the hamburger buns with TWO bacon grilled cheeses. Need we say more?
The cheeseburger
Dic Ann's (address and info)
Various locations
How could we not mention Dic Ann's? This homegrown fast-food chain invented this weird flattened burger that bathes in a very mysterious chili-esque sauce. You use a popsicle stick to lift it up and eat it all. Get (a few) cheeseburgers, all-dressed, for a whopping $2.80 a piece and if the red light on the wall is on, it's because the Habs won the game.