The 6 greatest donuts in Montreal
Katherine Sehl
Katherine Sehl
Donuts aren't the first things that come to mind when people think Montreal. French people. Poutine. Bagels. Smoked meat. Even strip clubs. Especially strip clubs. But not donuts. Well, that's about to change thanks to these fine places, and the beautiful pastry they produce.
Wawel
Notre-Dame-de-Grâce
What you're getting: They claim to have "the best donuts in the world", and that may be kind of an outlandish assertion (who's even tried all the donuts in the world??) but their prune-filled glazed ponki might just make you think twice before dismissing it.
Chez Boris
Outremont
What you're getting: The fine folks behind Chez Boris have brought the tradition of Russian ponchiki street vendors to a cozy little café on Parc St. Not only do their donuts appeal to the sweetest of sweet tooths, but they also offer savory beignewiches, which are, as the name suggests, donut sandwiches.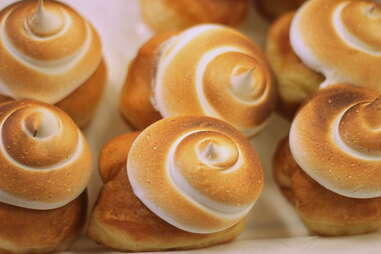 Léché Desserts Inc.
Sud-Ouest
What you're getting: We're not doctors or anything, but we're pretty sure that Léché's comfort-food-inspired donuts will make you feel better all the time, because let's face it, donuts are a comfort food. Doubly comfort yourself with a peanut butter & jelly donut, or their mixed berry cheesecake number.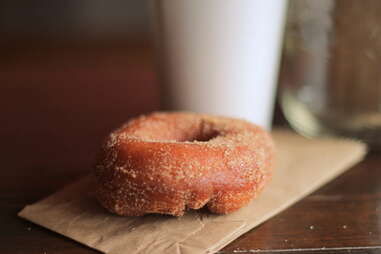 Café Sardine
Plateau Mont-Royal
What you're getting: Café Sardine is a café and donut shop by day, Japanese izakaya by night -- that may not be a totally classic combination, but their orange w/ chocolate icing donut certainly is, and they're joined by inventiveness like their rhubarb glaze, and classics like the straight-up goodness of their cinnamon sugar donut.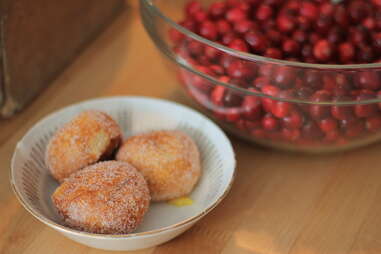 Lawrence
Plateau Mont-Royal
What you're getting: Nothing beats those warm bread rolls you get as a pre-meal appetizer.... nothing except for donuts! And since the resto-runners behind Lawrence love donuts so much, weekend brunchers are given lemon, custard, and chocolate 'nut puffs to whet their palates.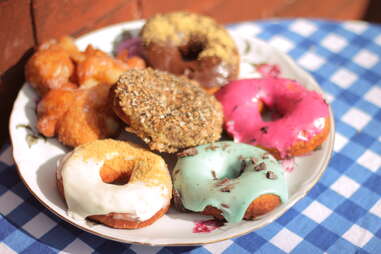 Les Beignes Saint Donut
Various locations (see below)
What you're getting: Despite not being a real saint (though it absolutely should be) Les Beignes Saint Donut is still pretty religiously good. You can pay homage at cafés across the city like Myriade, Odessa, and Melbourne where Saint Donut supplies candy bar & booze-inspired donut flavors like bacon/ bourbon/ maple, apple & vodka, S'mores, caramel & coconut cookie donuts, and pumpkin latté numbers.
Love free donuts? Find out where to stock up for this year's National Donut Day on Friday, June 2, 2017.