The problem in Montreal is that we have too many options. There are just too many great restaurants, quaint cafes, and cool gastropubs to choose from on a given night, which means most of us end up staying home with Netflix and delivery pizza. To make your choice paralysis a bit easier, here are Montreal's best neighbourhoods for eating out, conveniently ranked. We have taken into account the quality and quantity of eating establishments, as well as the general variety available in a given area. Apologies to those neighbourhoods we couldn't include -- if you know of a great bar in Kirkland, let's keep it a secret for now.
10. Notre-Dame-de-Grâce
Essential eateries: Prohibition, La Louisiane, Pizzeria Melrose, Tacos Tijuana, Cosmos Snack Bar
With a mix of upscale and thrifty, hip and ethnic, chic and homely, NDG has everything a discerning restaurant goer could want. You can enjoy the bright lights and beautiful people of Monkland Blvd, or sample the little eateries of Sherbrooke Ouest. Just follow the crowds: NDGers know where the best food is at.
9. Little Italy
Essential eateries: Pastaga, Pizzeria Napoletana, Bottega, La Cornetteria, Pizzeria GEMA
Some of the best experiences in Montreal involve grabbing some friends, a pizza to-go from Pizzeria Napoletana, and a bottle of wine from the corner depanneur, and just unwinding to the sounds of melodic Italian music in the nearby park. Affordable, satisfying, and authentic. Though not everything you're going to eat in Little Italy is going to be lowbrow, you can bet that it's all going to be delicious.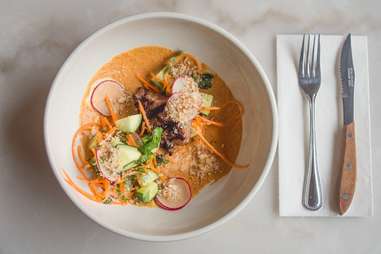 8. Downtown (Golden Square Mile)
Essential eateries: Cafe Parvis, Kazu, GaNaDaRa, Restaurant MKT
Downtown is loud, brash, and full of students milling about aimlessly. Those three qualities alone would make it anyone's least-favourite dining area… if it didn't make up for it with an extraordinary abundance of unique and excellent restaurants. Whether you're lining up outside Kazu for Japanese ramen, Restaurant MKT for Italian market-inspired eats, or GaNaDaRa for Korean grill… you get the drift. You won't be making a bad choice exploring the eats Downtown.
7. Little Burgundy
Essential eateries: Burgundy Lion, Le Vin Papillon, Joe Beef, Junior, Chez Sophie
The hottest foodie neighbourhood in Montreal used to be a few dilapidated city blocks -- until Joe Beef moved into the 'hood and other restaurants followed the trail. Now, whether you're looking for inventive tapas with rare wines, upscale Filipino food, homey British fare, or just a place to see and be seen, you would be well-advised to head to Notre-Dame East (east of Atwater Market).
6. Old Montreal
Essential eateries: Garde Manger, Toqué!, Olive & Gourmando, Taverne Gaspar, BEVO Bar + Pizzeria
Old Montreal is where you go when you're ready to shell out the big bucks and really impress your date. The oldest and most venerable area for Montreal's high-end restaurants could be seen as stale and uptight, but playful newcomers like Taverne Gaspar, Garde Manger, and BEVO liven up the scene and bring some healthy competition to juggernauts like Toqué! and Le Club Chasse et Peche.
4. La Petite-Patrie
Essential eateries: Yïsst, Beaufort Café, Santa Barbara, Café Reginé
Our favourite places to eat in Montreal aren't always fancy; but they're consistently good, considerate of their region and the changing seasons, unique -- and yet still have a modicum of irony and playfulness towards their approach to food that translates to unpretentious self-awareness. La Petite-Patrie bands together some of the best of these: experimental and unequivocally Quebecoise (even if they serve a different cuisine, like Santa Barbara and Beaufort Cafe), the area's shining-star restaurants are young, hip, and thirsty for success. The area still has a few years to prove itself before it can climb up our dining chart, though -- Montrealers are notoriously loyal -- but it's making a damn good showing.
3. Saint-Henri
Essential eateries: Tuck Shop, Sumac, Satay Brothers, Ludger, Le H4C
It was a close competition between La Petite-Patrie and Saint-Henri for third place. But Saint-Henri prevailed simply due to longer standing; restaurants like Tuck Shop, Ludger, and H4C have established, and consistently maintained, diners' faith in their ability to surprise and regale. So when you're looking for a playful ethnic dinner, head to Satay Brothers or Sumac; and if you'd like to feel fancy without wearing a tie, Tuck Shop and H4C have got you covered. Bottom line is, most of what you seek shall be found in Saint-Henri.
2. Mile-Ex
Essential eateries: Depanneur Le Pick-Up, Dinette Triple Crown, Le Mile-Ex, Restaurant Manitoba, Alexandraplatz
From the best Southern soul food and bourbon cocktails in Montreal, to some exceptionally experimental local fare using fungus and foraged herbs, Mile-Ex is quickly establishing itself as the up-and-coming neighbourhood for classy, unique eats. Though at first glance, it seems like a strange, abandoned part of town, Mile-Ex is everything but. As the new artist enclave, creative restaurants and start-ups have followed, cashing in on space while it's still cheap. And with the Jean-Talon Market hardly a stone's throw away, it's also an area that's deeply connected to local artisans and farmers offering samples of their produce as you scale the rows and rows of stands (how else would you know it's that good?). Be sure -- you won't find a run-of-the-mill KFC here.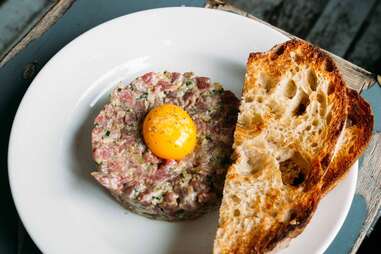 1. Mile End
Essential eateries: Lawrence, Lili.Co, Aux Vivres, Beautys Luncheonette, Wilensky, Buvette Chez Simone, Bagel Etc
Trendy restaurants may come and go, and neighbourhoods will get gentrified faster than you can read this article. But history stands for itself -- and Montreal's best eating neighbourhood earned its place for its venerable past as well as its outstanding present. Institutions like Beautys, Wilensky, and Bagel Etc still hold their own alongside the starched linens and tattooed waiters of Lawrence, Lili.Co, and Aux Vivres (minus the linens), and the result is a rich dining scene that is in a constant dialogue with itself, this city, and its terroir.
Sign up here for our daily Montreal email and be the first to get all the food/drink/fun in the City of Saints.