Montreal is a great city, made up of some great neighbourhoods, almost all of which have great places to eat. But what if, for some weird Twilight Zone-related reason, you were compelled to stay in only one, but you were generously allowed to chose which it was? Which neighbourhood would take -- and give -- the cake for the best food and drink in the city? Well, we found out...
10. Mile-Ex
Alexandra-Marconi, Architect's District, Mile-Ex... call this weird, semi-industrial-turned-condo-haven enclave of 1.5 square miles what you want, its nascent food scene is hard to ignore. Think of pioneer Dépanneur Le Pick Up (literally a corner store with a grill), the biergarten-inspired Alexandraplatz, Dinette Triple Crown's Southern food in picnic baskets, on-trend Dispatch Coffee, and upcoming 100-seater Brasserie Harricana and you know it's not the last time you'll hear about this area. It's just starting.
9. Griffintown
Gentrification happened in the blink of an eye in this former working class neighbourhood turned super-trendy area full of classy condos and upscale restaurants. We're not even sure if locals have a place to buy a pint of milk around here, but who cares when you can have brunch at Griffintown Café, dinner at Chez Sophie, Nora Gray, Code Ambiance, or the soon-to-open Filipino restaurant Junior? Brasseur de Montréal aside, there are just too few places where you can just go for a drink.
7. Mile End
Don't get us wrong; hipster central has plenty to offer for anyone looking to have a delicious and cool night out. Think Lawrence, The Sparrow, Pizzeria Magpie, Damas, weirdo The Emerald Hotel, or Kabinet/Datcha, not to mention the best bakery in town (Boulangerie Guillaume), but the experience of it all often feels very much the same from place to place. The combo of wood furniture, cool light fixtures, and local artists cannot always do the trick.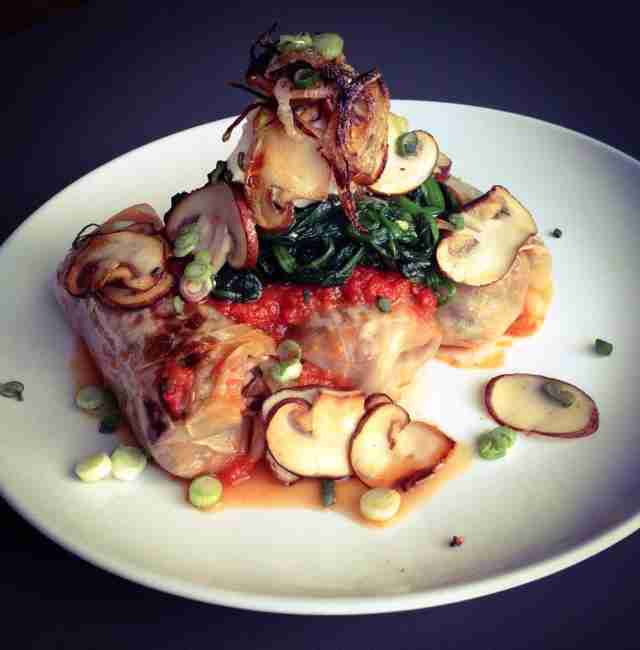 5. Downtown
The area surrounding Le Quartier des Spectacles finally has its own hot spots that aren't catering to suburbia going to some festivals (read: tacky and overpriced). Swanky Bar Furco and sister lunch spot Café Parvis is where you go to see and be seen, while Labo Culinaire, Biiru, and one of Montreal's greatest restaurants, Bouillon Bilk, are sure bets for memorable meals.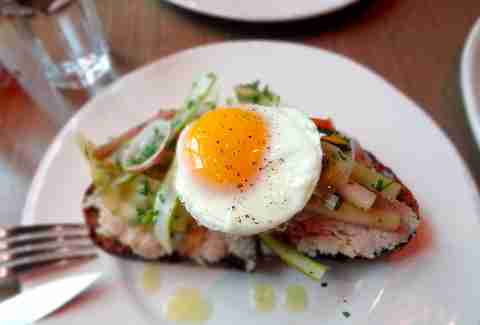 4. Vieux-Montréal
There are many many great restaurants (Ikanos, Les Accords, Le Bremner, Mercuri), brunch spots (Olive & Gourmando), cafés (Titanic), and places to go out (Philémon Bar, Flyjin). But it's pricey. That said, there is also the charming architecture, the cobblestone streets, the fact that it's gorgeous, and the views of the river that make it completely worth it.
3. St-Henri
This Southwest neighbourhood has been on the rise for some time, but it's now truly in full bloom. What's so fun about this 'hood is that from high end (H4C Place St-Henri, Tuck Shop), to hip, low end (Grumman 78, Sumac), to its busy bars (Ludger and Bar de Courcelle), crowds are refreshingly varied. Keep it up, St-Henri, we'll be coming for more.
2. Little Burgundy
This 'hood is small, tiny even, but everything is pretty damn amazing here. On this wee stretch of Notre-Dame St, you can find Joe Beef, his little brother, Liverpool House, and now little sister, Le Vin Papillon, all next door to each other, thanks to famed chefs and restaurateurs David McMillan and Frédéric Morin, who elected Little Burgundy as their gourmet HQ. Drinkerie Ste-Cunégonde and Burgundy Lion add laid-back spots to go for drinks and Patrice Patissier serves up the best pastries in town in this shop/wine bar/restaurant.
1. Plateau Mont-Royal
Well, yes. The good ol' Plateau earns the crown. It's where you can get the most diversified offering in tastes, crowds, and prices. There's a bit of everything for everybody, like amazing bakeries (Patisserie Rhubarbe, Hof Kelsten), some of the best bars in town (Casa del Popolo, Big in Japan Bar, Majestique), great, cheap fare (Romados, Schwartz's, Patati Patata), and restaurants you can bring anyone, anytime, and will always be a hit (Le Comptoir Charcuteries et Vins, Maison Publique, Au Pied de Cochon).