Well hold it down, Montreal. Restaurateurs seemingly elected en masse over the hot Summer months to open up shop, with over 20 new places -- a number that we've ironically managed to slim down, picking only the best eight. You're welcome.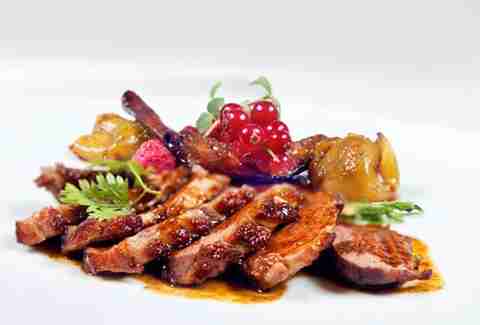 Griffintown
After many years abroad, and many successful restaurants later (Lebanon's Chez Sophie and TOTO), Lebanon-born, Montreal-grown, France-trained Chef Sophie Tabet, brings her elegant French/Italian cuisine to the city that saw her career debut. At dinner, you can expect the likes of beef fillets w/ a coffee emulsion, or roasted scallops w/ truffle cream ziti, while sommelier Marco Marangi (Sophie's husband) can match it all to a decent bottle.
Gay Village
A welcome addition in an area with few chef-led eateries, Ma'tine is brothers Maxime and Jérémy Daniel-Six's (from Micro Resto La Famille) new venture. It's a daytime, 7-to-7 formula, meaning you'll get a café in the morning, bistro/takeout at lunch (including inventiveness like beef shank w/ wasabi & lime), 5 à 7 snacks w/ natural wines, and a gorgeous terrasse. Also? The weekend brunches are served until 5pm.
Little Italy
Star Chefs Stefano Faita and Michele Forgione join forces again, this time for a laid-back pizzeria situated right across the street from their acclaimed Impasto. This 50-seater offers pizzas cooked in an electric deck oven imported from Northern Italy (no fire!), classic Italian starters like fried calamari, meatballs, as well as frozen custard from Laiterie Chagnon for dessert. Since their schedule is only posted on their front door for now, know that it's open for lunch Thursday through Saturday and from 5pm onwards Tuesday to Saturday. No reservations.
*GEMA is on vacation from August 17th-25th
Plateau
As its name indicates, partners Alberto Rivera and Chef Demetrio Vasquez bring you classic Mexican fare like, well, tacos and tortas (incl. steak & grilled cactus, or chorizo & cheese), and make all of their tortillas, buns, and churros in-house. Hit the 5 à 7 for drink specials and stay tuned for upcoming lunch hours.
Old Montreal
There is now a local chapter to Barcelona's Tapas 24 by the Michelin-starred Catalan chef, Carles Abellan, in Old Montreal. The MTL Cuisine group (Bar & Boeuf, Les 400 Coups, Helena, and Racines, to name a few) is behind the operation and so is TV personality Sébastien Benoît (!). Indulge in some classic Spanish tapas, like lamb brochettes or ham croquettes, and drink from a wine list made by leading sommelier, François Chartier.
Plateau
Japanese sushi bar meets French bistro cuisine at this new Plateau spot that goes beyond "fusion" -- downtempo music included, offering contemporary dishes from both cultures, in separate menus, that pair well following each other -- find BBQ eel on one menu, and roast duck breast in orange sauce on the other -- courtesy of Chefs François Leleu and Satoshi Matsumoto (of famed Jun i).
Saint-Henri
A second pizza place makes the list! Which is great news since it's about time Montreal starts putting some thought in its pizza-making. This one, located in the booming food scene of Saint-Henri, swears by its wood-burning oven to deliver classics, as well as comfort food options (onion soup pizza, anyone?). They also compose market fresh dishes, daily, except Sunday, when they are closed.
Petite-Patrie
Restaurant Mile-Ex expands by opening an in-house ice cream bar that serves sorbets, milkshakes, ice cream sandwiches, and "spoum". Huh? Spoum is a British-style ice cream that has the consistency of a mousse, as they put it. Flavors come in classic (chocolate, pistachio, etc.), inventive (ginger apple cider), and straight-up weird stuff literally deigned for your dog made w/ iced veal stock balls.
This list -- and all the rest -- look even sexier in our iPhone app. Get it now!