If there's one thing that totally rocked in 2016, it was the slate of new restaurant openings in Montreal. From Peruvian-Japanese street food to African classics, this was a year of diversity, carefully crafted menus, and creative chaos -- and we loved every bite of it. Check out our choices for Montreal's best restaurants of 2016.
Griffintown
With a whimsical spirit and attention to detail exemplified in (but far surpassing) its infamous peanut butter and foie gras sandwich, Le Fantôme excels at serving classics revamped into artful dishes that also taste both delicious and familiar. The six of nine course tasting menus, some of the city's best, are both playful and elegant at the same time, reinforcing that Montreal's culinary world is a slugger that doesn't take itself too seriously.
Gay Village
Agrikol and its baby sister, Ti-Agrikol, opened this year to a resounding chorus of applause (and hype, thanks to its proprietors being in Arcade Fire). But thankfully, the restaurant lived up to every expectation, with its transportive decor and menu filled with traditional Haitian dishes like oxtail, accra fritters, and generous rum cocktails. These days, it's almost impossible to score a seat here on the weekend, and the reasons are plain to see.
Griffintown
Hvor's culinary ethos is driven by what's local and seasonal in a true homage to Quebec farmers and biodiversity, while also unintentionally capitalizing on the trend of giving the Danish a nod ("hvor" means "where"). The plates are thoughtfully sculpted; the food, constantly in flux, is colourful yet always balanced. But most importantly, the flavours here are clean, bright, and surprising. And in a year that was heavy on our hearts and minds, Hvor's beautiful cuisine was a source for a breath of fresh air.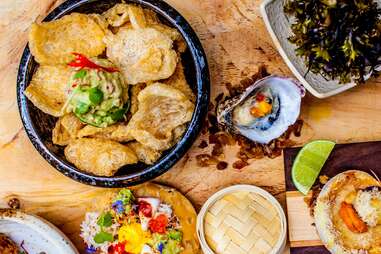 Downtown
Playful, colourful, and daring: those three words easily summarize the surprise hit of the year, Tiradito. Upon first blush, the marriage between Peruvian cuisine, with its quinoa and corn, and Japanese, the mecca of simple and clean flavours, may seem like a tenuous one at best. But once you enter the culinary realm of Tiradito, you will see that pisco and sashimi were always meant to belong together.
Plateau
Though African food may be an incredibly broad catch-all term, Le Virunga does its chosen cuisine justice by showcasing the variety of the continent's food traditions. With sparse Quebecoise adaptations, Le Virunga is one place where you can expect a modern and well-composed yet authentic plate of food.
St. Henri
A French-American diner with a bastardized spelling of 'foie gras' quickly became one of Montreal's newest late-night hotspots, and is proving itself as more than just the cool new place to be seen. With reinvented bistro classics and quality drinks, Foiegwa is an easy-going, charming, and accessible alternative to the city's stuffier French offerings. When you're eating at a place where you can order a chocolate milkshake and garlicky escargot in the same breath, you know all pretensions have been thrown out the back door.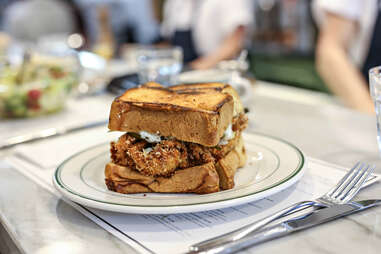 St. Henri
Arthurs Nosh Bar, though only open for brunch and lunch, just can't sling its artisanal lox fast enough. Come here for an elevated Jewish deli experience that pays homage to New York-style Ashkenazi classics like in-house smoked fish and plenty of cured meats. Plus, the housemade pierogi are good enough to put a Polish grandma to shame. Despite opening in the second half of the year, Arthurs has already established itself as a brunch staple.
La Petite Patrie
Hidden inside the shopping maze of St. Hubert in La Petite Patrie, Montreal Plaza is a gem that doesn't sacrifice its poshness for hominess in excess. Ex-Toqué! chef Charles-Antoine Crête and co-chef Blanchette Cheryl Johnson manage to delight and surprise, while still making us feel like we're eating an exceptional meal at a good friend's house.
Rosemont
Located in an arresting space with high ceilings, gigantic windows, and a long, almost nautical-themed bar, Hoogan et Beaufort is where the former chefs of another Montreal favourite Les 400 Coups get to play and explore with the best and freshest ingredients this province has to offer. From the two farmers the restaurant honours with its name (who sold their land to CP Rail in the 1800s) to the unfussy a-la carte menu, there is a true commitment to honouring producers in every step of the way.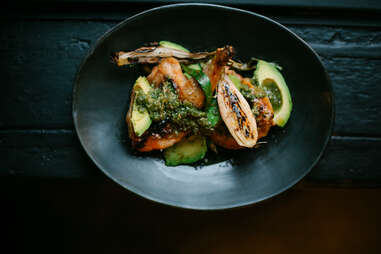 Griffintown
Foxy, the newest space from the team behind Old Montreal favourite Olive et Gourmando, has broken our never-ending cynicism with its expertly crafted house-churned butters and methodically thought-out menu that banks on the smokiness of its wood and charcoal ovens to create full-bodied dishes. The hearth-like interior only adds to this warmth. The plates are simple, intentional, recognizable, and elegant while being extremely delicious at the same time -- the true marks of mastery.
Sign up here for our daily Montreal email and be the first to get all the food/drink/fun in the City of Saints.
Ksenia Prints is a freelance writer and food blogger, photographer, and recipe developer for At the Immigrant's Table who loves exploring Montreal's dining scene. Follow her exploits in the kitchen and beyond at @immigrantstable.