The best poutine in every single Montreal neighbourhood
You're a Montrealer, and you currently have a pulse, so it's assumed you love poutine. This is its birthplace, and nowhere else will you find such an abundance of cheese curds, gravy, and fries -- but all those choices can be a little overwhelming, so to make things a little simpler, we tracked down the best bet in each neighbourhood...
Paulo & Suzanne (address and info)
Cartierville
Located in some far away residential 'hood, this 24-hour place manages to be always busy. Why? Well maybe because ever since the '80s, a friendly staff has been serving up some of the best fries in town in a charming '50s décor. In the nice weather months, place your order from the window like a regular (try a "La québécoise" -- Philly steak, pepperoni, onions, fried mushrooms, and peppered gravy poutine) and enjoy the terrace.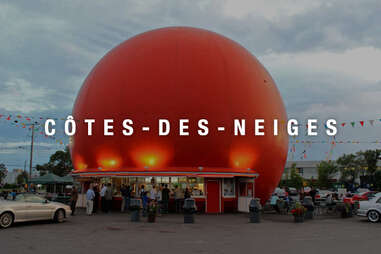 Gibeau Orange Julep (address and info)
Côtes-des-Neiges
Who wouldn't want to order fast food from a giant orange ball that sits besides the highway and once featured waitresses on roller skates who delivered burgers and fries straight to your car? Head over there mid-week and browse around the pop-up classic car show while you eat one of the most underrated poutines in the city, and wash it down with the signature Orange Julep.
Pataterie Chez Philippe (address and info)
Gay Village
Even after 40 years, this hole-in-the-wall "pataterie" is still run by the founding family (three generations!). Everything here is frozen in time: the décor, the Michigan sauce recipe... and the prices. Inspired by the original Kingsey family, get a delicious poutine for under $5.
Poutineville (address and info)
Hochelaga-Maisonneuve
Winner of the 2013 Poutine Week festival, this specialty curd chain is not for the amateur eater. They invent stuff like the "Heart Attack" poutine; a 15-pounder that will buy your cardiologist a new boat, or the "Fire Breather" that features tongue-immolating hot peppers, spicy sauce, and "911 chicken wings".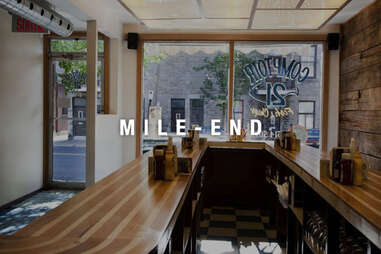 Comptoir 21 (address and info)
Mile-End
This fish & chips joint surprisingly serves up the best poutine in the area. And you would probably never guess that the gravy is vegetarian!
Garde Manger (address and info)
Old Port
Star-tatted chef and Canadian darling Chuck Hughes won the Iron Chef America lobster battle -- the epic televised food duel -- with this very lobster poutine dish. Beating one of the show's resident culinary masters is a rare occurrence and of all things, with a poutine? Reservations necessary.
Chez Ma Tante (address and info)
Montréal-Nord
Literally a counter with a roof, Chez Ma Tante's menu features four items... but less is more when you know what you are good at. The fries here are amazing, and you'd be a fool not to spring for a steamed hot dog ($1.90) while you're at it, because it doesn't get any better than this in this part of the city.
La Banquise (address and info)
Plateau
There's a taxi stand outside of this poutine place because that's how popular it is. There are 30 poutines on the menu, and topping combinations go from ground beef, Swiss cheese, hot peppers, and onion rings (Le Festival), to guacamole, sour cream, and tomatoes (La Taquise) and everything in between. Open 24/7.
Broue Pub Brouhaha (address and info)
Rosemont-La Petite-Patrie
This microbrewery not only serves one of the city's finest selections of craft beers, it also has one of the best poutines. Get the "Poutiflette"; a savory poutine topped w/ lardons, caramelized onions, leeks, a cream-based poutine sauce, cheese curds, and more cheese.
Green Spot (address and info)
Sud-Ouest
The (broken) mini-jukeboxes on the tables add to the '50s charm of this busy, old-school diner located in St-Henri, but you're here for the Sasquatch poutine -- a bacon-, caramelized onions-, and hot dog-laden beast.
Poutine Lafleur (address and info)
Verdun
There are a few good casse-croûtes in Verdun, but we'll give it to Poutine Lafleur, as poutine is pretty much what they do best. Fries are freshly cut on site, cheese is at the perfect temperature (the secret to make it "squeak"), and prices are low. Oh, and it's not to be confused with the hot dog chain "Lafleur". Not ever.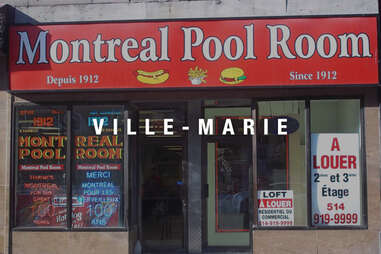 Montreal Pool Room (address and info)
Ville-Marie
This place is over a century old, so there's no need to tell you how much of a Montreal institution this is, especially when Al Capone and Leonard Cohen were once regulars. And don't expect any pool tables, they were part of one of the many lives this place had -- but do expect the best poutine in the neighbourhood.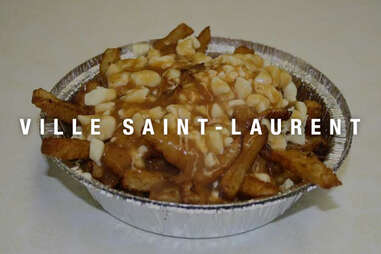 Decarie Hot Dog (address and info)
Ville Saint-Laurent
Opened for about 45 years now, this family-run Montreal institution might have gotten its fame for its steamies, but trust us, the poutine is really worth the detour, and's definitely the finest in their 'hood.