The 8 best sushi spots in Montreal
As anyone who's been desperately hungry at a gas station knows, good sushi is actually quite difficult to find. But this is a big city, and there are plenty of fish in the sea/streets -- and these are the raw spots worth checking out in Montreal.
Sushi Dépanneur
Plateau
You wouldn't expect to find one of Montreal's best sushi shops in the depths of Plateau, nor would you expect it to be a dep -- but that's how these guys do it. Browse through shoppable sushi supplies while you wait for heaping sushi platters filled with two-bite maki rolls and generous portions of fish.
KYO Bar
Old Montreal
KYO may be relatively new on Montreal's sushi scene -- they opened just last year -- and they may be tucked away in the basement of the ritzy Hotel Place d'Armes, but they haven't stayed underground for long. The caramelized onion, cheese tempura, spicy mayo, avocado, and beef sashimi Gaijin role will keep you coming back on the regular, which is ironic 'cause Gaijin means "stranger".
Tri Express
Plateau
Tri Du, the amazingly named sushi chef behind the shop's traditional-yet-creative menu, has loaded it with the likes of rice crackers topped with lobster and scallop, and even a damn sushi pizza that's about as tall as your head in piled-up toppings. Cash only, BYOW, & reservation required.
Sushi Hana
Longueuil
Sushi Hana may be a trip outside of the city proper, but it's well worth it; their extensive sushi menu includes one-of-a-kind options like Japanese curry, a bagel-inspired roll, and a sushi pizza that actually comes with cheese. It puts both sushi pizzas, and regular pizzas to shame.
Saint Sushi Bar
Plateau
How do you establish yourself as the baddest, trillest, sushi maker in town? You name a sushi roll after Tupac Shakur. Not completely sure what spicy mayo, tempura, avocado, cucumber, and Boston lettuce have to do with 2Pac, but hey, we're not asking questions. It's delicious, and it's not alone in being so on the menu.
Park
Westmount
Park may do a little damage to your pocketbook, but the caliber of sushi on offer here -- especially since Antonio Park's one of the only chefs in Canada to have a private fish import license -- is the kind of stuff you'd end up selling your first-born child for if you had to (or if you just don't like them very much). The chef-picked omakase tasting menu comes in several courses -- each packing their own punch of flavor and artistry -- and is the best way to stretch your dollar.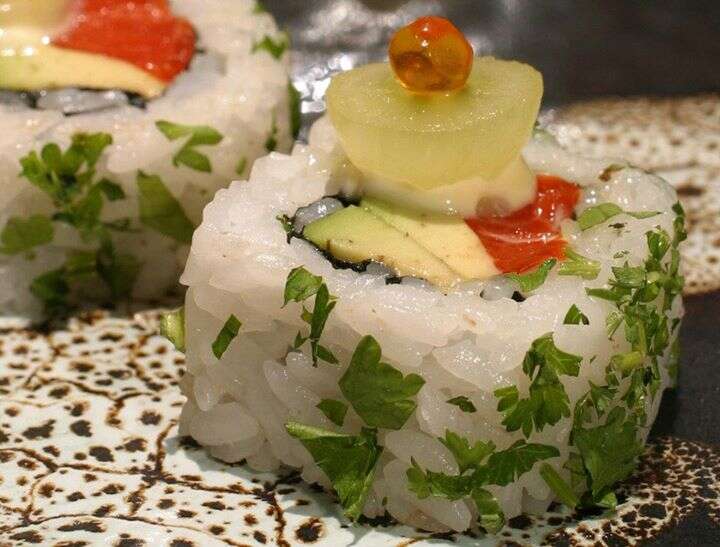 Mikado
Outremont
Don't leave Mikado without choosing something from their original maki roll selection. Of special note is their homage roll to Montreal hood NDG that comes wrapped in rice paper, and filled with tuna dynamite, tempura, avocado, green apple, and spicy sauce. Sounds about right. Also, a lot of famous people eat here too, like Samuel L. Jackson, and Pierce Brosnan, who'll probably dine another day here, too.
Mikasa Sushi Bar
Downtown
This is the kind of place where you'll want to book a low-tabled tatami room with a bunch of friends, order a bunch of specialty rolls to share -- especially the orange liquor-flamed Le Flambée roll -- and then mock their turgid bellies when they're unable to stand up again for a while.