The 10 best things we ate during Burger Week Montreal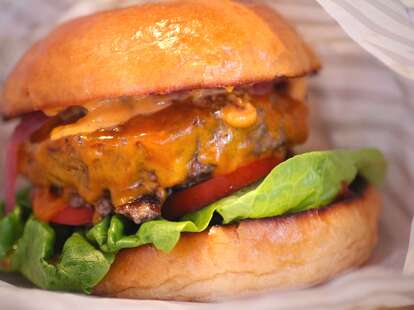 Credit: Jason Allen
Credit: Jason Allen
During the past week in Montreal, some of the city's finest burger establishments participated in Le Burger Week by creating incredible one-off meat-pucks and serving them with some sweet sides for 10 measly dollars. In case you missed it, we thought we'd rub it in by recapping the 10 best things we ate.
ART: brgr's "WTF" Cheeseburger
Wrapping your mind around this cheeseburger is about as hard as wrapping your mouth around it: it boasts a patty stuffed with penne mac & cheese, and's topped with lettuce, tomatoes, sautéed mushrooms, cheddar cheese, bacon, and smothered in a mango & Southern Comfort BBQ sauce. On a side note, their hummus is the best hummus you will ever have. Ever.
Burger Royal's Faux Boss Burger
This hot mess of a beef-bun starts with classic fixin's like lettuce, tomato, cheddar cheese, and spicy mayo, and then gets amped-up with deliciously deep-fried pickles & jalapeños.
Jukebox Burgers' The Hat Trick
The Jukebox definitely scores (!) with this 8oz beef patty that's stuffed in classic homemade-burger-style sourdough slices w/ grilled brie and Monterey Jack cheese, and then topped off with bacon, lettuce, tomato, and spicy mayo.
Le Gourmet Burger's The Awesome Burger
This modestly-named sandwich consists of a smoky, charcoal-grilled beef patty slathered in sun-dried tomato pesto, and topped with sautéed mushrooms, caramelized onions, tomatoes, arugula, and smoked gouda cheese.
Les Enfants Terribles' Le Burger Terrible
To be clear, there is absolutely nothing terrible about this burger, unless grilled salmon on house brioche bread w/ homemade lemon mascarpone, watercress, and red onion sounds terrible to you.
Lola Rosa's Hemp Burger
A burger that both causes and cures the munchies, this number has hemp seeds integrated into the lentil-loaded patty that's then drizzled in a house BBQ sauce and layered with caramelized onions, cranberries, guac, cheddar, and pickles.
McKibbin's Titanic Burger
Expect to sink into a delirious food coma after attempting this gargantuan-sized cow-wich that includes a half-pound patty layered with cheddar cheese, tender corned beef, and bacon. It stacks up tall with pickle salad and thick beer-battered onion rings, but the real showstopper is the drool-inducing Guinness BBQ sauce that's slathered all over it.
Newtown's The N Burger
Newtown's layered burger starts with a slice of sesame seed bread that's covered in melted cheddar and topped with lettuce and a beef patty, which is also topped with melted cheddar. That's stacked with another slice of bread, more lettuce, another beef patty, pickles, onions, and special sauce.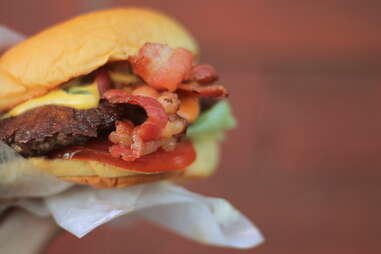 Uniburger's Double Uniburger with Bacon
This no-frills, no-nonsense number bravely keeps things classic with cheese, lettuce, tomato, bacon, and Uniburger's special sauce.
Diablos BBQ's Cheesus Burger
First, let's just appreciate how the creators of this burger have fully understood and embraced the frivolity of the bread-less beef-wich. Behold the masterpiece that is a chicken-fried beef patty drizzled in white wine cream, smoked ketchup, and topped with bacon and a cream cheese coriander sauce, which is all held together with two slabs of baked Halloumi cheese. Kneel down.