The quintessential guide to Montreal's best diners
If there's one thing the French Canadians hate worse than the cursed Americans, it's the fact that they love American food so damn much -- so while they may call them "casse-croûtes", they're not fooling anyone. These are US-style diners, through-and-through, and Montreal is loaded with them. Here are the best in the city...
Katherine Sehl
1. Wilensky's
Going to Wilensky's is like stepping back in time. Hardly anything has changed since they opened back in 1932 and in this case, that's a damn good thing. There's no sense in ordering anything here but the Wilensky special; a fried bologna sandwich so good it has its own Wikipedia entry.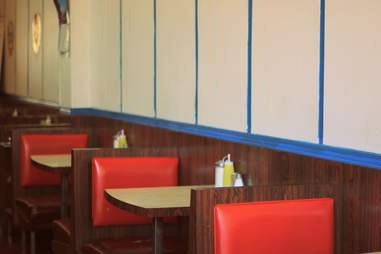 Katherine Sehl
2. A.A. Restaurant
If you're looking for an expectedly rude, yet somehow awesome, and downright greasy diner experience, then this is it. The no-nonsense counter-chefs who wear their grease burns like badges, and will make you one of the finest hot dogs in the city.
Katherine Sehl
3. The Green Spot
The chatty wait staff'll make you feel like you've been dining here since before you were even born, and the jovial old-timey atmosphere will make you feel so damn fuzzy inside that it doesn't even matter how the food tastes -- but we don't have to tell ya -- you know it's good. Especially recommended: the onion-ring & pogo stick poutine. It don't get greasier than that.
Katherine Sehl
4. Decarie Hot Dog
A cozy little joint tucked away at the end of the metro line -- Decarie Hot Dog's a little out of the way for most people, but it's totally worth the trip. Not only do they make a mean steamy, but they've also got what locals consider the best fries in town.
Katherine Sehl
5. Salonica
Taking the classic diner booth/counter format, Salonica adds a little flair thanks to the extensive pizza menu, and its Greek-style gyros, souvlakis, and pitas, their Chinese-style won-tons, and a scallop poutine. But don't worry, you can still get a burger.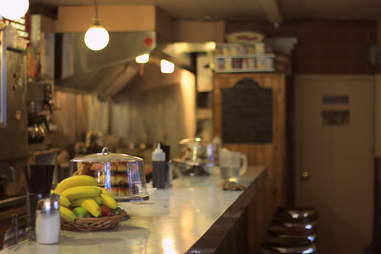 Katherine Sehl
6. Moe's Diner
This humble little hideaway's got all the classic fixings. Game shows on the TV by day and sports on the TV by night. Tiffany lamp-lit booths, and autographed portraits of hockey players hanging on dingy walls -- and not ironically either. Most of it's '58 original. Plus, they'll serve you breakfast at 4a with your toast all buttered up for you.
Katherine Sehl
7. Beaubien Nouveau Système
They may as well have put nostalgia on the menu in this joint. They're so no-nonsense here that they don't even bother with an order pad. They'll ask you what you want, call it out, and somehow, despite any acknowledgement from the cooks, it'll appear on the counter a few minutes later. Recommended? The bacon-loaded poutine.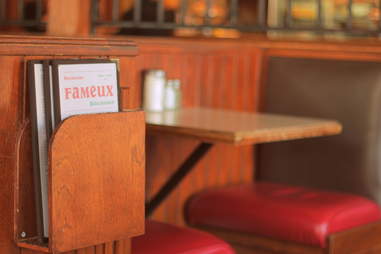 Katherine Sehl
8. Fameux Viande Fumée et Charcuterie
Bang-for-your-buck quality meals, excellent service, and nothing less -- they're known for their smoked meat (and rightly so), though worth taking a pass at is their poutine served gratiné-style, wherein they throw the dish into the oven just before serving, to make the cheese curds crisp up.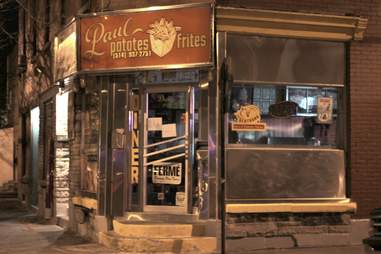 Katherine Sehl
9. Paul's Patates
Seeing as this place is called "Paul's Potatoes", you should probably sit yourself down on a counter stool, order potatoes in some form (poutine if you know what's good for you), and wash it down with one of their homebrew spruce beers, which is like root beer, except made from pine needles. Yep.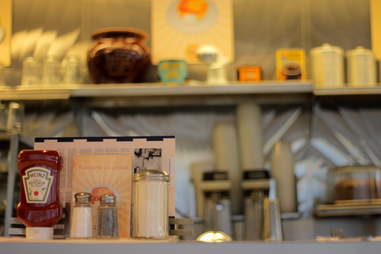 Katherine Sehl
10. Beauty's Diner
Beauty's have built up such a reputation that on most days, you'll have to wait in line to get in, but when you finally do, you can get your hands on their signature mish-mash (it's an omelette loaded w/ hot dog, salami, green pepper & fried onions) or the lox & bagel Beauty's special, and it'll all seem worth it...