How to include maple syrup with EVERY meal in Montreal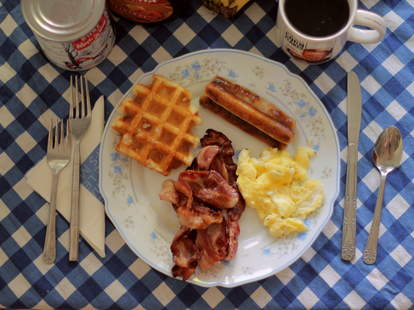 Canada is one of the few places where being a tree-hugger just means you want to get closer to the delicious, delicious maple syrup, and in that vein, here's our guide to including the stuff for literally every meal of the day -- from breakfast to post-dinner cocktails -- in some of Montreal's finest establishments.
Katherine Sehl
Breakfast:
We all know about pancakes and French toast, but few appreciate the glorious breakfast union that is maple syrup and meat. The folks at Les Enfants Terribles do a pretty non-terribles job with their fried chicken waffles that are doused in horseradish maple syrup.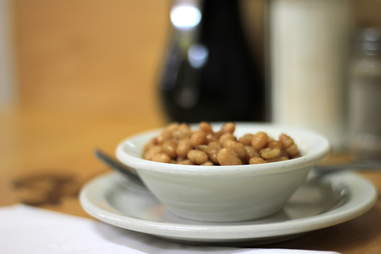 Katherine Sehl
Lunch:
Beans, beans, good for the heart, the more you eat, the more you realize that they'd be so freaking awesome if they were cooked in maple syrup like the fèves au lard are at La Binerie.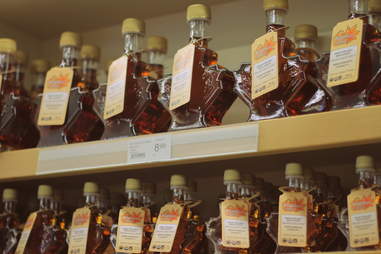 Katherine Sehl
Post Lunch Snack:
Choose from maple chocolate chip cookies, maple gelato, maple cream cupcakes, or just straight-up, who-are-you-trying-to-kid-anyway maple on a stick at Les Délices de l'Érables.
Dinner:
Um, you see this? It's Joe Beef'sFoie Gras double-down, w/ bacon & cheddar sandwiched between foie gras and slathered in maple, so let's face it, we could end the list right here... but in the spirit of fairness, you could check out Au Pied de Cochon's maple BBQ chicken wings, or if you're in the mood for sushi, Japanese restaurant Park will give you some flash-seared Irish organic salmon drizzled in the stuff.
Katherine Sehl
Booze:
Unsurprisingly, Au Pied de Cochon's syrup-loving Martin Picard has a maple daiquiri on his menu. Or, make happy hour just a little sweeter by sipping on some Sortilège -- an actual Canadian whiskey & maple syrup liqueur (no, not a typo, whiskey & maple syrup liqueur), at Le Lab.
Katherine Sehl
Dessert:
Now, make your peace with God/diabetes, and get yourself a pouding chomeur (a cake with syrup baked into it) at Les Trois Petits Bouchons or Bistro Cocagne. Or, just admit that what you're really after is a tarte au sucre -- a pie completely filled with maple -- at Mr. Pinchot.