It's entirely possible that you've been too busy trying to learn moguls in the hope that you just might bump into the Dufour-Lapointe sisters (worth it, dude) to keep up with the city's latest openings, but fear not, we got you covered. Here are the best spots to cut the ribbon over the past few months in Montreal...
Frunchroom
Downtown
As the name implies, the folks behind Montreal's latest Italian resto-bar are kind of into fusion. Expect traditional Italian with modern twists (goats cheese w/ almond crust, salmon sashimi marinaded in olive oil) but it's best evidenced best by their specialty: a "Frunchroom-style" stuffed pizza that resembles something close to a calzone but with two layers of dough, and a house-speciality marinara. 
Patrice
St. Henri
Montreal's dentists will have Patrice Demers to thank for all the extra business. With experience at big name establishments like Leméac, Laloux, and Les 400 Coups under his belt, Demers is rolling out take-out sweetness including all manner of cakes, brownies, and pastries to go alongside actual sit-down meals like beef tartar w/ horseradish, or Arctic char w/ sour cream & dill.
Le Serpent
Old Montreal
Having the task of living up to the reputation of Club Chasse et Pêche and Le Filet is no small order, but so far under the talent of Chef Michele Mercuri, Le Serpent has done it. Nearly hidden inside the Darling Foundry, this Italian brasserie has a black-walled-yet-light space, and offers a small-but-tight menu that you can't go wrong with -- especially if you opt for the lobster risotto.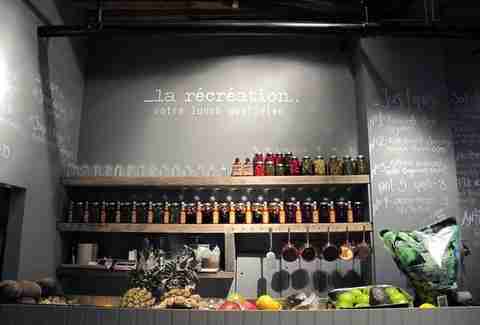 La Récréation
Old Montreal
The team behind Chez Victoire wants you to take a break with them at their new lunch resto La Récréation in Old Montreal (don't worry, it means "the recess" en Français, and has nothing to do with exercise). If you're a lunch on the run kind of guy, their mason jars full of soup to-go are kind of genius. If you're a lingerer, we recommend Le Pepin Style grilled cheese (there's aged cheddar, fresh fig, and basil involved).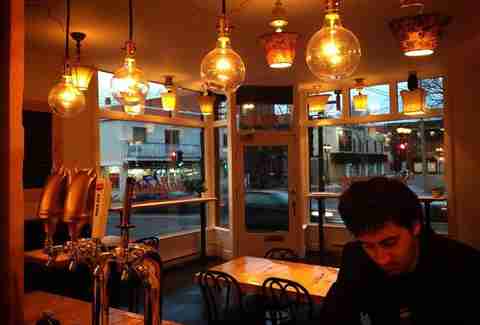 Le Ballpark
Petite-Italie
Positioned across from the former Jarry Park Baseball Stadium (old home to the Montreal Expos, sniff, sniff) the LBP's owners are happily paying homage by slinging some balls of their own -- the menu includes classic beef meatballs along with a few curves like the Redhot Chicken Balls served with a side of blue sour cream or their Falafel Balls accompanied with a "home run" baba ganoush dip. Plus? They may already have the best Caesar in town.
Biiru
Downtown
Izakayas are so hot right now, so it's no surprise that there'd be a new one on this list. Biiru promises to offer a slick twist on the Japanese-pub style currently dominated by heavyweights Kazu, KYO, and Imadake by weighing in with sake bomb-proof wooden tables and a solid menu that includes a shrimp and pork sausage Japadog. The name itself, by the way, is Japanese for "beer", and there's no shortage of that either, w/ classics Sapporo, Asahi, and Kirin sided by a "yuzu beer". 

Rufus Rockhead
Griffintown
There's been so many new kids on the block in Griffintown and St. Henri these days that's it's hard to know what's what, but you should definitely take note of Rufus Rockhead. That fact that this swanky, nautically-inspired bar is owned by Simple Plan's lead guitarist Jeff Stinco may not be a sell for you, but their crab cake burger and chicken & waffle dishes definitely should.