Montreal pizza can kind of suck, but these 6 pizza joints don't
You know that old adage about pizza: "even if it's bad it's still good"? Not true in Montreal. It can be bad. Really bad. But thankfully, when it's good, it's ridiculously good -- so we nobly suffered through all the crappy pies this city could throw at us in order to uncover the delicious gems, so that the next time you find yourself craving some 'za, you won't have to roll the dice. You're welcome.
Katherine Sehl
6. St-Viateur Pizza
Various locations
Slapped right in the middle of Mile End, St-Viateur makes the cut by not only having a solid selection of pies (Italian sausage & banana hot peppers/ smoked salmon & Alfredo sauce, etc.), but they're totally reasonably priced too -- they even have a "four for $30" deal, slinging you a quatro of nine-inchers for only $7.50 a pop.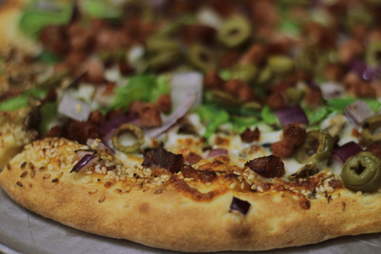 Katherine Sehl
5. Pizza Mory's
Verdun
Pizza doesn't get more Montreal than it does at Pizza Mory's -- their poppy seed crust makes you feel like you're eating what is basically the greatest Montreal bagel ever, plus, they're always generous on the toppings, as evidenced by the "tout-garni" (all-dressed) Mory's Special, loaded w/ sausage, green peppers, pepperoni, and 'shrooms.
4. Restaurant Miss Jean Talon
Parc-Extension
This classic, Greek-run pizza diner is all the things that a pizza joint should be: cheap, life-affirming, and greasy. Obviously their Greek pizza, topped with the usual suspects (feta, toms, onions & olives) is a wise selection, but it also isn't a bad idea to get crazy with their All-Dressed number which, comes w/ bacon, onions, and delicious smoked meat. Good for delivery, but their pre-folded box-lined windows and old-fashioned diner booths are worth the trip.
3. BEVO Bar Pizzeria
Old Montreal
Sure, BEVO may be fairly new on the Montreal pizza scene, but it's pretty clear that their pizzas are the real deal -- their Southern Italian-style wood oven-scorched numbers start off traditional (proiscutto, black truffle, etc.) but then get jazzed up with topping combos like the Capriciosa, coming w/ sausage, 'shrooms, and hardboiled egg. Also? They have a Nutella pizza.
2. Pizzeria Magpie
Mile End
Pizzeria Magpie painlessly unites the nostalgia of old country wood oven-baked pizzas with a slightly more newfangled menu of entrées and a solid selection of microbrews. Don't even look at the menu, just do as we say: order the Prosciutto pizza with chili oil. This godly 'za comes baked on a perfect crust: fluffy on inside, crispy on the outside, and is topped with gooey bocconcini cheese, cherry tomatoes, arugula, and of course, deliciously salty prosciutto.
1. Pizzeria Napoletana
Petite Italie
If you're looking for the straight-up best pie in town, then look no further. Pizzeria Napoletana has been churning out 41 different 'zas and 34 different pastas in the heart of Little Italy since 1948, including faves like their onion & bacon topper, and their marinara-laden clam & shrimp number. The only problem is that they've built up such a reputation, especially after being featured on shows like You Gotta Eat Here, that a reservation is pretty much required.