From bao sandwiches, to Neapolitan pizza, to coffee that's served like a beer (at last!), there was no shortage of excellent new places this summer in Montreal. Whether you're looking for a simple lunch or an incredible night out on the town, here are the 15 hottest new restaurants to check out in Montreal.
Recommended Video
This Burger Has a Pizza Bun
Notre-Dame-de-Grâce
A spacious bright room, Spartan furnishings, and thin-crust Neapolitan-style pizza are the makings of NDG's newest hipster establishment, Pizzeria Melrose. The neighbourhood is abuzz with excitement at this opening, and we're looking forward to grabbing a good slice with a glass of red from Melrose's selected wine list.
 
Rosemont-La Petite-Patrie
Though it barely had a chance to take its first steps, Montreal Plaza is already the most hyped restaurant to open this summer. Labeled "the younger brother of Toqué!," the newest restaurant from former Toqué chef de cuisine Charles-Antoine Crête is more accessible in cost without sacrificing any of the style and aplomb that have made its makers household names in new Quebec cuisine. Expect to hear a lot more of this newcomer.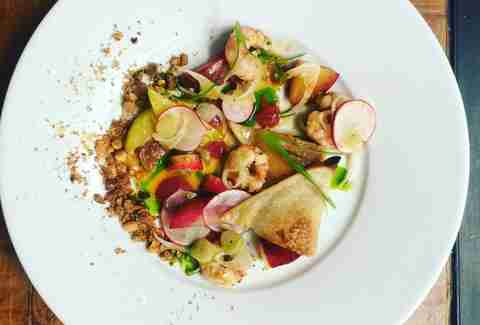 Outremont
This market-driven restaurant is powered by the seasons, the audacity of its chefs, and the best produce available at Jean-Talon Market each day -- and the results couldn't be better. The plates here are as beautiful as paintings, and the daring atmosphere created by chefs Hakim Rahal and Pablo Rojas is as inspiring to the diners as it is to the staff. Come prepared to share, or go for a prix-fixe menu; just don't expect to plan your meal ahead, because the menu changes constantly.
The Plateau
Despite the abundance of Portuguese grill houses in Montreal, other South American cuisine has remained strangely under-represented in our city -- that is, until Peruvian street-food eatery Braseria El Tumbao opened its doors. Come here for brochettes, cold beer, authentic Peruvian ceviche, and a casual vibe.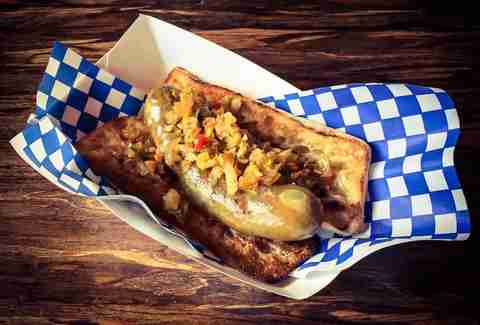 Rosemont-La Petite-Patrie
Montreal finally gets its first gigantic beer hall with Das Bier. If you've always wondered where you could go to sit at long communal tables, munch on currywursts and pretzels, and pound back giant pints of lager, then look no further than this beer garden. We have a feeling things are going to get intense for Oktoberfest.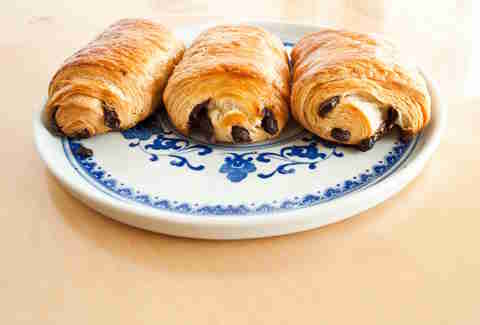 Rosemont-La Petite-Patrie
From the nearby-roasted coffee to the blueberries in its pain aux bleuets, nearly everything available at Café Hublot is local, thoughtful, and delicious. This independent coffee shop has Wi-Fi, student discounts, and a mandate that will make you feel good about shelling out your money for java.
 
St. Henri
This family-owned grocery store and taqueria is as real as you can get: a mom and her two sons, slinging homemade horchata and traditional tacos for $2 from behind a lime-green counter. Despite the low price point, the food here is flavourful, simple, and -- buzzword alert -- soulful.
St. Henri
Just a couple of doors down from Café Frida lies its competition, Tacos Victor. The fare here is most inventive, the fries are crispy, and the soda is brand name... but at $5 a taco, you're paying for it. Try the two new St. Henri taquerias and see for yourself.
The Plateau
Because bánh mì  sandwiches and tacos are not the only game in town, the Bao Boys are here to prove that the new thing in street food is their hybrid steamed bun sandwiches. Bringing together kimchi and poutine, this Vietnamese-fusion eatery is decadent and irreverent all at the same time.
The Main
Red Bird Café is a mom-and-son operation that's been born out of a family's passion for delicious healthy food. Cookbook author Marcy Goldman and her son Jonathan serve Mediterranean-inspired fare like chachouka (an egg frittata in a tomato and pepper sauce), salads, sandwiches, and a selection of desserts for breakfast and lunch daily.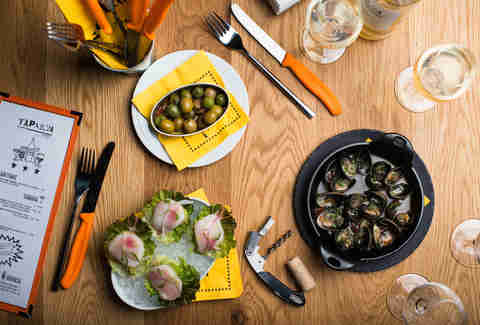 Old Montreal
Though this traditional tapas bar only opened in mid-August, it's already garnered the attention of diners and critics alike. People are raving about Tapas24 SnackBar's pig belly with red peppers, the Pintxo 5@7 on Thursdays, and even the unusual offering of tapas for brunch. Then again, it's summer in Montreal, and there's nothing we love more than sitting on a terrace and sharing some small plates -- and Tapas24 SnackBar has the perfect concept.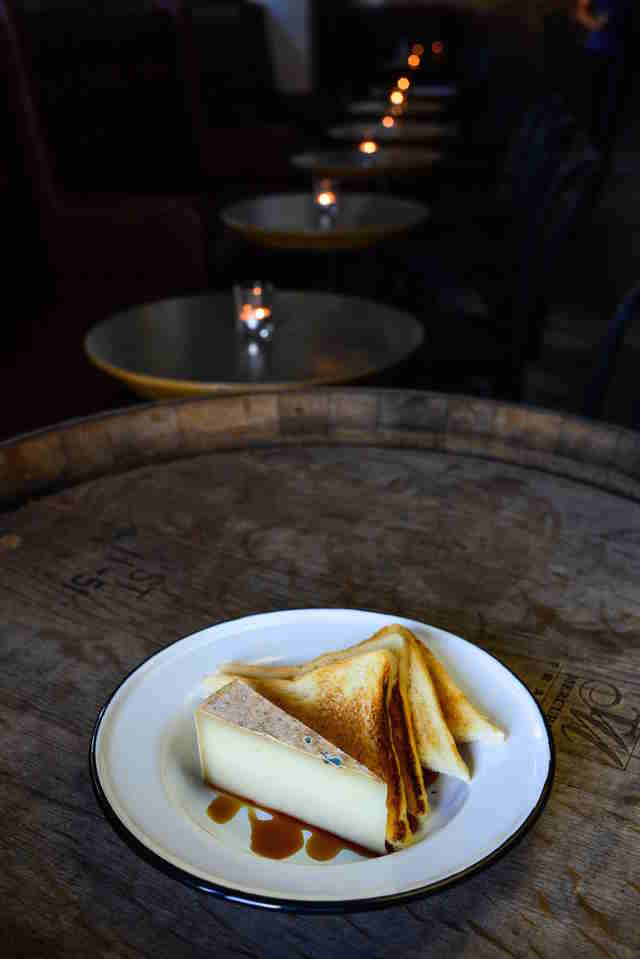 St. Henri
Loïc is an unusual beast in the landscape of Montreal pubs. Though it serves high-quality snacks, the selection is extremely limited to the hyper-local, hyper-fresh proffers of small producers. Though Loïc boasts a generous bar, it has no cocktails on offer, focusing instead on carefully curated wines that it truly loves. And though there is a bumping musical venue upstairs, the bar is a quiet and simple place for an intimate date night. In short, Loïc is a story of contradictions -- and yet, the result is perfect just the way it is.
 
The Plateau
A new bar and restaurant from the industry juggernauts behind Lorbeer, Taverne Saint-Sacrement, and Rufus Rockhead, Perfecto is the cool-kids and chefs hangout you've always wanted to be a part of. The menu is subject to change, but will focus on unusual drinks like bourbon milk punch and reinvented pub foods and late-night snacks that cater to cooks and chefs who've just done their shift. This is where you'll go to feel in the know.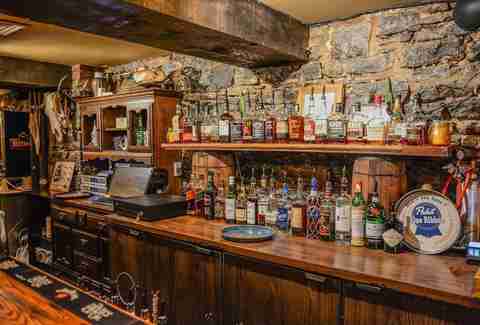 Downtown
In the age of wine and opulent Scotch bars, the sweeter, lower-class bourbon has got itself a bad rep in North America's largest cities. So when you find a classy bourbon bar that also plays great old-school country music, you park yourself down and swear to never leave -- and that's exactly how we feel about Pistolero. Whether you're there for the crooning bluegrass, the Sazerac rye, or the Southern fare from former Moonshine BBQ chef Fred Bouchard, Pistolero is going to become your favourite Downtown bar.
Rosemont-La-Petite-Patrie
Do you know what nitro coffee is? I didn't either, until I discovered Paquebot. Served much like your favourite beer, nitro coffee is cold, bubbly, chilled in a keg, and available on tap only in this newcomer coffee bar in La Petite Patrie. So whether you've always wanted to drink your coffee like your Guinness, or you're just looking to find out what all the hype in the States is about, try the nitro brew at Paquebot. You heard it here first, folks.
Sign up here for our daily Montreal email and be the first to get all the food/drink/fun in the City of Saints.