These are the greatest burger joints in Montreal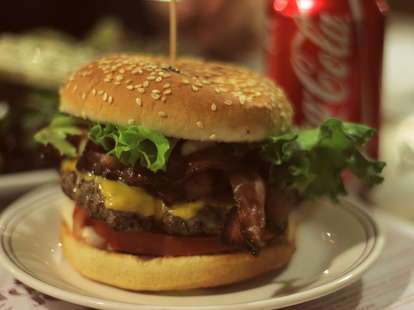 One of the lesser-known facts about Montreal is that the city is the birthplace of the hashtag #foodporn. #jk #jks #lol #LMAO. But seriously, it probably would have been if people had gotten a look at the burgers la Belle Ville has produced, which've been sexing-up greasy spoon lunch trays since at least before micro-blogging. Behold the natural wonder of Montreal's finest beefwich joints...
Dilallo Burger
Various Locations
Dilallo's famous Buck Burger definitely delivers bang for your buck with its generous layering of tomato, cheese, relish, mustard, onion, lettuce, capicola, and hot peppers. If you're really hardcore (like most burger eaters who go to Dilallo are), order your Buck Burger "wet" and they'll let the bread get soggy in meat juices, or you can order it "dipped" in hot pepper juice. Gonna stop now, gotta keep it PG, Interweb.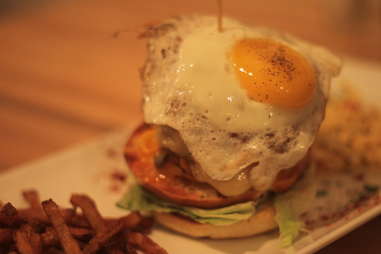 ART:brgr
Plateau
We all had that one family member who, instead of cooking meals, brewed up inspired "concoctions" that were awkward blends of disgusting/freaking-awesome-idea-man, and the owner of ART:brgr is that guy for some family (and half the city). Quite frankly, it makes sense that this kind of next-level logic would find its most artistic outlet in burgers, epitomized by the hybrid Le Poutine Burger, which is exactly what it sounds like, only with bacon thrown in for good measure.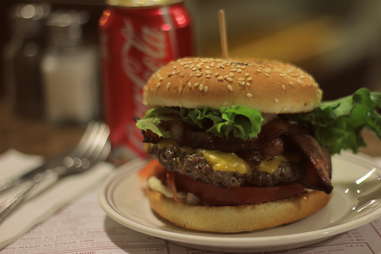 Steerburger
Plateau
You're going to need a whole napkin dispenser to yourself to get through any one of Steerburger's sandos, especially the legendary Prime Burger. Made with a huge, juicy, cooked-to-order patty, and topped with the usual suspects: mayo, lettuce, cheese, bacon, onions, and tomatoes, this burger is just plain classic, and delicious.
JoBlo Restaurant Steakhouse
Verdun
All of the burgers on the JoBlo menu are pretty solid picks, but "Le Film Western" is kind of the best. Listen to this: Beef. Jalapeño-cheddar sausage. Bacon. Cheddar cheese. Creamy coleslaw. Ranch sauce. The Mac 'n' Cheese Burger's pretty spectacular, too. They're so dedicated to their bunned-treats, they even serve their Bloody with a burger garnish.
Patati Patata
The Main
This tiny little fritterie (that's French for "French fry shop". Just take a moment to appreciate that.) has amazing fries. Like seriously. And on the side of those fries, they have really good burgers too, especially the Mediterranean that comes adorned with feta, red onion, tomato, lettuce, and a tzatziki-inspired sauce. And since they're all adorably slider-style, you can eat more of everything.
Mister Steer
Downtown
Despite their spiffy new renovations, from the outside, this tiny burger diner, tucked between two dodgy strip joints, has sketchy written all over it in neon lights -- a surefire sign of a quality burger! Having survived on the unforgiving strip for more than 50yrs, Mister Steer's hockey puck-round, surprisingly ungreasy burgers, served with a side of Suzy-Q fries and a liquored-up soda, are pretty much an essential Montreal food group.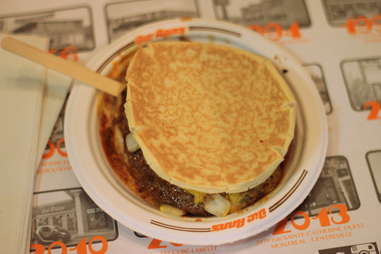 Dic Ann's
Various locations
The people at Dic Ann's are thoughtful. They know that we like their delicious mystery hot sauce so much that they drown their patties in them. They know that "all dressed" doesn't need to mean anything more than mustard, relish, and onions. They know that when we get a hamburger 10 times bigger than our mouth, that we're going to smush it, so they put their buns in a sandwich press and smush the patty for us. Lastly, they know we're going to literally need a popsicle stick to pick it up, so they thoughtfully provide us with one.