Montreal's 8 hottest new restaurant openings
Ah, Springtime in Montreal. Sidewalk terraces run amok with sun-deprived Winter recluses, tripping out on vitamin D as if it were a drug. That paired with the playoffs kicking off and well, needless to say, emotional eating runs rampant. Here are eight new restaurants to do some of that while you re-emerge into society.
Dirty Dogs
Plateau
The Dirty Dogs have already made a name for themselves -- and several strange names for their bunned sausages -- through their catering and pop-up engagements, but now they've finally opened up shop in Plateau. Now you can get your Pouzza fix (that would be poutine on a hot dog) whenever the mood strikes you -- and believe me you, it will strike you.
Sushi Taxi
Griffintown
Sushi Taxi may be the new kid on the block in Griffintown, but believe it or not, this sushi resto first opened in Quebec City and has since franchised into 16 stores. If the miracle of their success in the nether-regions of Quebec doesn't intrigue you, then their "guac-amore" -- fried guacamole poppers topped with salmon tartar, salsa, and sour cream -- probably should.
Bier Markt
Downtown
Their motto is "bier is beautiful", and well, we'd have to agree. That is -- as long as bier means what we think it does (it's like, almost French). The chain already has a few locations in the greater Toronto area, but Executive Chef Michael Cipollo is finally bringing his menu of European, brasserie-inspired food back to where it belongs: Canadian Europe.
Majestique
The Main
Majestique may have just opened, but their snow crab and freshly shucked oysters are already the talk of the town. Decked out in Canadian-kitsch-style vintage, the owners of the restaurant, Chef Charles-Antoine Crete (Toqué, Brasserie T!), David Page and Richard Holder (Bar Waverly, Brasserie Bernard) keep things classy by sending ladies oysters -- in '40s-era silver-plated clamshell dishes -- instead of buying them shots.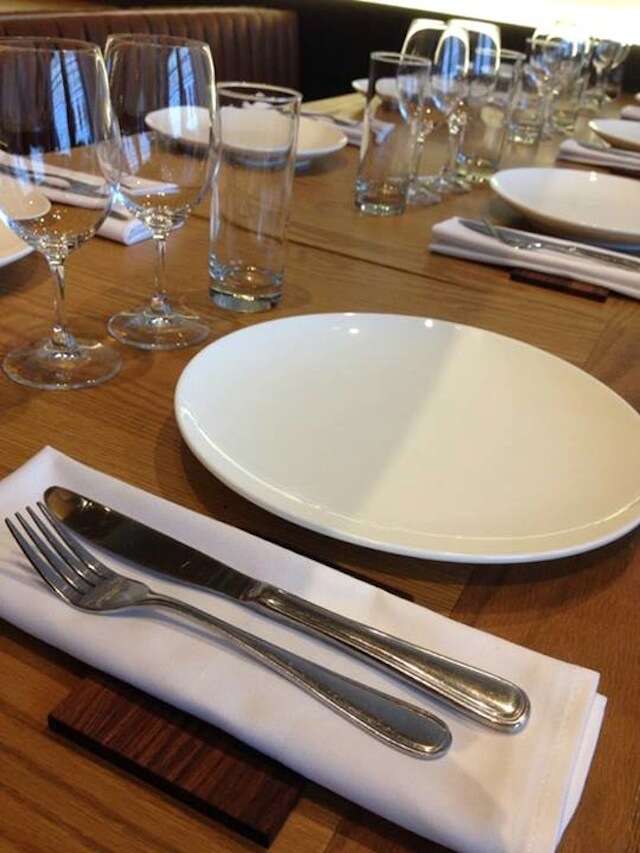 Ikanos
Old Montreal
From the owners who brought you Plateau's Tasso Bar à Mezze comes Ikanos, Mediterranean seafood with a focus on Greek cuisine. If Tasso's any indication of what we should expect, think traditional favorites with punchy twists -- like fried Kefalograviera cheese flambéed in ouzo. They open officially on the 29th.

Restaurant Manitoba
Park-Ex
The latest fine-dining experience to hit pseudo-neighborhood Mile Ex boasts a backwoods-inspired chalkboard menu of local and organic ingredients. The menu changes regularly, but game, heart, and tongue are often par for the course. Make sure to wash whatever you order down with their house beer, bespoked for them by Brewers Unlimited.
Cantinho de Lisboa
Old Montreal
The freshest eat-in and take-out option in Old Montreal comes in the form of a Portuguese-influenced bakery. In addition to their made-to-order salads and sandwiches, Cantinho de Lisboa brings the best of both worlds together with Quebec and Portuguese cheese and charcuterie offerings.
Pub Bishop and Bagg
Mile End
For those among you who have longed for a place to catch the footie game over cocktails in the Mile End, that day has come and that place is Bishop and Bagg (note: nowhere near either Bishop or Bagg St). A satellite of Griffintown's much-loved Burgundy Lion, B&B serves up standard British pub grub including smoked trout, lamb kebabs, and jerk hen.