Montreal's 9 best under-the-radar burgers
It's hard to believe that the fine folks behind Le Burger Week, Tourisme Montreal, and even yours truly would have left any stones, err -- buns, unturned when it comes to burgers, but the fact of the matter is both they, and we have. And that's why we're here to right these wrongs by uncovering the best of the not-on-your-standard "best of" list, the sandwiches that Montreal's best-burger-list-makers don't want you to know about -- so without further ado, here are Montreal's best-kept beef secrets...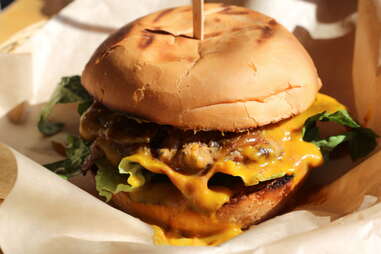 Sababa Grill
The Main
The Burger: Asian PB&J Burger
You'd hardly expect to find a burger at this Mediterranean restaurant, let alone find a whole page in the menu dedicated to them, let alone find a number smothered with peanut butter and spicy jam. But you will. And it's basically the best PB&J sandwich you'll ever have.
Beauty's
Mile End
The Burger: Beauty's Burger
Maybe you've never ordered this beauty before because your brain's been hardwired to associate Beauty's with good ol' greasy brunch -- and we can't blame you for that. But one session with the no-fuss, add-the-condiments-yourself-so-they're-perfect, top-notch Beauty's Burger ought to change that.
Bagel Etc.
The Main
The Burger: The Cookies Burger
Gotta start by setting two things about this bunned treat straight. No, it's not on a bagel. And no, it has nothing to do with cookies. We'd hold this against Bagel Etc. if it wasn't for the fact that their hefty burger, topped with a BLT trio plus cheddar and red onion, is so damn good.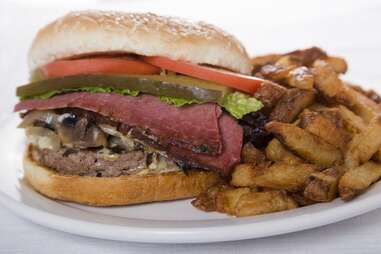 The Main Deli Steakhouse
The Main
The Burger: Main Burger
The Main's burger gets chump-changed over their smoked meat the same way The Main gets chump-changed for Schwartz's. It ain't right. Especially when their burger -- layered with tomato, lettuce, onion, mozzarella, pickle, Dijon, and smoked meat (!!!) -- is the thing of beauty that it is.
La Banquise
Plateau
The Burger: La Banquise Burger
After ordering the La Banquise Burger -- a patty topped with 'shrooms, fried onions, Swiss, tomato, lettuce, and a house spicy sauce -- you'll realize that you've been doing La Banquise wrong all these years. Why have you been ordering just a poutine when it could be coming with this burger? Ask yourself that.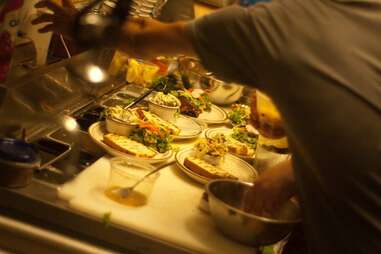 Le Boucan
Griffintown
The Burger: 5 Napkin Burger
The only thing actually underrated about this burger is the amount of napkins the name implies -- especially if you do right, and order extra house BBQ sauce. Realistically, we're talking 10-15 napkin burger, minimum. And after you've had a taste of the Cajuny-spiced smokehouse sauce, you'll realize that this beef puck exists basically as a vehicle of said sauce to your mouth... and that's no bad thing.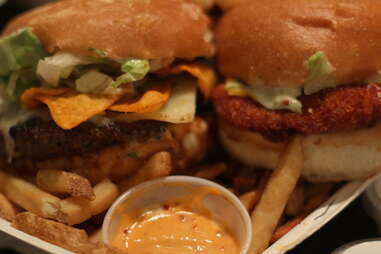 Chef On Call
Delivery/Multiple Locations
The Burger: Big Chipper AND The Honey Boo Boo
It's hard to choose a favourite between the Dorito-topped, Monterey jack cheesy, garlic-mayo-laden Big Chipper and The Honey Boo Boo: a crispy chick breast drenched in honey Dijon and cheddar. So take our advice: don't. Best part about it: these babies are brought right to your door!
HELM
Mile End
The Burger: Cheeseburger de Cerf
For those of you who don't speak Franglais, allow us to translate: what we're talking about here is a deer cheeseburger. And as if that wasn't enough, it's topped with bacon and onions caramelized in one of their house-brewed beers no less. You're welcome in advance.