Thanks to the deliciously thriving Vietnamese community, you can throw a stick in Montreal and hit five great pho restaurants -- but where can you find the very best bowls of steaming Asian noodles in town? We found out...
Chinatown
Pho is meant to be a pretty large dish, but when it's large, tasty, includes an appetizer, and only costs around $10, then it gets somehow even better. Branched off from their base in New York, they're known to be a little generous with their cloves, and thankfully their beef, too.
Saint-Michel
Pho would be nothing without its spices and herbs, and Pho Nam Quan allows for spices and herbs not typically associated with the dish to take pride of place in its soups; cinnamon, anise, and sawtooth coriander all take the tender brisket from good to near-spectacular.
Ville-Marie
When you walk into Pho Thanh Long, you'll notice wood panels on the walls, the cooks wrapping spring rolls, and the aroma of various meats cooking. Those meats go into a protein-laden pho, though for an extra $3, Pho Thanh Long will give you extra raw beef to throw in with it all.
Saint-Laurent
Paris Pho is known for its thick, round noodles and reasonable prices. While the name of the restaurant may sound unusual given pho is a Vietnamese dish, it turns out that the beef in pho was (history alert!) inspired by the French when they conquered Vietnam in 1858 -- before then, all pho was made with only chicken or pork, which (ironically?) they do particularly well here. The chicken pho ga is particularly great.
Saint-Leonard
Head into Wing Phat and prepare to see virtually every table with at least one bowl of pho. Try the pho with beef balls and thinly cut beef; the broth is spicy, acidic, meaty, and delicious. Best part? Wing Phat is BYOB, meaning your already cheap meal just got even better.
Rosemont--La Petite-Patrie
In MTL, we love our holes in the wall and Pho Tay Ho is definitely a restaurant you've walked by before without realizing the deliciousness that lies within -- it's especially known for its pho ga; a chicken pho with a clear, non-greasy broth and fresh red chilies.
Côte-des-Neiges
Specializing in cow-candy, at Pho Lien, you could choose from about 10 beef phos made with brisket, tendon, tripe, and other delicious bovine bits. The servers are notoriously no-nonsense, and the customers are notorious for not caring, because the pho is so damn good.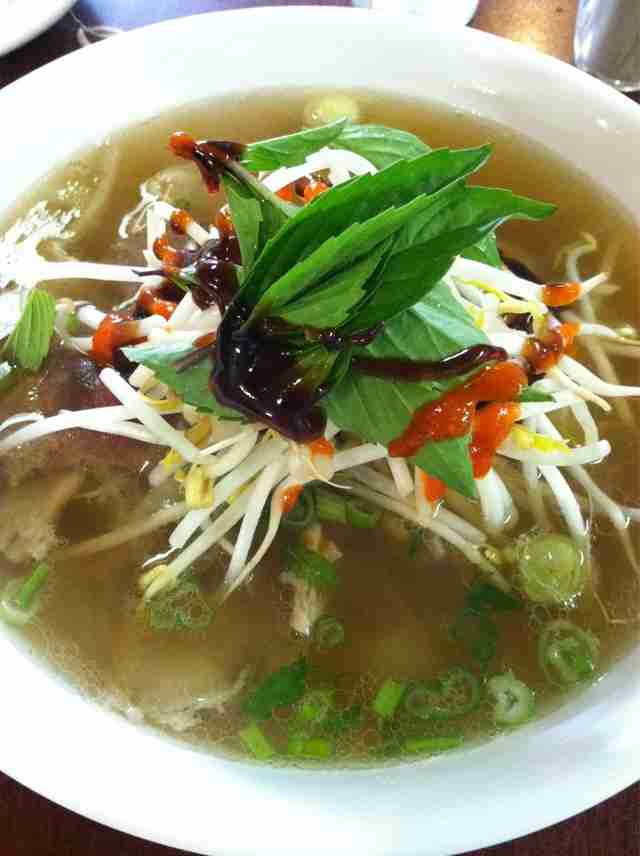 Downtown
Pho Nguyen is located Downtown, right next to Concordia University and somehow it's almost hidden; a hole-in-the-wall joint innocently waiting behind an inconspicuous blue awning... which still doesn't stop it from being packed though, thanks to thick cuts of beef, and perfectly balanced spice.