Montreal's most underrated restaurants
Understatement alert! Montreal has a lot of restaurants. In fact, it has more per capita than any other city in North America, so it's pretty much inevitable that a few truly great spots are going to get lost in the mix, outshone by the super-large halos that hang over culinary juggernauts like Joe Beef, Schwartz's, etc. Well, we're here to serve up a little culinary justice -- here are Montreal's most underrated eateries...
Lester's Deli
Outremont
Lester's is a Montreal classic, but the restaurant is often dwarfed by Schwartz's gigantic shadow. Their smoked meat sandwich combos stand up there with the best of 'em, but they also offer a more extensive menu than Schwartz's does, with other solid options like the juicy Roast Beef Special.
D.A.D's Bagel
Notre-Dame-des-Graces
Not only does D.A.D's make a mean bagel, but they also serve some of the best Indian food in town. Their bagels may not be as top notch as Fairmount or St. Viateur, but unlike the two heavyweights, they'll slather on the cream cheese for you rather then just sell you the goods.
Main Deli Steak House
The Main
Just like Lester's, The Main often gets overlooked in favour of Schwartz's in the smoked meat department, but apart from a superb smoked meat, The Main's got a lot to offer, including a pretty ridiculous burger and poutine menu. Or if you're a fan of traditional Eastern European fare, they make a mean matzo ball and karnatzel, too.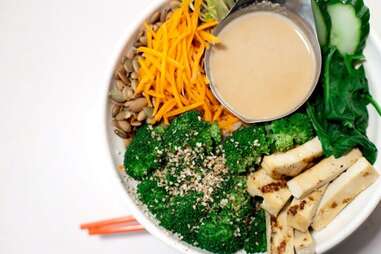 Aux Vivres
Mile End
Aux Vivres often gets overlooked because they offer a completely vegan menu, but even the most militant carnivores have to admit that Aux Vivres' meat substitutions can frequently taste better than the real thing. Their Dragon Bowl is so good that someone actually tattooed it to their arm.
Tri Express
Plateau
Montreal may not be known for sushi, but this teeny tiny little resto (reservation required) is pretty much single-handedly getting the job done. The fish is logic-defyingly fresh and the plates are somehow simultaneously traditional and creative. Most importantly: everything is crazy delicious.
La Sala Rossa
Mile End
Most people don't ever realize that apart from being one of the best concert venues in Montreal, La Sala Rossa's adjacent restaurant offers possibly the best tapas in the city. Their fried goat cheese with honey and caramelized onions is the stuff curdy dreams are made of.
Chef On Call
Delivery/Multiple Locations
So, sure, it's technically not a restaurant, but that doesn't mean CoC should be forgotten. These guys deliver restaurant-quality food to your door, and've already outlasted several places that couldn't deliver restaurant-quality food in a restaurant. Plus they make a burger with Doritos in it.