Five Montreal sandwiches you need to eat NOW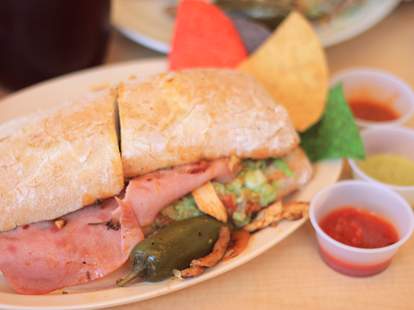 Remember when the Earl of Sandwich was all like "make me a sandwich", and everyone was all like "whaat"? and he was like "give me some meat with some bread around it, then name it after me". No? Well, whatever, the sandwich has come a long way since then in Montreal, having been all but mastered by Schwartz's and Wilensky's. But since you already know about their succulent ways, we thought you should know about these transcendent Montreal sando-smiths who have taken the old earl's invention to the next level.
Credit: Katherine Sehl
1. "Le Cubain" at Olive & Gourmando
This artfully concocted 'wich consists of pancetta, roasted pork, and raw milk gruyère (it's details like this that make a sandwich) which is then topped w/ lime, cilantro, chipotle & pickle mayonnaise, and is so damn good that people line up in frenzied droves to wait for it.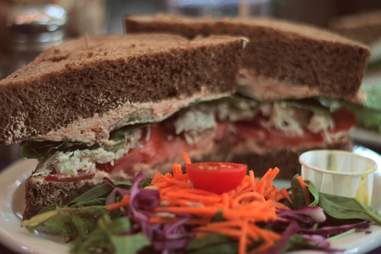 Credit: Katherine Sehl
2. "Killer Tomato" + chicken salad at Santropol
This bad boy comes with a layer of basil & garlic spread, then a layer of killer toms (meaning they're sun-dried, and blended w/ creamcheese), to which regular, good old-fashioned non-lethal tomatoes are added, plus chicken salad for good measure. Santropol is famous for them, and rightly so.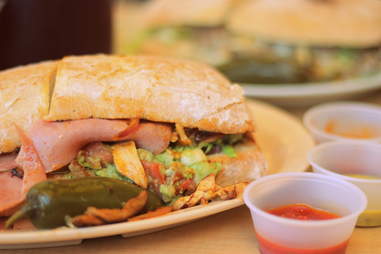 Credit: Katherine Sehl
3. "Cubana" at El Rey Del Taco
Sure, Cuban sandwiches are delicious. But there's no reason they can't be made more delicious, which is why the inventor of this powered-up sando threw pork, sirloin, chorizo, eggs, cheese, avocado, tomatoes, lettuce, and jalapeños into this beast. It's from El Ray, too, so you know they aren't going to squander these fine ingredients.
4. "Pulled Porc" at Depanneur Le Pick Up
Yes, it comes from a convenience store. You'll just have to come to terms with the fact that Montreal's dep's are pretty incredible if you're going to have the finest slow-cooked BBQ pork sandwich in the city. It's got grilled peppers, and's served on a Portuguese-style bun, and if you're feeling frisky, you can get a sunny-side up fried egg thrown on top.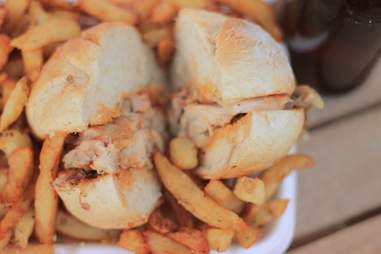 Credit: Katherine Sehl
5. Chicken sandwich at Romados
There's no fancy name for this piece of work. In fact, sometimes it's not even listed on their chalkboard menu -- but now that you're in-the-know, you'd be a fool not to put this rotisserie-grilled, succulently moist, spicy piri-piri chicken sando in your mouth. You might have to line up for a while, but it's worth it to see the server take the chicken fresh off the spit, carve it up, and make the freshest 'wich in town.