8 Montreal restaurants that'll rock 2014
Montreal has the most restaurants per capita in all of North America, and now, after a fresh slew of ribbon cuttings, its capitas are about to get even more encumbered with delicious eateries. Here are the best spots to have recently cut the ribbon, ready to rock 2014...
Name: Huis Clos
Open now
Why You Should Care: Huis Clos is nestled 'tween residential buildings on a sleepy corner in Villeray. A tiny sign and candlelit interior make it hard to find, but it's totally worth it for the impressive wine list and solid cocktails (get a beer/Champagne Black Velvet, never regret it). the dinner menu is equally impressive, with heaping "plateaux" piled with oysters, cheeses, and organic local charcuterie.
Name: Ma Poule Mouillé
Open now
Why You Should Care: The hyper-competitive title of "best Portuguese rotisserie in French Canada" may be at stake with the recent opening of Ma Poule Mouillé. After 20yrs of loyalty to Montreal's iconic Romados, chef and co-owner Tony Alves has gone rogue. Inside, don't let the bright red bar stools and cutesie picnic patterns deceive you: this is serious chicken. Homemade sandwich buns and a distinctive hot sauce make Ma Poule anything but imitation, and don't miss what's becoming the most talked about menu item: slow-roasted suckling pig (cochon de lait sur la broche), served only on Sundays.
Name:Bar Mme Lee
Open now
Why You Should Care: From the retro glamour gang who brought you Salon Officiel, meet Bar Mme Lee. Smooth wood and polished tile create an ambiance that's half metro station, and half modern art museum (confused? Check the surprisingly cool virtual tour). Come for a fresh squeezed Pimm's Potager (Pimm's, basil, cucumber) or boeuf tartar tapas, but stay late to hit the dance floor, thanks to an impressive DJ lineup boasting peeps like Shaydakiss & Jay London.
Name: Grenouille
Open now
Why You Should Care: Following a long and understandable tradition of French spots in Montreal, this shabby-chic establishment on Mont Royal will have you Recherche-ing du Temps Perdu. There's a strong châlet vibe going on, with heavy wooden rafters, exposed stone, and dangling bronze cookware inside the cozy dining room. A menu of French comfort food offers new and traditional imaginings of cassoulet, bouillabaisse, boeuf bourguignon, and (bien sûr) frogs legs. Do yourself a favor, order the wheel of baked Camembert (with caramelized onions and maple praline pecans). And don't share.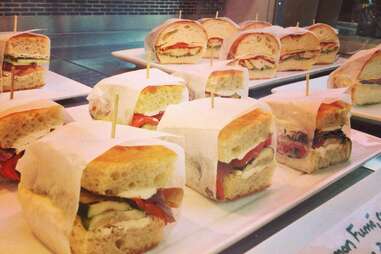 Name: Marché Park
Open now
Why You Should Care: How many times have you been stranded in Westmount without artisanal kimchi? Ugh, it's a freaking nightmare. Well, consider your ass saved. From Antonio Park, the celebrated chef behind Park Restaurant (arguably the sole inductee in MTL's impoverished sushi Hall of Fame), comes a new eponymous bistro/épicerie. Allowing an outlet for his genius Japanese fusion without the $16/maki price tag, you'll find stacks of almond, miso, ginger cookies, and mountains of citrus edamame salads. Settle in for a sesame smoked salmon sandwich or grab a bottle of avocado pineapple juice for the road.
Name: Ceviches
Open now
Why You Should Care: This sunny new concept restaurant -- serving exactly what the name suggests -- is half Peruvian ceviche bar, and half South American taco stand. Choose from a variety of marinades mixed fresh to order in a cocktail shaker, then combined with plump, limey tilapia and crispy plantain chips. Bonus: raid the épicerie shelves for artisan habanero sauces and masa flours to take home.
Name: Iwashi
Open now
Why You Should Care: Known as Café Sardine by day, this sleek coffee shop throws off its spectacles and neck tie to become restaurant Iwashi by night. The inspired menu from Chef Hachiro Fujise of Toronto's Marben and Guu, is styled after Japanese izakayas, serving sardine escabeche with seaweed vinaigrette and tuna tartar with wasabi crème fraiche, complete with a drink menu of sake cocktails and $2 soju shots.
Name: Lili Co.
Open now
Why You Should Care: Enter through the unmarked door on the corner of Mentana and Bienville into Lili Co.'s black box theatre. Exposed bulb fixtures and black tabletops make for a sleek, minimalist décor, with a striking punch from the Lechbab street art mural. Chef Catherine Dawes, author of Obsessions Gourmandes, offers an exhaustively creative menu from chimichurri octopus with avocado tempura to pork tripe with chorizo. And the brunch? Banana dulce de leche pancakes with maple bacon. Line up, son.