They say Old Montreal is the most European part of this city, but we respectfully disagree, and boldly proclaim that it's the kitchens of these fine Italian restaurants that are the most European part of this city (... some of which are in Old Montreal).
What you're getting: Any kind of risotto
Little Italy
Located right next to Jean-Talon Market, Primo lacks a fixed menu, going the "cucina stagionale" or seasonal route, with all the available foods written on the restaurant's large blackboards. Given the restaurant's ever-changing dishes, it's difficult to recommend a single one, though it's famed for its risotto.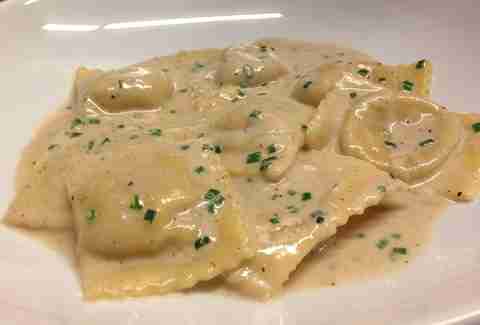 What you're getting: Trippa Della Nonna
Little Italy
Some Italian restaurants stick to the old-school dishes and don't veer very far from what their family has been making for years. Inferno is definitely not that type of Italian resto. With a mix of traditional Italian dishes and original creations, the menu is always changing according to the season, and always impresses. One dish that has been a feature of the Inferno menu since day one is the Trippa Della Nonna, a tripe dish served in tomato sauce. Don't let your squeamish eating habits influence your ordering habits if you're grossed out by tripe, there's a reason the Trippa Della Nonna is a mainstay of the Inferno menu: it's legitimately delicious.
 
What you're getting: A stuffed pasta
Downtown
Specializing in Southern Italian cuisine, the chefs behind Nora are Emma Cardarelli, a prominent Montreal-based chef; and Ryan Gray, a reputable sommelier and mixologist. In Nora Gray, the two have combined their skills to create an all-around amazing Italian restaurant whose list of wine & cocktails is only surpassed by the food. Be sure to order some of the restaurant's stuffed pasta dishes, made in-house. Previous plates have included Agnolotti stuffed with nduja & mascarpone; ravioli filled with burrata and egg yolk; and pea and goat's milk ricotta tortellini.

What you're getting: Squash and poppy seed gnocchi (or any brunch dish)
Mile End
Fit for Mile End (read: hip), Barcola is a small resto-bar that prides itself on making dishes reminiscent of of meals made in Northern Italy. Each and every day, Head Chef Fabrizio Caprioli creates a menu featuring just three appetizers and three mains. A large part of Barcola's culinary reputation stems from the restaurant's original creation of squash and poppy seed gnocchi topped with butter, sage, and smoked ricotta. Also, few Italian eateries break into the brunch scene, but Barcola goes there, and with dishes like home-smoked salmon eggs Benedict, you'll be glad it did.   
 
What you're getting: The veal chop
Old Montreal
Perhaps one of the most renowned Italian restaurants in all of Montreal, Da Emma has been pleasing taste buds for the last 23 years under the guidance of chef and co-owner Emma Risa. What makes Risa's food so good? Well, she IS the traditional old Italian lady who makes amazing Italian food, except you don't need to be a friend of the family to enjoy her cooking, just go to Da Emma. Built out of an old women's prison, the Old Montreal restaurant is very inviting despite its past, as is the large wine cellar, but what will keep you coming to Da Emma is the fantastic food.
 
What you're getting: Porchetta Del Nonno
Little Italy
Two veritable culinary giants joined forces in creating Impasto; Stefano Faita, a best-selling cookbook writer and television chef, and Michele Forgione, the head chef behind the now-closed (but once very popular) Venti Osteria. Impasto wows its clientele with its modern Italian specialties, while also not being afraid to create simple-yet-satisfying dishes, like its Michigan-style homemade hot dog. Famous at Impasto is the Porchetta Del Nonno, a scrumptious porchetta roast served with vanilla pear, the perfect sweet side to complement the salty-fatty flavour of the meat.
What you're getting: Gelato d'Oro
Little Italy
Next to everything is made in-house at Tartufo d'Oro, from the pasta and calzones, to the gelato, so all the food tastes quite fresh, and the menu boasts a varied selection of memorable dishes to enjoy. Start your meal off with the Antipasto Rustico, a charcuterie and cheese selection paired with the restaurant's homemade focaccia (the secret star of the dish), then move on to herbed goat cheese ravioli and pappardelle with braised lamb bolognese for your mains.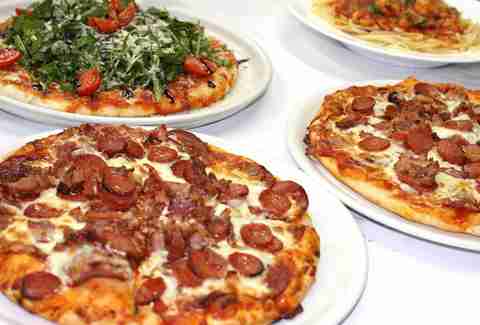 What you're getting: The arugula thin-crust pizza
Little Italy
Nothing is inauthentic at Elio Pizzeria. Operating out of the same large-but-quaint space for the past 50 years, everything at Elio's is old-school Italian. The pasta is all made in-house, the perfectly sweet tomato sauce (from using fresh tomatoes, not adding sugar) is prepared daily, and Elio's famously thin and crispy pizza crusts are crafted with the special care that can only come from experienced hands.
 
What you're getting: Petite-Nation Bison rib eye
Little Italy
A pseudo-reincarnation of the much-loved Italian restaurant Il Mulino, Hostaria has been serving up quality Italian food since 2012, all in an atmosphere that exudes the comfort of home. Known for its incredibly friendly and attentive service, Hostaria does just as well in the food and drink department, with a well-stocked wine cellar right in the middle of the restaurant. It boasts a varied menu, and what you need to order is the Petite-Nation Bison rib eye, a true triumph to red meat everywhere.
 
What you're getting: The Roman-style pizza
Mile End
New to the Mile End area, Farine is an Italian-style bakery specializing in freshly baked breads, sweets, Roman-style pizza, and piattini (Italian for "small plate"). Preparing its own pasta, charcuterie, and even its own sodas, Farine has quickly become a neighborhood favourite known for using fresh ingredients and creating unique pizzas, salads, and sandwiches with inspired flavour profiles.

What you're getting: Short rib
Old Montreal
A short walk from Champ-de-Mars station is Salumi Vino, an Italian restaurant that prides itself on using authentic Italian recipes. Oh, and wine, as the name suggests. If it's on the menu, order the rabbit with Parmesan mashed potato, though the short rib is just as good; being braised in red wine for eight hours. Folks who are going to Salumi Vino for a late-night snack (the place is open until 2am) should opt for the Salumi di Casa e Fromaggio, a platter filled with the restaurant's homemade cured meats and a selection of quality cheeses.
Sign up here for our daily Montreal email and be the first to get all the food/drink/fun in the City of Saints.