If you are currently alive and eat meat, then you love bacon. And living in Montreal, you're lucky enough to get it in some of the finest forms known to man, with everything from swine-laden entrees to desserts to snacks to sushi. Here are the dozen best.
Recommended Video
This Restaurant Reinvented the McGriddle
Steak, bacon, and cheese Australian hand pie
Ta Pies (address and info)
Plateau
Australia's answer to poutine is the hand pie, and Montreal's answer to the hand pie all come from Ta Pies, whose menu standout is the pork-laden Ned Kelly. Named after the Australian anti-hero, the Kelly consists of a perfectly flaky crust filled with sausage, corn, egg, BBQ sauce, and bacon, of course. If you needed more incentive to try this pie, know that Wolverine/Hugh Jackman (an Australian himself) once named this Montreal shop the best place to get pies in the world.
Bacon sushi
Brutus (address and info)
Rosemont-La Petite-Patrie
It would have been a crime for this list not to include Brutus, the city (and North America's) first bacon-themed bar. In fact, pretty much every one of the menu-fillers could have been featured here, but it's best to go with the most creative amongst them: the bacon sushi. Wrapped inside pieces of bacon you'll find chicken tempura, some seaweed, Japanese omelet, date purée, and rice, with a soy-Dijon mayonnaise for dipping.
Spaghetti Homard-Lobster
Joe Beef (address and info)
Griffintown
Creamy, buttery, and oh-so-bacon-y, this is a pasta dish like no other in its simplicity and deeply satisfying flavour. Lobster may be the star of this show in, but it's the bacon that truly makes it all work.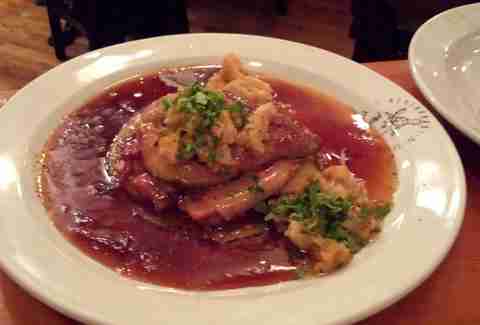 Plogue à Champlain
Au Pied de Cochon (address and info)
Plateau
On the cobblestone street of Duluth you can find one of Montreal's premiere eateries, and living up to its famed meat game, Au Pied de Cochon makes a superlative bacon dish. Literally translated as "the champlain's plug/plunger" this is a stacked dish of a buckwheat pancake, potato, cheddar, a fried egg, and a not-so-healthy-but-oh-so-good amount of thick-cut Canadian bacon and foie gras. Because all the meat and carbs aren't enough, the whole thing is then doused in maple syrup.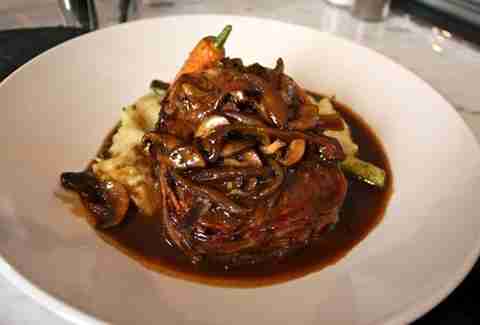 Bacon Weaved Meat Loaf
Deville Dinerbar (address and info)
Downtown
A meaty mixture of veal, pork, and bacon, which is then stuffed with Quebec aged cheddar, the whole loaf is then wrapped in bacon and cooked to perfection. By the end, you have a meatloaf that is delightfully crunchy on the outside, while also incredibly moist, thanks to the bacon holding in all those meaty juices.
Triple bacon cheeseburger
Uniburger (address and info)
Latin Quarter
Okay, so a bacon cheeseburger isn't the most original bacon-themed dish, but Uniburger's (sometimes described as the In-N-Out Burger of Montreal) triple baconed number warrants a spot on this list because it's that good. Technically not on the menu, to order this triple-stacked burger of beef and bacon (accompanied by lettuce, tomato, and Thousand Island dressing-esque Uniburger sauce) you just need to ask your server for the additions.
Cheese-stuffed bacon chili dog
Le Cheese Truck (info)
Various locations
Unlike San Francisco, you can't find bacon-wrapped hot dogs on every street corner in Montreal, making the dog a pretty special meal for a Montrealer. Throw in the fact that the hot dog is stuffed with cheese and topped with chili, and you have some pretty unbeatable street eats. Make sure to check the daily specials on the Le Cheese truck page, however, as they won't be slinging this dog every day of food truck season.
Poutine Grilled Cheese
L'Gros Luxe (address and info)
Various locations
Thick-cut fries, cheese curds, a three cheese mix, gravy, and a lot o' bacon are all piled high between slices of sourdough bread, which when you take a bite will prove that bacon makes everything better, even poutine and grilled cheese. Special mention should also go to L'Gros Luxe's deep-fried cookie dough dessert with bacon, the perfect dessert after a bacon poutine grilled cheese.
Le Doughnut Grill Cheese
Léché Desserts (address and info)
St. Henri
Léché is perhaps the best donut shop in all of Montreal, and the the team here consists of geniuses who are great at fusing sweet & salty flavours, with their donut grilled cheese being the tastiest testament to that fact. Available every day, Le Doughnut Grill Cheese features the fan favourite maple donut (which is delicious on its own) grilled to perfection, with bacon, caramelized onions, and cheddar cheese in between.
La T-Rex
La Banquise (address and info)
Plateau
Respecting the saying of "go big or go home," La Banquise's La T-Rex isn't a simple bacon poutine -- it's a coronary on a plate that includes ground beef, pepperoni, and hot dog sausage in a hot mess of meaty goodness.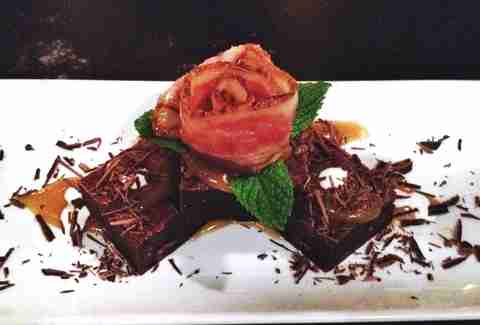 Bacon Brownie
Diablos Smokehouse Saloon (address and info)
Plateau
Let us enter the realm of bacon desserts with Diablos' newly created Bacon Brownie. At the base is a 75% double dark chocolate brownie baked with Diablos' house-smoked bacon, then topped with Wild Turkey bourbon caramel, crème fraîche for some cooling tang, chocolate shavings for good measure, and a deliciously attractive bacon fleurette.
Maple Bacon BEAVERTAIL
BEAVERTAILS (address and info)
Various locations
Quebec's famous winter ski trip treat has been given a sexy makeover for springtime with BEAVERTAILS' new Maple Bacon BEAVERTAIL. The classic piece of fried dough that makes the base of every BEAVERTAIL is doused in maple syrup and topped with bacon, a flavour combination so Canadian you can almost hear it singing the national anthem. Get it quick though, they're only selling them 'til June 1st.
Follow Michael D'Alimonte on Twitter for more delicious Montreal dishes!