Sure, we've told you where to get the best Montreal brunch, lunch, dinner, drinks, and even a light snack -- but there's one crucial, most important meal of the day we've been missing. Well, not any more! There's certainly no shortage of joints to appease the city's love for all foods breakfast-y, but since making a decision in the morning before having any food can be really hard, here are a dozen of Montreal's best breakfast spots.
Recommended Video
Debatable: Is Shake Shack Really Fast Food?!?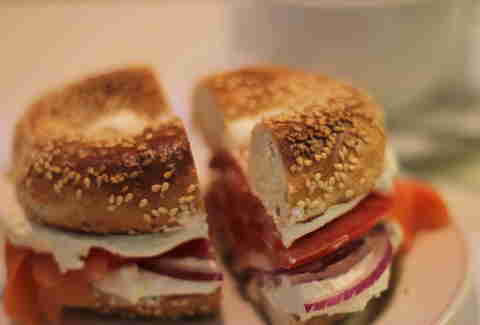 The Plateau
What' you're getting: The Beauty's Special
Since 1942, Beauty's has been one of the premiere breakfast diners in all of Montreal. Upholding the tradition of simple and tasty comfort food, Beauty's has always remained downright delicious, a fact made apparent by the long lines found at the Mont-Royal street diner every weekend. You truly can't go wrong with anything on the menu, but its namesake dish is the Beauty's Special, which is something of a Montreal classic. It's a bagel stuffed with salmon, cream cheese, onions, and tomatoes. You can find dishes similar to the Beauty's Special elsewhere, just know that Beauty's was doing it first.
Plateau
What' you're getting: Piémontaise savoury stuffed waffles
Almost every kind of waffle you can think of is expertly crafted at Engaufrez-vous, from the light and airy bruxelloises waffles to the perfect-to-dip-in-coffee stroopwafel. The stars of the waffle show are the stuffed waffles, available in savoury or sweet varieties. Dark chocolate- and fruit-stuffed waffles are hard to pass up, but the savoury Piémontaise filled with ham, pesto, and mozzarella is the way to go if you're not feeling the sweet at breakfast. Note that the Piémontaise is only one of 12 savoury flavours to try, if ham isn't your jam.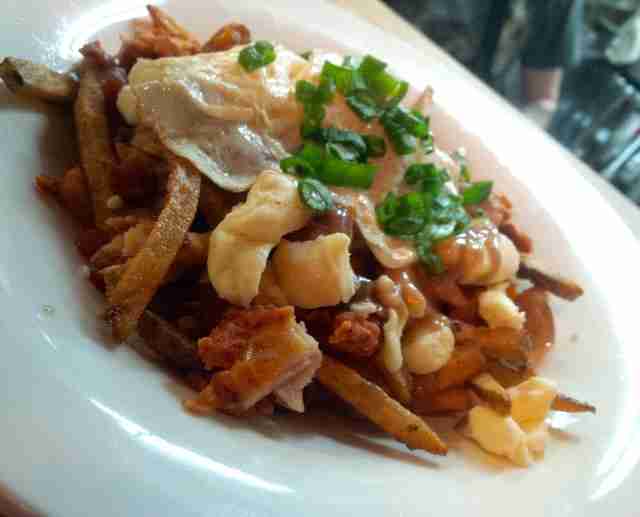 NDG
What' you're getting: Breakfast Poutine
Lemon ricotta pancakes, shakshouka, and its house-cured salmon gravlax plate are a sampling of Prohibition's higher-brow creations, all of which are delicious, but when a restaurant offers a high-caliber breakfast poutine like Prohibition does, you can't not order it. Many breakfast restos offer a breakfast poutine, none of which are made up of fries, gravy, cheese, candied bacon, egg, and fried chicken like Prohibition's. Truly, Prohibition's Breakfast Poutine is a bountiful mound of delicious flavours that will perk up any morning.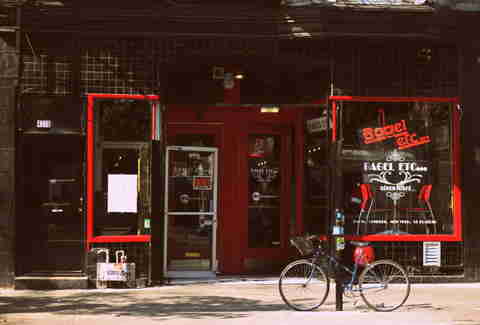 Plateau
What' you're getting: Huevos rancheros
Not even factoring in the food found at Bagel Etc., two features make this restaurant worthy of being on this "best breakfast" list. For one, it has an entire kitchen counter filled to the brim with different hot sauces (from Sriracha to chipotle Tabasco) that you can grab anytime you like. Second, it's one of Leonard Cohen's favourite spots. If hot sauce and star power don't convince you, the vast assortment of amazing breakfast dishes at Bagel Etc. will. Featuring everything from classic breakfast platters to eggs Benedict (which are amazing) to blintzes, the Bagel Etc. menu is incredibly diverse. A fan favourite is the Montreal-ized huevos rancheros, made with Montreal bagels at the base instead of tortillas. 
 
NDG
What' you're getting: The Mish Mash
If only one greasy spoon could make it on this list, Cosmos would need to be the place to feature. A literal institution in the borough of NDG, Cosmos has been serving up the best kind of hangover breakfast food (the greasy, no-frills, delicious kind) for well over 35 years. To try a Cosmos classic, go for the Mish Mash; a scrambled egg mixture of bacon, salami, sausages, onions, and peppers served alongside home fries and toast.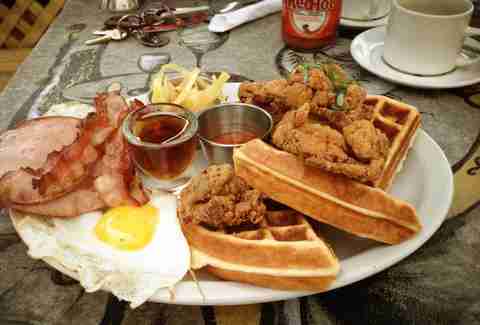 Mile End
What' you're getting: Chicken & waffles
Only a few Montreal breakfast establishments create the incredibly indulgent fusion of sweet and savoury that is fried chicken & waffles, and Fabergé does it best. Crispy fried chicken is paired alongside airy waffles, accompanied by Fabergé's homemade BBQ sauce, pure maple syrup, and coleslaw.
Mile End
What' you're getting: The English Breakfast
Those familiar with what the English eat will be happy to hear Lawrence serves up deviled kidneys on toast, kedgeree, and scones with clotted cream -- but if it's your first foray into the UK's breakfast selections, go for the English Breakfast. With big ol' English sausages, baked beans, mushrooms, bacon, and eggs, the English Breakfast plate is simple, filling, and (most importantly) delicious.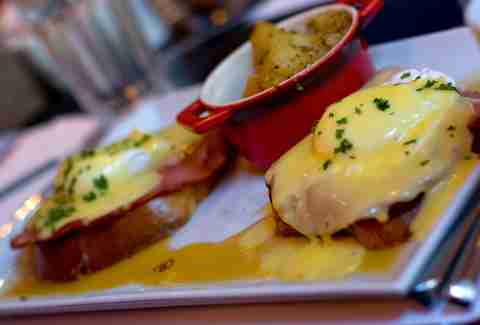 Plateau
What' you're getting: Bénédictine Sucré-Salé-Croustillant/Sweet-Salty-Crunchy Benedict
Like any self-respecting city with a decent breakfast/brunch scene, Montreal is home to tons of places that serve eggs Benedict. Arguably on top of the eggs Benny food chain is L'Avenue. For something original, try L'Avenue's Sweet-Salty-Crunchy Benedict (Bénédictine Sucré-Salé-Croustillant on the menu), which is made of two slices of panko-crusted bread, smoked ham, swiss cheese, and two poached eggs, all topped with its homemade hollandaise sauce and pure maple syrup.
Mile End
What' you're getting: House-smoked trout
Not only does Sparrow have a reputation for being one of the hippest bars in the Mile End, it's also known as one of the city's best brunch spots, and for good reason. Currently on the breakfast docket is house-smoked trout, served with a spinach and green onion pancake, beet salad, and soft-boiled egg, which is so good it's hard to recommend anything else.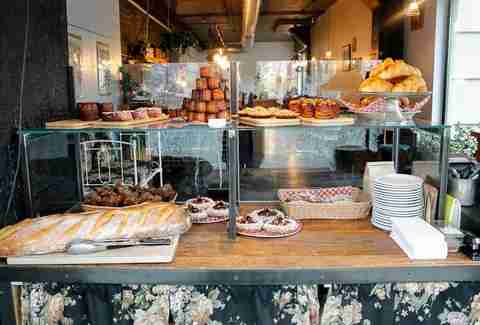 Gay Village
What' you're getting: Pretty much anything
Unlike most breakfast spots, Ma'tine doesn't stick to one menu, consistently churning out the same classic dishes. Instead, Ma'tine frequently mixes up its breakfast menu, making it hard to recommend any one thing. Not to worry though, because no matter what you order, there's a guarantee it's going to be delicious.
Old Montreal
What' you're getting: Brunch des Cantons
Part restaurant, part boutique, Le Cartet wears many hats, and being a magnificent breakfast spot is one of them. Whether you head to Le Cartet on a weekday or weekend, you'll have a large selection of eggs and omelets, sandwiches, pastries, coffees, and signature breakfast plates to choose from, like the Brunch des Cantons. Deliciously filling, the Brunch des Cantons features eggs accompanied by three kinds of meat (ham, bacon, sausage), duck fat roasted potatoes, and a generous helping of baked beans.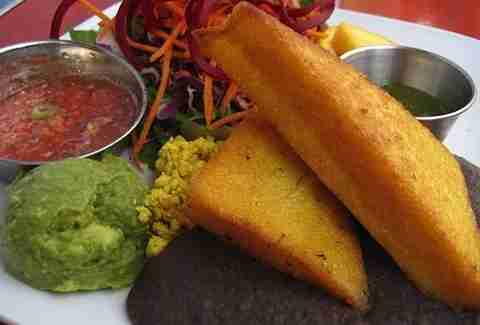 Plateau
What' you're getting: La Polenta
A breakfast without the staples of eggs, bacon, and cheese (so a vegan breakfast) may sound a little wanting, but at Aux Vivres, you won't even notice the difference. Cleverly switching in tofu scrambles and tempeh bacon for the traditional breakfast items, the huevos rancheros and breakfast burrito are both solid options, although La Polenta is a dish you can't really find on many other breakfast menus. Fried polenta is served with black beans, a tofu "egg" scramble, salsa, and guacamole to make up a filling plate that will hit the spot and is free of any animal byproducts.