The 8 Best Burgers in All of Quebec
When it comes to burgers, Quebec is stuffed full of juicy, succulent greatness -- from the buns of Ottawa and Quebec City, to the fat slab of beef that is Montreal, here are the finest hamburgers in the entire province...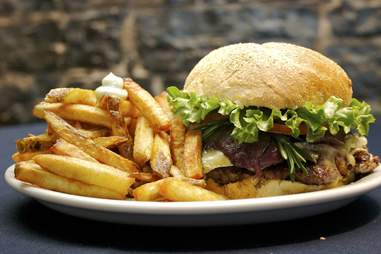 Chez Victor
Various locations
What you're getting: Le Cerf, or whatever the location's speciality is
With 10 locations spread across the Québec City region, know that each Chez Victor address offers menu specialties not served anywhere else, like "Le Cerf," a venison burger with rosemary and red wine pears plus brie cheese. You can chow this one down at the Downtown Québec restaurant.
OMG Resto
Sherbrooke
What you're getting: The Burger de Gars
The deadly sin of gluttony takes on a whole new meaning at the OMG restaurant, which is housed in a former church. Defy the higher powers by ordering the Burger de Gars made with aged local beef, OMG cheese, beef bacon, pork bacon, exotic mushrooms, OMG sauce, pickles, and hot peppers. Alleluia.
Chicoutimi
What you're getting: The Venison Burger
This build-your-own-burger Saguenay joint uses locally sourced ingredients like cute little animals raised in neighbouring farms, and lets you combine sauces and garnish at your taste -- but let's pretend you get the Venison Burger with beer mustard, caramelized onions, and a local cheddar? With a side of hand-cut fries, of course.
Shawn K. Thompson
Montreal
What you're getting: The Uniburger
It took some guts for Uniburger to open shop in the ex-home of La Paryse (RIP), a famous burger joint whose loss was mourned by many. But this might be a blessed address because Uniburger continues the burger magic with this amazingly juicy burger, thanks to the AAA Canadian beef (minced daily), molten cheese lava, and special Uniburger sauce. Hey, it didn't win last year's Burger Week with this one for no reason. Now with a second address in Côtes-des-Neiges.
Auguste
Sherbrooke
What you're getting: The cheeseburger
Beloved Québec star chef, Danny St-Pierre, serves up a mean beef cheeseburger with homemade HP sauce, bacon, and haute onion rings in his Eastern Townships bistro.
Shawn K. Thompson
Montréal
What you're getting: The Coke Burger
This charming little Old Port address with a friendly and cool staff delivers this amazing meatwich called the Coke Burger made with caramelized onions, real and crispy bacon, and its signature Coca-Cola mayo. Oh, and a deep-fried dill pickle.
Ste-Famille
What you're getting: The Duck Burger
The small little snack bar from La Ferme d'OC specializes in everything duck and goose: duck burgers, fries cooked in duck fat, foie gras poutine, and a pulled duck sandwich. Yes. Pulled duck. Open seasonally only.
Various locations
What you're getting: The Epic Burger (IF you can handle it)
You can build your own burger here, but why do that when you can run the risk of spending the rest of the week at the hospital? The Epic Burger is: four beef patties and a sh*t ton of Brie cheese, smoked bacon, fried Kit Kat, melted peanut butter, and a mushroom porto sauce. Who the hell would want to mix all these things together? But hey, you get your picture taken (might be your last) and they even throw in a free Pepto-Bismol bottle in the mix.