Just to add another linguistic curveball to the city, Montreal has a huge Greek population, and that huge Greek population has some of the best restaurants in town. From Parc-Ex to Old Port, rustic to trendy, and traditional to innovative cuisine, here are the Montreal Greek restaurants you should be paying attention to...
Parc-Ex
What you're getting: Slow-roasted lamb
Rotisserie Panama has been a mainstay restaurant in Parc-Ex (which used to be the main Greek neighbourhood in Montreal) for nearly 30 years, and the restaurant still maintains its rep for being one of the best Greek food spots in the city. Two specialties of Rotisserie Panama are the slow-roasted lamb and the whole chicken, both of which are huge plates of succulent meat piled very, very high.
Mile End
What you're getting: Grilled octopus 
"Philinos" for those who aren't well versed in Greek means "friends of wine," so it only makes sense that this Greek resto would have a pretty extensive vino list, with many Greek varieties featured. While the red and white stuff abound at Philinos, one can't forget the food, with the grilled octopus and saganaki being customer favourites. 
 
Côte-des-Neiges
What you're getting: Lamb souvlaki
If you're in need of good Greek food in Côte-des-Neiges, look no further than Estiatorio Yia Sou, located right by the Snowdon Metro. Tons of seating is available (with a terrace open in the summer), so many can enjoy its deliciously large portions and famous lamb souvlaki and gyros. You should definitely pair your meal with some of Yia Sou's signature drinks, including the Bloody Queen-Mary and Greek Island Iced Tea, which is made even more affordable on weekdays during the restaurant's happy hour special.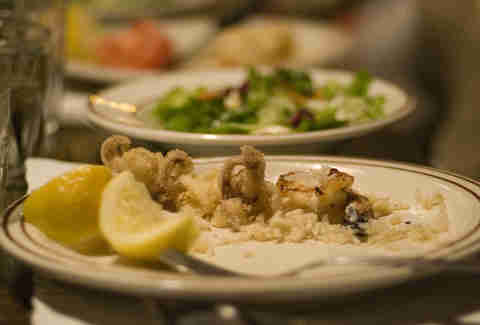 Plateau
What you're getting: Chicken brochette
A mainstay on the cobblestone street of Duluth, Le Jardin de Panos was the first Greek BYOW in all of Montreal, and remains one of the best. Serving all the classic (and delicious) Greek dishes, with some modern additions thrown in, Le Jardin de Panos does Greek cuisine right, but it's the ambiance and atmosphere of this Greek restaurant that can't be ignored.
 
Parc-Ex
What you're getting: Doner/gyro pita
Kind of a hole in the wall, Village Grec looks a tad unassuming, but the rustic veneer is just the modest face of what may be the best place in Montreal to get a doner/gyro pita. Made with a mix of pork, lamb, and beef, Village Grec's pitas are what you need to order, but don't be afraid to try its giant main plates if you're feeling extra peckish.
Outremont
What you're getting: Rack of lamb
Not just a restaurant, Mythos Ouzeri is something of a supper club, with a large bar area, DJ booth, stage, and dance floor. With its large space (and ouzo by the bottle), Mythos is amazing for large groups looking to party a bit after having a great Greek dinner, which you can enjoy even on the later side of the night, as the restaurant stays open well into the evening. 
 
Parc-Ex
What you're getting: The calamari
A meal at Marven's will get you huge portions of delicious Greek food at very affordable prices, which is hard to pass up. Renowned for its calamari (some say it's the best in the city), Marven's also makes a mean souvlaki, quail, and lamb chops, among many other dishes. Just be sure to bring cold, hard cash, as Marven's doesn't accept debit or credit cards.
Old Montreal
What you're getting: Pomegranate-braised lamb
Think of Ikanos as a classic Greek cuisine restaurant given a modern twist. With a mandate to create innovative, but entirely Greek-inspired cuisine, this newcomer to the Montreal Greek restaurant scene (Ikanos opened in mid-2014) has made quite the name for itself, serving unique creations like scallops with foie gras, pomegranate-braised lamb, tzatziki flan, and eggplant caviar, to name a few. You've never eaten Greek food like this before.
 
Outremont
What you're getting: Grilled octopus
Stepping away from the classic Greek restaurant serving style of gigantic portions, Namos goes for a more tapas-esque serving method. Creative dishes like eggplant and zucchini chips and the "Greek Poutine" served over Poutine Week, and classic Greek fare, such as Namos' oft-celebrated grilled octopus, are served in smaller portions and are often meant to be shared, creating a more social atmosphere to the dining experience.
Parc-Ex
What you're getting: Calamari
Simple, rustic, and straightforward in delicious flavours, Tripoli is everything you'd want in a classic Greek restaurant. You can tell everything is authentic when you hear the staff yelling at each other in Greek, a fact that's reaffirmed by the freshness of each dish. When a restaurant is a favourite among Greek locals like Tripoli is, you know you're in for a good meal.
 
Plateau
What you're getting: The Beef Martini
Like the name would suggest, Ouzeri on St. Denis has a long list of wines (with retsina by the bottle) and drinks with an upscale pub vibe to match. More high energy than a standard Greek restaurant, Ouzeri isn't just about the drinks, with its Beef Martini (a special beef stew, not a drink) being a must-eat, along with its moussaka.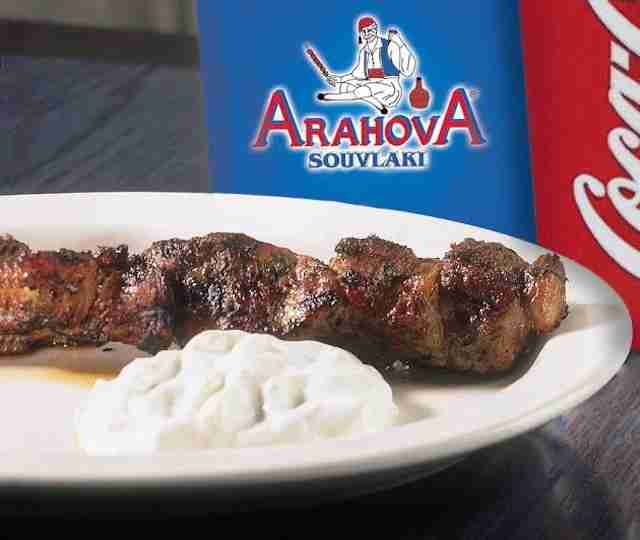 Various locations
What you're getting: The souvlaki pita
Far from fancy, Arahova is often described as a "fast food-style" Greek restaurant... and it is. But it's still good! In fact, many say that Arahova has the best souvlaki pitas in all of Montreal, with many vegetarians claiming the resto's veggie pitas are just as good, too. Best of all, Arahova is open really late (2am weekdays, 5am Friday & Saturday), meaning you can get a pita or a gyro poutine, well after everything else is closed.
Sign up here for our daily Montreal email and be the first to get all the food/drink/fun in the City of Saints.