Whether you want to eat where you live, or live where you eat, it's always important to know where the best lunch spot is in any given area of the city. So whether you're trying to impress your date/co-worker/stomach, our city guide to Montreal's best midday meals is guaranteed to hit the spot.
Little Italy/La Petite-Patrie
Regine Café (address and info)
What you're getting: Duck confit sandwich
Regine Café is a charming little neighbourhood spot with slightly upscale fare and beautiful pastries. While brunch is a popular attraction here, we are partial to the sandwiches offered for lunch: the duck confit sandwich, loaded with succulent poultry, orange mayo, and crispy rustic bacon, this is one serious way to quell the afternoon hunger pangs.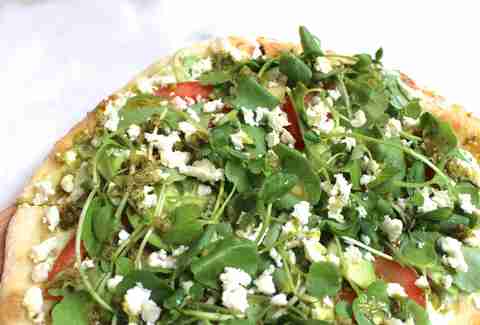 Downtown
Café Parvis (address and info)
What you're getting: Herb & rapini pesto with caponata & chèvre pizza
With a beautiful patio, distressed walls, and the chic atmosphere of a hip Brooklyn hangout, Café Parvis brings a piece of hipster paradise to the suits of Downtown Montreal. Add to that inventive pizza toppings and a wide selection of salads in three sizes, and you've got yourself the perfect place to bring a business associate -- or someone you truly fancy.
Griffintown
Griffintown Café (address and info)
What you're getting: Cajun fish 'n' chips
Located in one of the hippest neighbourhoods in the city, Griffintown Café is quickly rising to fame for its clean, delicious lunch and brunch options that pair up familiar ingredients with perfect execution. The Cajun fish 'n' chips is an expertly cooked IPA beer- and panko-battered haddock filet served with crispy fries; but it's the simplest foods that sometimes pack the biggest punch.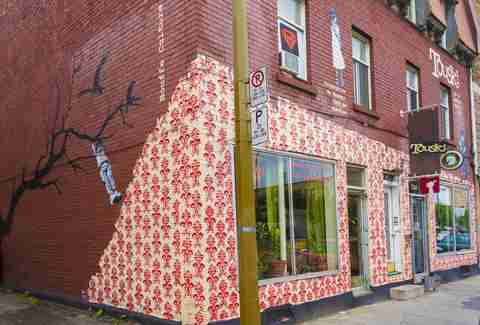 Hochelaga-Maisonneuve
Café Coop Touski (address and info)
What you're getting: Ham and cheese crepes
Sitting amidst Café Coop Touski's red walls, in a crowd of anarchists, hippies, and students whose conversation constantly seems to revolve around the capitalist system, you just may feel like you've been transported to the Greenwich Village of the 1960s. But the food is undeniably familiar: made with locally sourced ingredients, classic comfort fare like omelets and BLT sandwiches do not require you to pledge any political allegiance.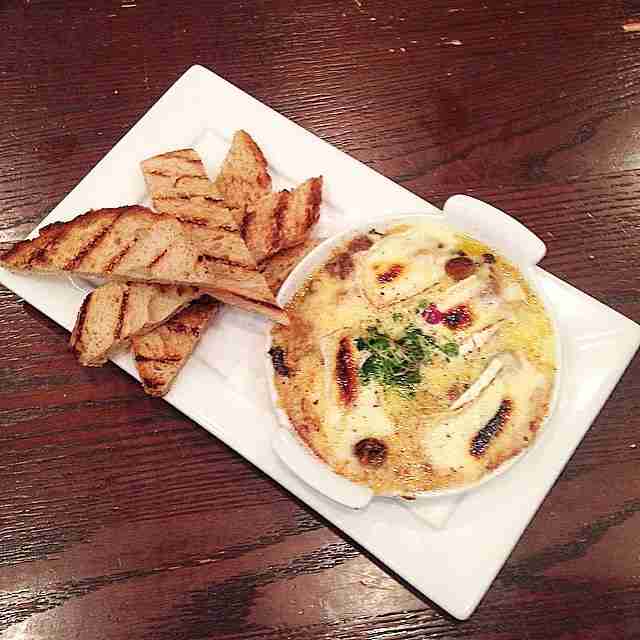 Little Burgundy
Burgundy Lion (address and info)
What you're getting: Ploughman's lunch
Burgundy Lion is better known as an evening hangout with great beer, bartenders that simply invite a confessional, and the atmosphere of a little hole-in-the-wall in Bath or Wiltshire. But if you find yourself in Little Burgundy for lunch, we encourage you to try the traditional ploughman's lunch: with cold pork pie, cheese, fruits, crusty bread, veggies, and a cold beer on the side, this is what every lunch should look like.
Côte-des-Neiges
Snowdon Deli (address and info)
What you're getting: Smoked meat sandwich with fries
There's no need to reinvent the wheel at Snowdon Deli, which has been a Côte-des-Neiges lunch mainstay since 1946. Order the smoked meat sandwich, fat on, with fries on the side, and be liberal with the mustard and ketchup. There's no point messing with a classic when it's this good.
Mile-Ex
Dinette Triple Crown (address and info)
What you're getting: Meat & three
When a restaurant claiming to serve authentic Southern food opened in the hip Mile-Ex, many were skeptical. But few could resist the crackling skin and perfectly juicy, expertly fried chicken and creamy coleslaw served at Dinette Triple Crown from 11am every Thursday through Tuesday. More than any gospel church, Dinette Triple Crown will make a believer out of you.
Notre-Dame-de-Grâce
Villa du Souvlaki (address and info)
What you're getting: Chicken souvlaki with potatoes
On the other end of the Greek food continuum in Montreal lies Villa du Souvlaki, which has nonetheless garnered a diehard fanbase among food-savvy Montrealers for the strength of its souvlaki alone. There is nothing fancy about this bare-bones spot, except the remarkable taste of the chicken: moist and flavourful, it is perfectly seasoned and grilled. And the best part? The lunch prices here can't be beat.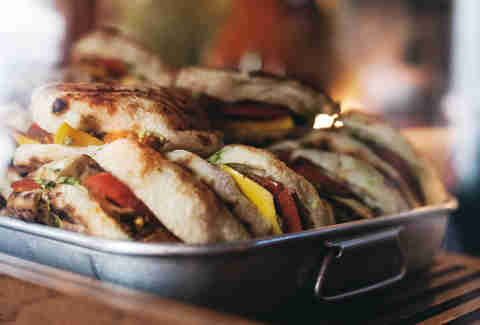 Old Montreal
Olive & Gourmando (address and info)
What you're getting: Smoked trout sandwich
This popular daytime spot is always packed with well-heeled office workers, ladies who lunch, and mothers with toddlers -- and with good reason, for the food here is truly fantastic. A sandwich with hot-smoked trout slices, sun-dried tomato, herbed cream cheese, and spinach, this is one of the best bites of food in all of Montreal, though you're welcome to try any of Olive & Gourmando's incredible offerings. Be warned: you may never be able to eat at another lunch joint ever again.
Outremont
La Lumiere du Mile End (address and info)
What you're getting: Provencal veggie burger
This cute vegetarian café has a distinctly hippie vibe that seems a bit out of place in the heart of Montreal's Orthodox Jewish neighbourhood. But once you get past the grungy appearance, you're bound to fall for the simple, hearty food -- and if that fails, then the owner, Mary, is a true gem.
Parc-Extension
Maison Indian Curry (address and info)
What you're getting: Chicken dosa
Maison Indian Curry has everything you'd want in a true curry house -- simple décor, sticky menus, unidentifiable Hindi music, and the best, sharpest flavours you could possibly imagine. Try the dosas, traditional South Indian rice flour pancakes stuffed with a variety of fillings; they're a steal for $8 and under.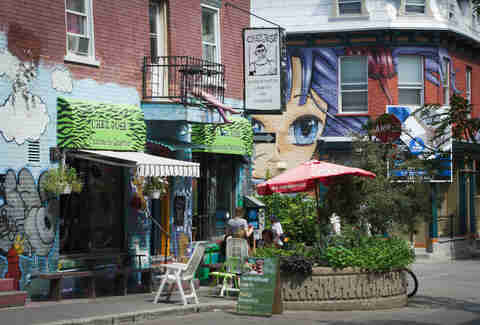 Plateau Mont-Royal
Chez Jose (address and info)
What you're getting: Seafood soup
A family-owned neighbourhood joint that manages to offer authentic Portuguese food for rock-bottom prices, Chez Jose is famed throughout the city for its great sandwiches, juices, and perfectly constructed seafood soup. Go here for the great atmosphere, which makes the food even more succulent.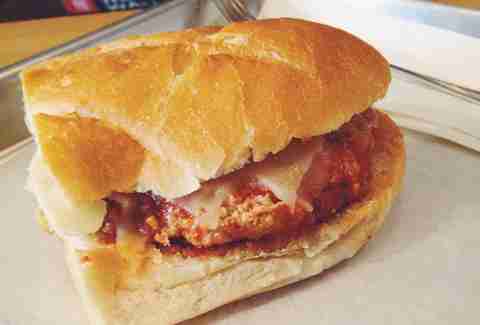 Saint Henri
Campanelli (address and info)
What you're getting: Turkey sandwich
Amidst the glitzy, hip restos and gastropubs of St. Henri hides Campanelli, a pared-down Italian sandwich and coffee shop. But don't let the place's foray into clothes retail and the chalkboard-written menu fool you: when it comes to sandwiches, these guys know what they're doing. The ingredients are amazing, and the bread as pillowy as can be. Just don't pass up the great coffee.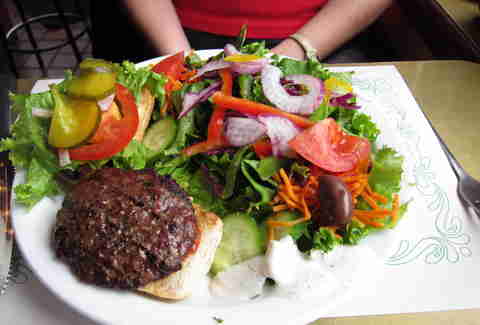 Saint Laurent (The Main)
Patati Patata (address and info)
What you're getting: A burger + poutine (or a burger platter)
Sure, there are always lunch places popping up like mushrooms after the rain on St. Laurent. But there's a reason why old standby Patati Patata remains full, day after day -- you just can't get food this good for this low of a price anywhere else. Grab a burger and a side of poutine, and if you're lucky, eat it on a stool while overlooking the diverse crowds milling about the city's main artery.
Westmount
Mandy's (address and info)
What you're getting: Cobb salad
Don't even try to arrive at the Westmount location of this popular customizable salad bar at noon and expect to find a spot to sit, or get your order in under 15 minutes. The lines here go out the door, because the entire Lululemon-wearing, BMW-driving crowd of Westmount views Mandy's as the lunchtime mecca. Trouble is, the salads really are THAT good here. So call ahead, place your order for pick up, and enjoy having your opinion of salad completely changed. You're welcome.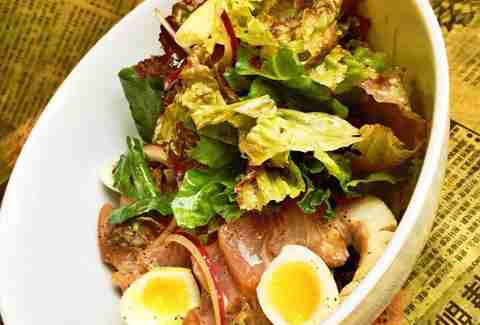 Chinatown
Orange Rouge (address and info)
What you're getting: Pork ramen soup
For a Chinese/Japanese restaurant that's a cut above the rest, head down to Orange Rouge. With an extensive drink list, a curated selection of modern Japanese and Chinese dishes, and the atmosphere of a high-end restaurant hiding on one of the backstreets of Shanghai, Orange Rouge is one gem you don't want to stay hidden.
Ksenia Prints is a Montreal-based freelance writer, photographer, and chef. Follow her delicious goings-on At The Immigrant's Table.