We're all pretty sick and tired of your do-gooder resolutions. PLEASE. We all know where they're going to end up, so let's just skip to the good bit shall we? Here are the restaurants you should be going to to kick off 2014 properly:

Recommended Video
Ghost Kitchen: Restaurant Gets Help from Community During Coronavirus Pandemic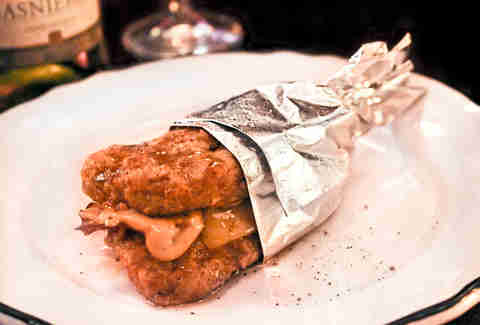 Joe Beef
Little Burgundy
Two words: foie gras double down. What? Was that more than two words? We're sorry, we couldn't hear you over the sound of two chicken patties covered in cheese, bacon, foie gras, and maple syrup.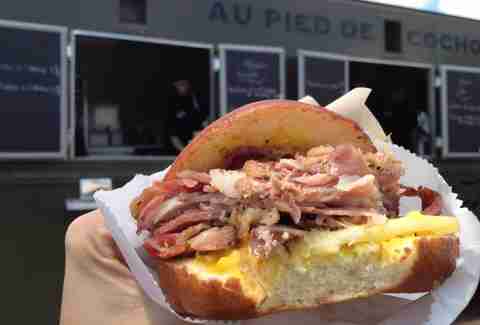 Au Pied de Cochon
Plateau
A good plan for the new year would be to go to Chef Martin Picard's resto and order the whole left side of the menu, including the legendary foie gras burger and foie gras poutine duo. Or, if you feel like immediately torpedoing the exercise you just did,  chase his food truck around and order the pork donut sandwich.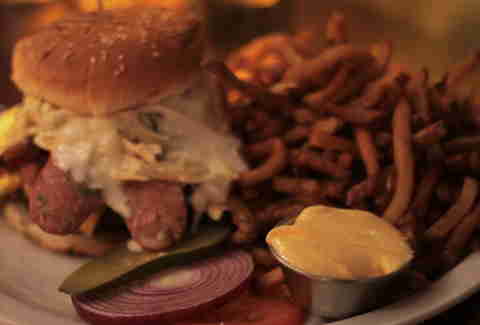 Joblo Restaurant Steakhouse
Verdun
No one goes big better than JoBlo Steakhouse, where their burgers are about the size of your torso and their Caesar comes garnished with a "slider" that's basically just a regular-sized burger. Not into burgers (we pity you)? Try "Le Red Light" sloppy joe poutine.
Diablos BBQ
Latin Quarter
Seeing as the folks behind Diablos BBQ are the famed creators of the godly, Burger Week-winning Cheesus burger (a burger that uses cheese as a bun), you can kind of talk your way into treating visits to their resto as a necessary religious duty. Why not join the church of Diablos BBQ for 2014? Benefits include: all-you-can-eat ribs every Monday, tiki cocktails, bacon brownies with chili salted caramel, brisket sliders, and Sundays rock way harder. 
Poutineville
Multiple Locations
If your plan was to lose 15lbs, then it shouldn't be so hard to lose another 15 right? Resolve to lose 30lbs and take on Poutineville's 15lb heart attack poutine. Served to you in a frying pan (plates don't come this big) this baby's topped with bacon, chicken, wieners, ground beef, ham, onions, peppers, tomatoes, mushrooms, and obviously melty mozzarella cheese curds and gravy.
Le Gros Jambon
Old Montreal
This spot, whose name means "The Big Pig" en Français, will make you just that, thanks to its famous BCLT (bacon, confit du canard, lettuce, and tomato) or their Coca-Cola burger, drenched in soda-flavored mayo.
Cacao 70
Downtown
Please. Your righteous resolution preaching hasn't fooled anybody. You're right into that leftover Christmas chocolate, so you may as well get into this: the Nutella Ricotta Cheese Pizza. Don't ask questions. Just do it. Wash it down with a chocolate soda.