The Best Restaurants in Quebec Outside Montreal
Outside of NYC, Montreal has the most restaurants per capita of any city in North America, while outside of Montreal... there are some surprisingly awesome places. In fact, the rest of Quebec may well be being unjustly overlooked thanks to the bright shining star that is La Belle Ville's food scene -- so we're here to redress the balance...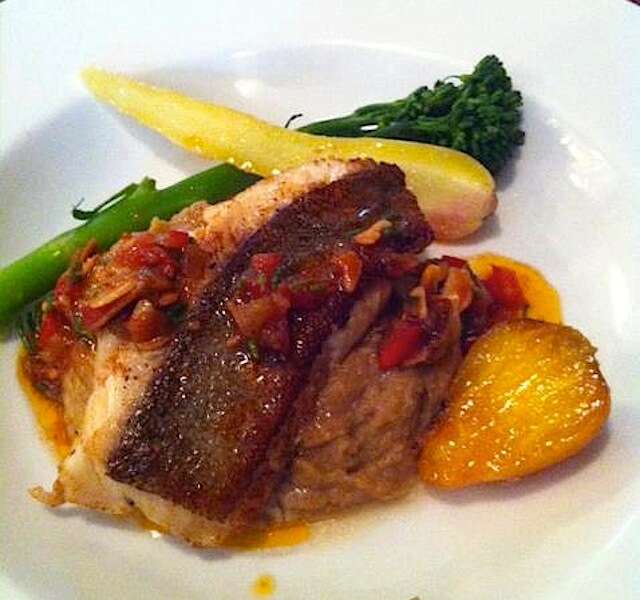 Quebec City
As the proud sister restaurant of the crazy popular Patente et Machin, this small, two-stove kitchen is putting out some of the best food in Quebec -- expect their black chalkboard menu to change by season or, at times, just because the chefs want to. The name itself refers to a French idiom meaning "everything is cool", and not to the condiments needed for their food, which includes the likes of giant servings of pear and paté, Canadian uni, rich potato gnocchi, duck breast w/ lentils, and octopus salad.
What you're getting: Literally whatever they recommend that day.
Granby
Joe Beef alumni Jean-Philippe Tastet set up shop in Granby with his very own restaurant, L'Impérial, in 2012. While Granby (a town known mostly for their zoo) wouldn't be the first place you'd think to open a restaurant, Tastet has done an incredible job at giving you all the more reason to get out of the city, even if it's only an hour away. Anticipate fresh mozzarella & antipasto, scallops and risotto, lobster spaghetti, and strictly homemade desserts.
What you're getting: The BBQ pork ribs are worth the journey.
Quebec City
If you're not familiar with Quebec City, you need to know that there're two parts -- the upper and lower. Most of your tourist-friendly destinations will be on the upper part of the city, but La Gueule de Bois is reason alone to venture to the lower end. Nestled on Rue Saint-Vallier, you'll need a reservation, but if you ever catch yourself visiting during, say, a snowstorm, walk in and try your luck. The plates are rustic, homey, and feature the likes of deer steak and a lobster risotto.
What you're getting: The wild game and mushroom gnocchi.
Saint-Benoît-de-Mirabel
While there are abundant amounts of cabanes à sucre in the region, anyone who has successfully gotten at table at Au Pied de Cochon's is probably still harping on about how great their meal was. Located in Saint-Benoît-de-Mirabel, this boozy, syrupy, pork-laden kitchen lets you sip on maple daiquiris or maple Manhattans as you wait for your table, when you'll dine on foie gras with baked beans, sturgeon canneles in mussel sauce, blood sausage, and squid ink pasta... to name but a few.
What you're getting: The meat platter. Whether you can finish it is another matter.
Quebec City
Some say La Planque is French Canadian dining at its finest and, if you can find it, you'll probably agree. Tucked away in one of the smaller boroughs of the city, the place is known for its locavore attitudes, and their provocatively quirky dishes, such as rabbit w/ roasted hazelnuts, and loin of pork in cherry juice. Luckily their waitstaff is notoriously kind, and is more than ready to persuade you to try and order something you've never had before.
What you're getting: Smoked veal sweetbreads.
Shawinigan
Located in Shawinigan, Le Trou du Diable (translating roughly... or exactly to "The Devil's Hole"), is named after a cave in Saint-Casimir, Quebec, which apparently people didn't like much. This place, however, you will like, serving the likes of house-made salami, pulled lamb shoulder, steak tartare, and red deer carpaccio, all washed down with paired beers from their 85-strong selection.
What you're getting: House-made sausage w/ a pint of their La Saison Morte.
Mont-Tremblant
As Mont-Tremblant brings in such a huge volume of skiers during its high season, it stands to reason there'd be a few great restos there -- and Patrick Bermand stands out amongst them. Moving from France to Quebec in 1978, Bermand's co-owned other Mont-Tremblant favorites like Le Shack and Auberge Sauvignon -- in this post, however, you'll find everything from organic milk-fed veal chop to a delicious lobster poutine.
What you're getting: The six-week age-dried Tomahawk cut steak