The 16 Best Spots for Cheap Eats in Montreal
Because doctors recommend that at least one meal out of every dozen is something other than poutine, it pays to know where to get the more delicious, and similarly affordable alternatives -- to help you out, we've scoured the city to find the very finest meals you can score for under $10.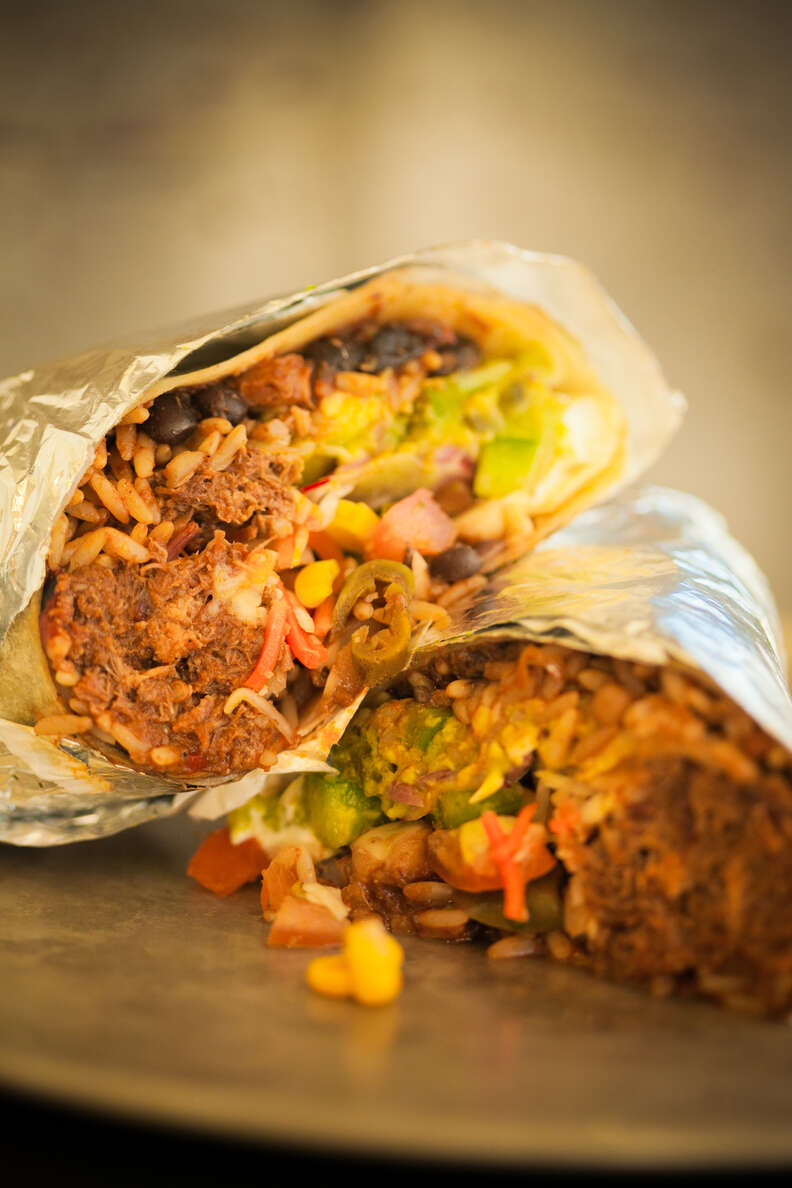 St. Henri
What you're getting: Burrito with ancho cumin BBQ beef brisket
Authenticity be damned, sometimes all you want is some good ol' Tex-Mex fare -- and in that case, newcomer Tejano BBQ Burrito has got you covered. Pile on the jalapeños, cheddar, and fresh guac, and if you're really hungry, you can always go for an XL veggie burrito for just $10.
Plateau/Mile End
What you're getting: Veggie burger
L'Gros Luxe is where you go when in need of a cheap, greasy, but delicious fix: a freshly made, sizable veggie burger, a spicy Caesar, or a breakfast worthy of a king, all under $10. That is, if you can get a seat.

Mile-Ex
What you're getting: Vegan pulled "porc" sandwich
Dripping with barbecue sauce and studded with pickles and zesty coleslaw, this hefty vegan sandwich will make any meat eater do a double-take: in texture, smell, and look, it is almost indistinguishable from its carnivorous brother. And at $7.25, far cheaper too.
St. Henri
What you're getting: Laksa Lemak or steamed buns
In the summer, the Satay Brothers peddle their expertly made Singaporean fare from a colourful stall at Atwater Market, and the lines go around the block. But in wintertime, the brothers can be found just around the corner in St. Henri -- and their food is no less vibrant, fragrant, and cheap, at less than $10 for a decent meal.
Downtown
What you're getting: Steamed pork and dill dumplings
Whether you're a vegetarian, pescetarian, or carnivore, there is a dumpling with your name on it at Qing Hua. I mean, who doesn't love pockets of dough that are filled with the softest, most deliciously cooked meat and vegetables, studded with herbs and then allowed to swim in hot, salty broth... for $9.99?

Chinatown
What you're getting: Shrimp, pork, peanuts, and Chinese chives dumplings, or other dim sum
Though you can sometimes judge a book by its cover, you really shouldn't disqualify this great Chinese restaurant based on its unappealing venue. The Chinese fare is excellent all around at Kim Fung (also known as Maison Kam Fung), but people come back again and again for the plentiful, over-laden dim sum trolleys, and the cheap prices (three-four dumplings for under $5, sans special).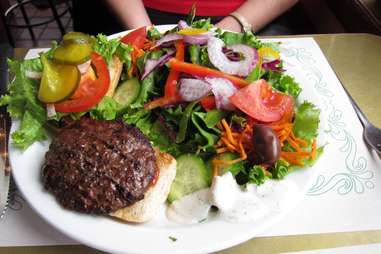 The Main
What you're getting: A burger + poutine (or a burger platter)
Easily recognizable for its bright murals, relaxed atmosphere, and rock-bottom prices, there is not a person alive who will leave Patati Patata unsatisfied. Burgers cost just over $2 ($5 for a plate with salad), and a serving of poutine will set you back just over $4. Word to the wise: seating is sparse, so be ready to take your food with you.
St. Henri
What you're getting: Sabich
Though people freely extoll the virtues of Sumac's falafel, there's another gem in this Middle Eastern restaurant's great menu: the Sabich sandwich. A truly Israeli creation, this strange hybrid of fried eggplant, hard egg, pickled cucumber, and amba is an amazing bite of the best of all worlds: salty, spicy, creamy, and smoky. And it only costs $8.

Downtown
What you're getting: veggie/ non-veggie Thali platter
Most of the good North Indian food in Montreal can be found at Parc-Ex, a small sliver of a neighbourhood by the Jean-Talon Market. But as most hungry diners rarely venture out to that area on a regular basis, it was high time for someone to bring authenticity Downtown. You will find it all at Thali: silky matter paneer, spicy lamb curry, fluffy naan, and rice that falls into perfectly cooked grains, and all for $9.50 or less.
Côte-des-Neiges
What you're getting: Tai Nam Gam
Tucked in a nondescript part of Côte-des-Neiges, Pho Lien, like most great neighbourhood restaurants, doesn't do much for publicity. It's the smell of its steaming soup and burning hot sauce that draws people from far and wide. And of course, the low price (from $7.75 for a small soup, to $9.75 for a large).
The Plateau
What you're getting: Legumbres arepa (grilled vegetable arepa)
Entirely gluten-free and house-made, the arepas at this Plateau institution have developed quite a name for themselves. The toppings come in inventive combinations, and there is a real sense of the love and care put into each dish. And at $9 and less, it's tough to go wrong.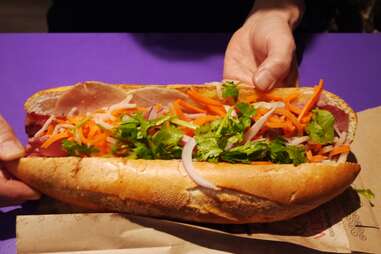 Quartier Latin
What you're getting: Fried tofu banh mi
Vua Sandwichs is famed across Montreal for amazing, deeply flavourful banh mis at a fraction of a typical sub's price. With a small, 7in sub starting at $2.95 (!) and the most expensive 10in clocking in at $3.75, no one would really blame you if you bought two.

Mile End
What you're getting: Onigiri
Tucked on the bottom floor of an nondescript office building on the commercial tract of Avenue de Gaspé, Café Falco is a strange creature. It keeps office hours, closes at 4 or 5pm on most days, and mostly draws clientele from the nearby buildings -- but it is far from your typical lunch spot. With immaculate design, Japanese coffee siphons, and a unique, understated aesthetic in food, you can score onigiri rice balls at $1.95 a pop. Pair three of them with a miso soup, and you've got a great meal for under $10.
Côte-des-Neiges
What you're getting: "Smile" house specialty brunch
Everyone knows about St-Viateur Bagel, but did you know you can also get a solid brunch at its Monkland outpost? (Though it's technically cheating at $10.95, we made up the rules, and we can break them.) Get your choice of a bagel sliced in two, an egg baked into each hole, and homestyle potatoes, beans, and meat loaded on top... but if you're short on cash, you can go for the two-egg bagel with hash browns and fruit for $6.75.

Mile End
What you're getting: The thigh (cuisse) chicken sandwich
A tiny restaurant with only eight seats, Serrano is more of a take-out place than a sit-down eatery. But don't pass up the incredible Peruvian-style rotisserie chicken at this mom-and-pop shop; the most expensive sandwich clocks in at just over $6.
The Main
What you're getting: A grilled kafta skewer + tabboule salad
Omnivore serves up its fusion Middle Eastern fare in a slightly classier atmosphere than many other cheap eateries, and Montreal's diners respond in droves. On some days, this place is more popular than the Notre Dame Basilica. Once you taste Omnivore's bright, punchy tabboule salad ($2.50/person) and juicy kafta skewers ($4 a pop), you will see why. This is food meant for sharing, so for the best bang for your buck, come with friends and split an order of a dozen kebbe balls ($12) and some salads.
Ksenia Prints is a Montreal-based freelance writer, photographer, and chef, and she might never spend more than $10 on lunch ever again. Follow her delicious goings-on At The Immigrant's Table.