The 8 Best Sugar Shacks in and Around Montreal
Call it what you will: sugar shack, sap house, sugar shanty, diabetes development center, these cabins are just one of the reasons why Montreal is so great. They're where the delicious maple syrup is tapped, and where you can get an entire five-course meal drenched in the stuff -- and these are the best ones...
Rigaud
Wouldn't blame you for getting a little sappy (!) over the pancake dinner buffet at Sucrerie de la Montagne -- and as if drowning everything in syrup wasn't enough, you can even order your pancakes to be sprinkled with granulated maple sugar, too.
Havelock
This shack extraordinaire has actually been deemed a Quebec historical site, and unlike other cabanes, it's open year round. So if you can't get enough of those maple-baked beans, crispy fried pork rinds, and old-style mashed potatoes, you can just come back!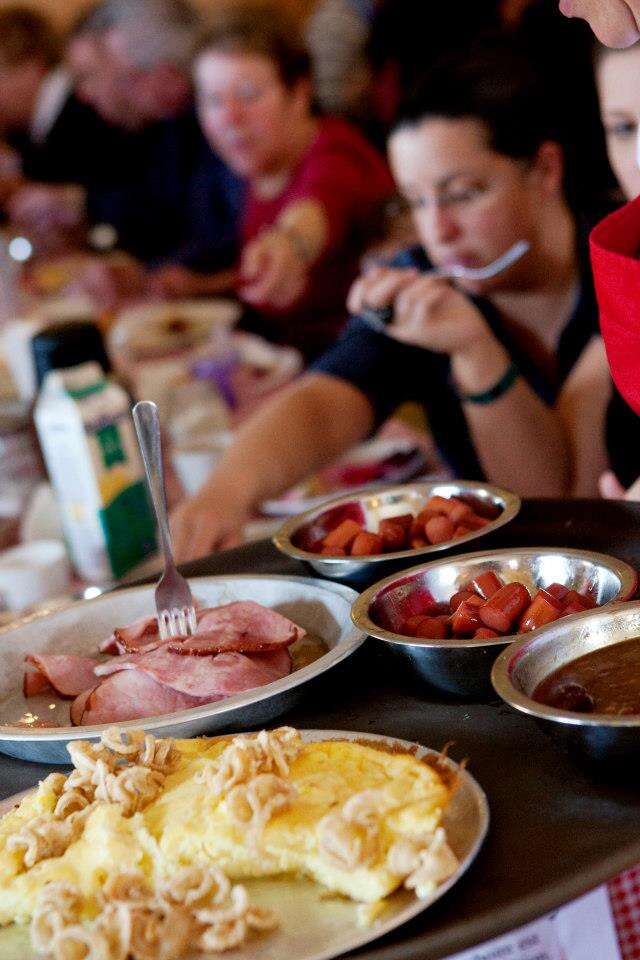 Sainte-Anne-des-Plaines
The fine folks of Le Chalet des Érables have gone and sweetened up their sugar shack experience with a special deal that'll score you a free beer with every appetizer you order after 7:30pm, incl. pork rinds, ham in syrup, sausage omelets, etc.
Mont-Saint-Grégoire
Most Montrealers don't associate the name "Charbonneau" with anything remarkable, let alone delicious -- but that will all change after a trip to Érablière Charbonneau's all-you-can-eat sugar shanty buffet. Their famous omelet tournée will make the 40min drive worth it and then some.
Mont-Saint-Grégoire
Sure, topping off your maple feast with one of Sous-Bois' homegrown apple wine or cider may lead to sickening next day hangover regrets, but when it comes to sugar shacks, it's worth it.
St-Benoît de Mirabel
Visiting Martin Picard's rustic sugar cabin should be on everybody's "Things to do before you die list", but maybe towards the end of it, 'cause their menu, which includes a meat mountain (er, "platter"), will definitely bring you closer to to it.
Mont-St-Grégoire
Remember the revelation you had when the bacon beside your pancakes brushed up against the maple syrup? There's nothing coy about the meat-syrup action you'll get here, where the menu includes sausages served in maple syrup. And oh yeah, the maple syrup comes in pitchers.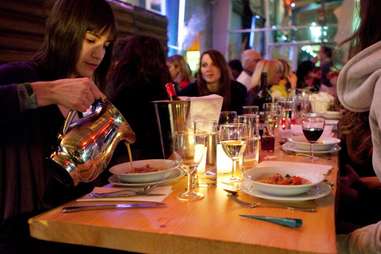 Old Montreal
If you don't have wheels or you're just a lazy sod, roll your fatty arse down the road to Montreal's urban answer to a sugar shack. Five of Montreal's most acclaimed chefs dreamed up equally delicious maple-infused dishes for their special menu, but we're having trouble moving past Demer's maple ice cream sandwich that's served with a healthy side of maple cake.
Sign up here for our daily Montreal email and be the first to get all the food/drink/fun in the City of Saints.