Well wing ding a ling -- the moment you've all been waiting for is finally here. We've gone out and found the most fly chicken wings in La Belle Ville so that you no longer have to sit around and ask yourself: "I wonder where the most fly chicken wings in La Belle Ville are?" Read on!
Guinness BBQ Wings at Mckibbin's Irish Pub
Various locations
Usually pub wings are pub wings, but not in this case. McKibbin's took what they had going for it (Guinness beer) and drenched their BBQ sauce in it. The result: quite possibly the greatest sauce in town. You'll be licking your fingers for days. But, try not to. That's completely gross.
Jumbo Capon Kick Ass Wings at Ye Olde Orchard
Various locations
Obviously these wings wouldn't be here if they didn't live up to their kick-ass name in the gustatory and olfactory departments, and believe you me, these spicy bad boys do. Also? They're capon wings, which means they're less gamey, and more juicy than regular wings.
Tao Wings at Le Next Door
Westmount
Honestly, Le Next Door just does wings right, but their Tao Spicy Garlic Wings are legit good. And the 29 cents per wing Sunday special (that washes down nicely with the beer special that follows) is freaking amazing. 
Honey BBQ Wings at Buffalo Bill Wings
Various locations
Obviously the lovechild of someone who wouldn't be separated from their honey sauce or their BBQ sauce. It's not the sweet, sweet honey that makes these wings so good. It's not the zippy BBQ sauce either. It's the love. Or something. The side order of pickle chips definitely helps.
Dak Nalge Tigim Wings at Omma
Mile End
Omma's sweet crispy wings that come marinated with sesame and Korean chili paste rival any home-cooked comfort meal your mama makes and any other wing out there. We don't actually speak  Korean, but we're pretty certain "Dak Nalge Tigim" means "Like, crazy good".
Diablos BBQ's Deep-Fried Wings
Latin Quarter
Diablos may be a Southern-style BBQ smokehouse, but that doesn't mean they don't know how to deep-fry a chicken wing. Doused in the same smoky BBQ sauce used on their ribs, these crispy wings offer a welcome Southern twist on the often mediocre bar wing.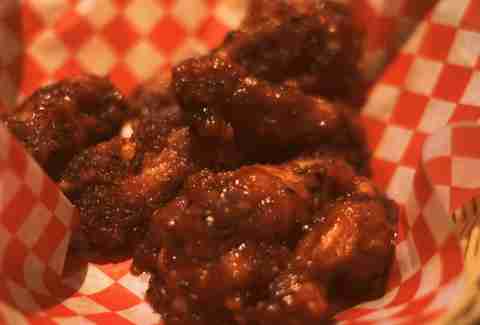 Peanut Butter Wings at Wings 'N Things
Royal Mount
The sloppy, finger-licking wing experience gets even sloppier with Wings 'N Things' peanut butter bad boys. It may seem a little counterintuitive at first, but just remember all the satays you've had, and it'll all make sense.