All the dishes at Poutine Week, ranked in order of deliciousness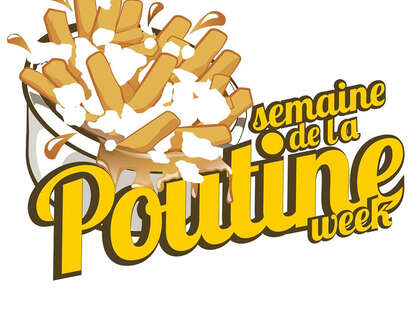 La Poutine Week
La Poutine Week
Poutine Week is upon us, and since no one has actually tried any/all of the glorious curdy creations yet, we've handily ranked each of the "dirty 32" dishes that're going to be available (for one fleeting week come Feb 1st) in order of their theoretical deliciousness.
32. Uniburger's Chili Cheese Fries Poutine
Latin Quarter
Sure, it's probably lovely, but this is Poutine Week. We're expecting AMAZING.
31. Lola Rosa's LOLA Vegan Poutine
Mile End
Homemade gravy, fresh mushrooms, and black beans. Getting better.
30. McKibbin's Irish Pub's Baked Potato Poutine
Multiple locations
All the ingredients of a baked potato in poutine form with homemade gravy. Way to break the stereotype, fellas.
29. Le Gourmet Burger's La Poutine du Gourmet
Downtown
Freshly cut fries, topped with "squish-squish" cheese curds, gravy, caramelized onions, sautéed mushrooms, smoked bacon, and garnished with a sweet & spicy chipotle sauce & fresh thyme.
28. Montreal Poutine's Merguez Poutine
Old Montreal
Homemade fries, cheese curds, vegetarian gravy, and spicy merguez. Veggie gravy and sausage?! Sure, why not.
27. Régine Café's La Poutine "Breakfast"
Rosemont-Petite-Patrie
Make every minute of Poutine Week count by getting an early start with this greasy breakfast poutine topped in homemade gravy, 2yr-old cheddar, and chorizo.
26. Royal Phoenix Bar's La Royale Poutine
Mile End
A generous portion of pulled pork with red cabbage and green apple coleslaw. Interesting!
25. Poutineville's Angus Prime Poutine
Multiple locations
Angus Prime roast beef poutine. Delicious? Most probably. Adventurous? Not hugely.
24. Poutine Centrale's Butter Chicken Poutine
Hochelaga
Poutine topped with chicken in a creamy Indian spiced sauce and topped with cilantro. Indian-Canadian fusion... this could go either way...
23. Sésame's Shaolin Poutine
Multiple locations
Panko beef, a combination of four cheeses, and mixed veggies topped in homemade Asian gravy.
22. Namos' Greek Poutine
Mile End
Braised lamb with kefalotiri cheese. Anyone who's had kefalotiri knows it's pretty delicious.
21. Wings 'N Things' Wing's 'N Things Poutine
Cote-des-Neiges
This thingy-thang poutine's got chicken wing meat all up in its hot mess of curly fries, cheese curds, and medium sauce. No bones! Woo hoo!
20. Miss Pret à Manger's Miss Pret Pour Poutine
Financial District
Regular and sweet potato fries, cheese curds, organic braised beef, edible flowers, and braised beef poutine sauce. Edible flowers? This is going to be a fancy poutine.
19. Mange-Moi's La Cochonne
Plateau
Fresh-cut fries, homemade chicken, spice blend gravy, and eight-hour marinated pulled pork. Things are getting really, really good.

18. L'Entre-Pots' La Petite Grosse
Plateau
Le Petite Grosse is kind of a big deal. Ham things up with gravy cooked in ham's juices, homemade French fries, homemade pickles, and roasted ham on the bone. Oh man, you do want bone in this one.
17. La Banquise's Poutine Reggae
Plateau
Golden French fries, cheese curds, Banquise gravy, ground beef, diced tomatoes, guacamole, and spicy peppers. Their gravy is freaking delicious.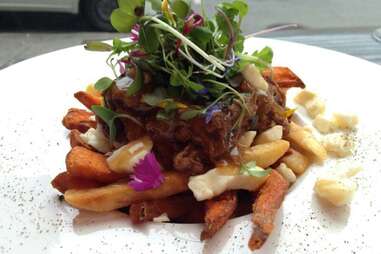 16. Monsieur Restaurant + Bar's The Kale Warrior and Poutine Amour
Old Montreal
Just tell yourself that Monsieur Resto's dinner poutine is healthy because it has kale in it so that you can justify their sweet Quebec maple-bacon homemade churro "fries", cream cheese meringue, fleur de sel caramel gravy, caramelized bacon-topped poutine for dessert.
15. La Bêtise's Lobster and Bacon MacPoutine
Rosemont-Petite-Patrie
Homemade French fries, cheese curds, topped off with lobster and bacon mac and cheese. That would be delicious without poutine!
14. Fabergé's La Famiglia
Mile End
Italian poutine with sauce from Drogheria Fine. Trust them, they know what they're doing.

13. IMADAKE Pub Japonais' Attack of the Imadake's Disaster 2014
Downtown
This Japanese jambalaya of a poutine is cultural fusion at its finest. Merci arigoto, Monsier Roboto (= cultural fusion at its worst).
12. Pizzeria Romeo's La Poutinizza
Plateau
Sure, poutine pizza has been done. But this?!
11. Pub Burgundy Lion's Watership Poutine
Little Burgundy
Braised rabbit with grainy mustard and honey gravy. This is a completely delicious and underrated meat. Plus, the peeps from Joe Beef eat here, and you can definitely trust them.

10. Chez Boris's Poutine auz Beignes et Sauce au Canard
Mile End
Translation: I'm-gaining-weight-just-by-looking-at-this donut poutine drizzled in duck fat gravy, peppercorns, and mozza cheese curds. Add bacon if you're nasty.
9. Au Cinquième Péché's Poutine au Phoque (Seal Poutine)
Plateau
Gnocchi, seal merguez, brussels sprouts, cheese, and full-bodied jus. Plus, it's freaking SEAL POUTINE.
8. Fresh Mint's Le Chaud Lapin
Downtown/Delivery only
Potato galette topped with slow-braised rabbit, Migneron de Charlevoix and gravy. Mmmmm...

7. Blackstrap BBQ's BBQ Brisket Chili Poutine
Verdun
Hand-cut fries, fresh cheese curds, BBQ brisket poutine gravy, BBQ brisket chili, and pickles.
Save this fine piece of work for an especially cold Winter's night and it'll keep you warm until the "itis" kicks in. Only Northerners can appreciate this kind of hearty.
6. SuWu's Pootie Tang Poutine
The Main
Rosemary fries, sortilège, and maple sauce with bacon slices and bits, and fried cheese curds. Yep, that's maple syrup booze in there.
5. Burger Bar Crescent's La Nordique
Downtown
Classic poutine with Brome Lake confit duck, Blue Benedictine cheese, infused sauce, pickled red onions, and arugula. Get. In. My. Mouth.

4. Lucky's Truck's La Fameuse Poutine
Parc Ex
Homemade crispy fries, red wine, and foie gras gravy, duck confit, and balsamic caramelized onions. This recipe + Lucky's track record = you win.
3. Icehouse's Donuts and Coffee Poutine
Plateau
Potato donuts, red-eye gravy, smoked ham, and cheese. Er, DONUT POUTINE.
2. Pub Quartier Latin's Poutine Boeuf Parmesan Truffes!!!!
Latin Quarter
Fries layered in pieces of AAA 1855 beef, demi-glace sauce with truffle pasta, and Parmigiano Reggiano. Just... wow.
1. Frite Alors' The Lobster Monster
Multiple locations
Fries, lobster, squeaky cheese, béchamel sauce, and shallots. Choir of angels, meet tastebuds.