Sylvie Bouchard/Shutterstock
You won't find very many sugar shacks around the globe, that much is for certain. It's not something you can franchise, and it wouldn't work in a regular city. You'll never overhear a conversation of two people deciding between going to a Starbucks or a sugar shack. That's because it's entirely about the experience.
Cabane à sucre in French, sugar shacks can only exist in the specific climates where maple syrup is manufactured. They're magical places where tin cans are hooked onto trees and maple syrup is harvested like fields of crops. Here, the best breakfast foods on the face of the earth are produced and prepared. It's a Disneyland for your taste buds; and just like visiting Disneyland, visiting a sugar shack is quite the spectacle.
It's surrounded by the woods
Deep in the woods of Rigauld, Quebec, you'll find the Sucrerie de la Montagne. It's not the oldest sugar shack in existence, nor is it necessarily the biggest or most popular one. But I've never encountered a better one in my life as a native Montrealer.
But like many other sugar shacks, calling it "tucked away" is putting its remote location lightly. It's a solid hour from the heart of Montreal. It's one of those places where the minute you pull up, after driving through dense forest, you automatically know you're in the right place, and you're in for something special.
The founder is a giant personality
It is guaranteed that you have never encountered a man quite like founder Pierre Faucher before in your life. He's like a curious blend of Santa Claus, the Most Interesting Man from the Dos Equis commercials, and Paul Bunyan. Everything about him is memorable; for starters, there's the beard -- so iconic, it may as well have its own article. He dresses the part, in big boots and large flannel robes and overcoats. He has eaten more raw bacon in the few times that we have met than I can even remember. He may own and operate the facility as a business, but he's just as much a part of the experience as the maple trees or anything else.
"I was born into the syrup," says Stefan Faucher. Such is the life of Stefan, Pierre's son, who now operates Sucrerie de la Montagne alongside his father. Stefan is what you'd expect Pierre's son to be: a big, burly guy with a beard. When he talks about the sugar shack, you can see the pride and joy beam out of his eyes. After all, he was born into the syrup.
It's a village of log cabins
Sucrerie de la Montagne is set up like a small village. The entrance is essentially an enormous dirt parking lot surrounded by log fences. There's a semi-domesticated wolf roaming about (her name is Loulou -- loup is French for wolf -- and she was trained by Pierre). Beyond the fences is a sea of barns, often filled with horses. As you pass the entrance lot, you see several other cabins. One is a gift shop. Another is where bread is baked and maple syrup is made. There are a few more cabins as you continue upward, leading you to the dining hall.
Everything is either wood or stone in the dining hall. There are long wooden tables with benches filling the room, with a huge fire place in the back of the room and a small stage where bands often perform. Pictures of Pierre can be found practically anywhere you look. The whole place is decorated perfectly and truly makes eating there something special, which is what sugar shacks are all about, of course.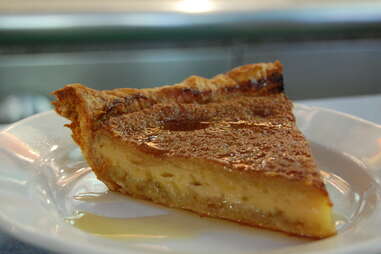 It's a massive f*cking feast
The food is, without question, the main event. Everything about the sugar shack is fantastic, but the meal is the real reason you visit. If you think you've had a great breakfast before then, you are gravely mistaken. You may claim to know the best breakfast place in town, but that's like saying the guy at your local YMCA is the best basketball player ever and you've never seen Michael Jordan before. Frankly, you'll just sound stupid.
The all-you-can-eat feast is a huge spread of eggs, sausage, ham, mashed potatoes, meatballs, meat pie, beans, and the thickest, crispiest, most delicious bacon you can imagine. A slew of homemade condiments and all the fresh maple syrup you could ever dream of lines the tables.
For dessert, servers bring out sugar pie and pancakes. (That isn't the only dessert -- we'll get to the "tire sur la neige" in a bit.) The whole thing is beyond delicious (and nap inducing).
... with lots of alcohol
Yeah, you could order a glass of wine or a beer, but you'd be doing yourself a disservice. As the old saying goes, "When in Rome, do as the Romans." To go to the Sucrerie de la Montagne (or most sugar shacks) and not try one of the maple-flavored alcohols would be a big mistake. There's maple wine, maple sangria, maple whiskey. Booze is good (duh), but know what makes it even better? Adding maple.
... but it's really all about the maple syrup.
As a general rule, things usually taste the best when you get it from the source. That's never been truer than with maple syrup direct from the trees. It doesn't go straight from the tree to the top of your pancakes, though. There's an intricate process behind the creation of the maple syrup, first extracted from the trees and heated up in a large, specially crafted vat. That produces a hot maple water-type substance, quite delicious in itself. From there, it's treated and ingredients are added to create the perfect maple syrup.
The finale: tire sur la neige
For anyone who's never had tire sur la neige, this might be difficult to explain. Essentially, fresh maple taffy is poured into a trough of frozen snow and the taffy melts and sticks to the snow. From there, you take a popsicle stick, placing it into one end of the taffy. Then, you roll the maple tack up so that your popsicle stick is now covered in a hive of delicious, frozen taffy. Sucrerie de la Montagne is known for taking things 12 steps further by pouring an extra long serving of taffy into the snow and then wrapping it around a hockey stick. And it really doesn't get any more Canadian than that.
Sign up here for our daily Montreal email and be the first to get all the food/drink/fun in the City of Saints.
Tyler Lemco is a writer from Montreal, Quebec. He enjoys burgers, basketball, cheeseburgers, music, and bacon cheeseburgers. Find him on all social medias @tlemco.