Montreal's 10 Most Iconic Meals
Katherine Sehl
Katherine Sehl
Montreal has produced a lot of icons (William Shatner!) many of whom are no stranger to good food (William Shatner!), because this town has so much iconic food of its own -- and it's these 10 restaurants in particular that've been shaping Montreal's culinary landscape (and potbelly-muffin-topped denizens) for decades. If you haven't knocked all 10 of these off your list yet, then you have some business to attend to...
Beauty's Special
Beauty's (address and info)
Mile End
It really doesn't get anymore special than Beauty's blue-leather lined booths, Hymie Sckolnick's old-fashioned good looks, and a bagel sandwich stuffed with a generous amount of lox, dollops of cream cheese, and tomato and onion slices.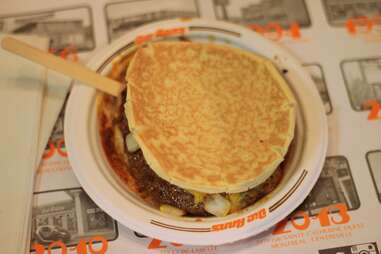 Dic Ann's Burger
Dic Ann's Hamburgers (address and info)
Multiple locations
Dominic "Dic" Potenza and Ann Collecchia have pretty much single-handedly (err, quadruple handedly?) made burgers a thing on the Montreal food scene. And they've managed to do so with the most unconventional flimsy little burger you'll ever have. That special sauce will keep you coming back for quadruples.
Wilensky Special
Wilensky's (address and info)
Mile End
There are bologna sandwiches, and then there's the Wilensky special. It's hard to say why the simple formula of five slices of salami, a slice of bologna, an optional slice of swiss, and a slather of mustard on a vintage-grilled Kaiser is so extraordinary, but it is. And it has been for 80+ years.
Steak
Moishes (address and info)
The Main
Dinner at Moishes is the stuff that Francis Ford Coppola's food dreams are made of -- in fact Godfather/food lover Marlon Brando has even been said to have polished off a few beef slabs here in his day. But really for anybody, one of their gigantic, perfectly cooked rib eye steaks is an offer you can't refuse.
Schwartz's Special
Schwartz's Deli (address and info)
The Main
Schwartz's might be Montreal's most famous export, followed closely by its smoked-meat-loving co-owner, Celine Dion -- and it routinely turns traveling Americans into border smugglers.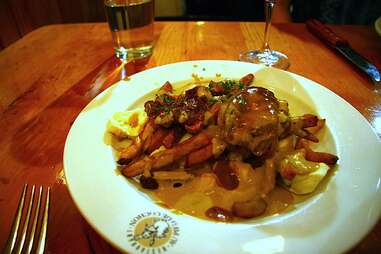 Foie Gras Poutine
Au Pied de Cochon (address and info)
Plateau
Scoring a coveted table at Martin Picard's meaty resto is pretty much on every Montrealer's bucket list, not to mention those in the food-loving world. The infamous foie gras poutine is Montreal decadence at its very pinnacle.
Foie Gras Double Down
Joe Beef (address and info)
Little Burgundy
One of the best trends on Montreal's fine dining scene is taking an already gut-busting fast-food dish and slapping foie gras on top of it. Enter Joe Beef and the Foie Gras Double Down: cheddar and aioli stuffed between two slabs of foie gras breaded with potato chips, deep fried and then drizzled with maple syrup. Yes, you are now fatter just from having read that.
The Bagels
St. Viateur Bagel (address and info)
Mile End
Simply the best bagels in the world. And since they're so in demand, you couldn't order a stale – nay, even a day-old bagel -- even if you wanted to.
Orange Julep
Gibeau Orange Julep (address and info)
Notre-Dame-de-Grâces
Whether it's the mysterious frothiness (the result of added egg whites, some speculate), the giant orange, or the rickety old and kind of creepy pipes they chug your drink from, you really can't find a beverage in Montreal more classic than the good old Orange Julep.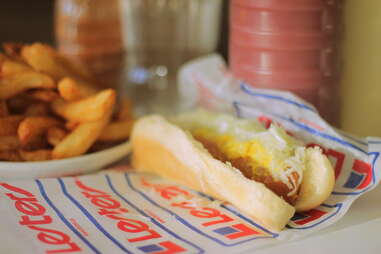 Steamé
Decarie Hot Dog (address and info)
Notre-Dame-de-Grâces
Decarie's famous steamé hot dog knows no rivals other than the side order of fries that comes with it, which more than a few have referred to as the best in town. Cayenne pepper: yes. Ketchup: no, you damn heathen.
Sign up here for our daily Montreal email and be the first to get all the food/drink/fun in the City of Saints.