In Montreal, gluten has a God-like status, in that it can either smite the intolerant with an Old Testament wrath, or it can reward the loyal followers with a glorious bounty of breads, pizzas, croissants, and cannelés the likes of which they've never tasted before. As an ode to everything baked, fried, and yeasty, we've scoured the city's streets to find you the best gluten-loaded things in Montreal.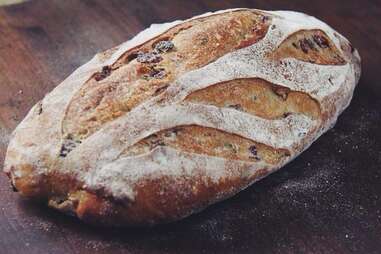 Hochelaga Maisonneuve
What you're getting: Bread with pecans, cranberries, and maple
A perfect accompaniment to robust reds and oozing local cheeses, this white bread loaf from Fabrique Arhoma is studded with sizable pecans and cranberries, and a generous drizzle of local maple syrup baked in for sweetness. If it's out of this particular loaf on your next visit, you can't go wrong with any of the other pastries or baked goods at this East Montreal gem. (Select Fabrique Arhoma products are also available in various bio and health food stores.)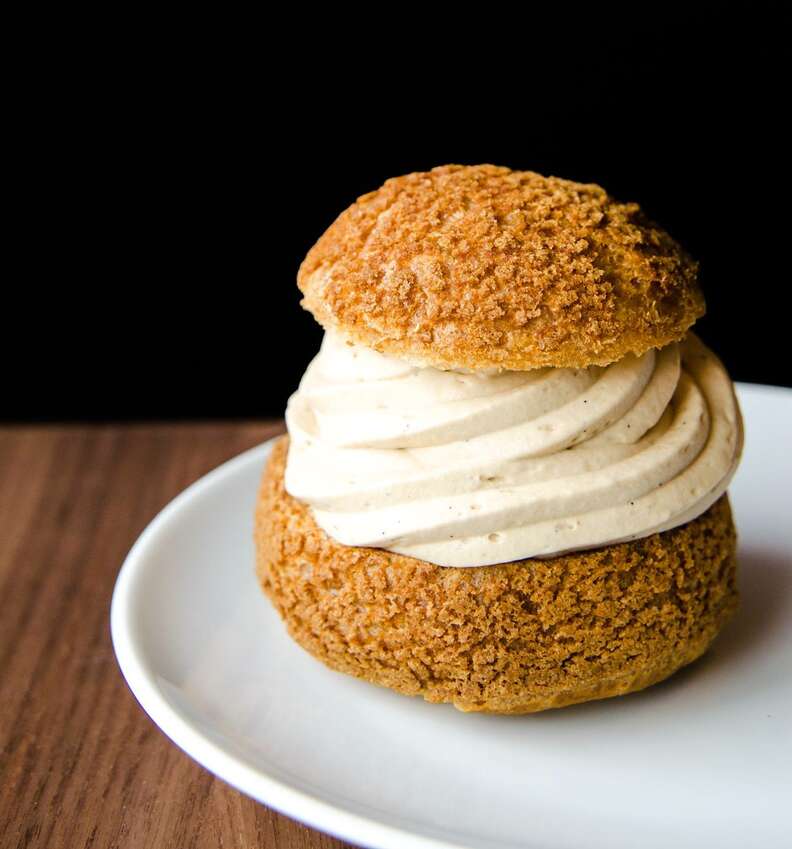 Griffintown
What you're getting: Chou à la crème
A decadent mound of chocolate, banana, or caramel cream is piped between two perfectly puffed halves of choux pastry to make an unforgettable dessert that is almost too rich to eat. Make sure to chase it with a cup of strong espresso.
Saint Laurent
What you're getting: The challah
Imagine the best brioche in the world, baked into the shape of a braid, and topped with a heavy smattering of poppy and sesame seeds. Though it may be bigger than any bread you've seen in your life (and possibly more expensive), the challah at Hof Kelsten is worth its weight in gold, and will make all of your French toast dreams come true.
Plateau
What you're getting: Kouign amann
You really can't go wrong by combining butter, dough, and sugar. But when you take these ingredients in copious quantities, fold them upon themselves repeatedly to make infinite layers of melt-in-your-mouth pastry, and bake the whole thing into a pie, you get the Breton treasure that is kouign amann. Go to this tiny Montreal bakery and try a wedge in-house, or buy an entire wheel of this pie for many indulgent bites to come (just don't be tempted to eat it all in one go; trust us, the pain isn't worth it).
Gay Village
What you're getting: The house granola
Though it's less than a year old, Ma'tine has already garnered a diehard following in the world of brunch and mid-week breakfasts. With Pastry Chef Maxime Daniel-Six at the helm every morning, the kitchen cranks out fresh, immaculate French pastries every day -- and the house granola is a crowd favourite.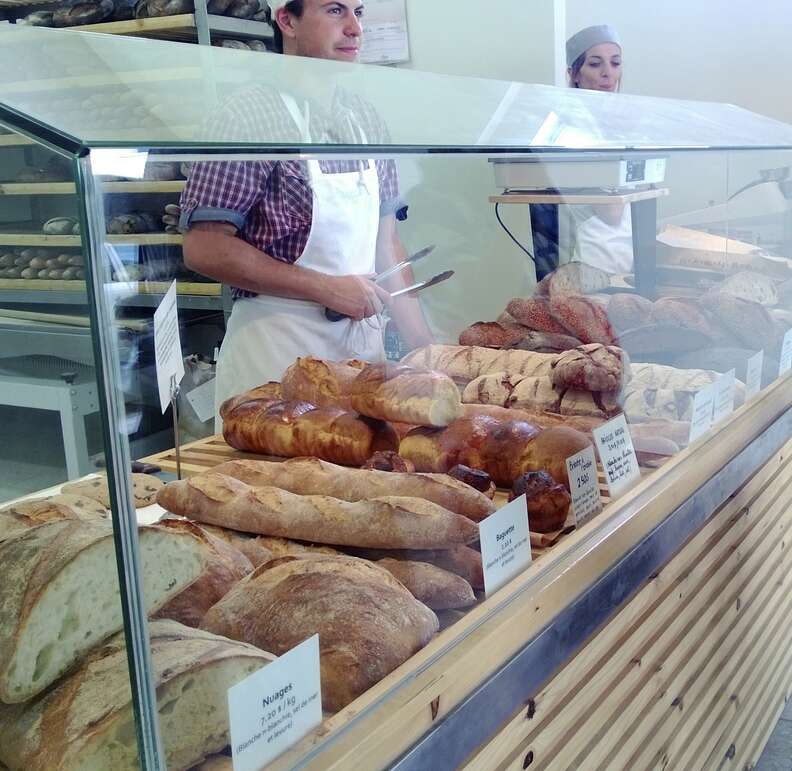 Little Italy
What you're getting: Fougasse
The fougasse is a mythical bread from the region of Provence that is often described as the focaccia of the French. At Joe La Croute, the fougasse comes shaped like the number 8, baked to perfection with pungent black olives and flaky sea salt. It is, essentially, the world's best pretzel. But before heading down for a bite, check the day's offerings on the website, as not all breads are available each day.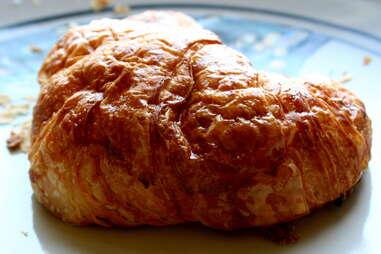 Plateau
What you're getting: The croissant
Though you would be hard pressed to walk past all the beautiful chocolate truffles lined in the display windows of this Plateau mainstay, we urge you to head straight to the counter and order a butter croissant. With the perfect golden colour, an unbelievably flakey crust, and layers of subtle, sweet, and tangy flavours, there's a reason this croissant is widely recognized as one of the best in Montreal.
Outremont
What you're getting: The rugelach or black & white cookies
Prepare for a taste of the Old World at Boulangerie Cheskie. There is nothing sexy or modern about this little bakery. But don't be fooled by the rickety exterior; the rugelach here is the Jewish take on the chocolate croissant, and there is nothing simple about the interwoven layers of pastry and sweet cocoa and sugar mixture that make up this delicious treat.
St. Henri
What you're getting: Steamed pork buns
While David Chang of Momofuku may have popularized the steamed bun stuffed with a slab of pork belly, its prodigy dates back much further, to the traditional food of Vietnam streets. In Montreal, Satay Brothers provides a great take on this classic with perfectly cooked, marbled pork belly, fragrant coriander, and crispy cucumbers. If you've got what it takes, try it with some fiery hot peppers.
Various locations
What you're getting: Cannelés
It's hard to talk about French pastries without mentioning cannelés, those crown-like feats of Bordeaux patisserie ingenuity. With a soft, nearly quivering custardy center and a dark caramelized crust, the cannelés at Mamie Clafoutis won't disappoint.
Little Italy
What you're getting: Baguette sur levain
For the crispiest crusted baguette with an old-school sourdough taste, check out the artisanal bakery Le Pain Dans Les Voiles. The staff here is truly dedicated to sourcing out the best ingredients and transforming them into incredible products, and the results show in every bite.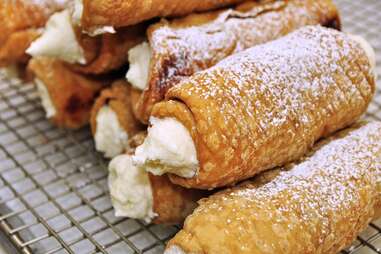 Little Italy
What you're getting: Cannoli
And while you're in Little Italy, step just a little farther for the ultimate in Italian desserts, the cannoli. Filled with gently sweetened ricotta cream, these crunchy flutes are a messy affair that breaks into a thousand little pieces upon first bite, but their authentic flavour is worth every errant crumb.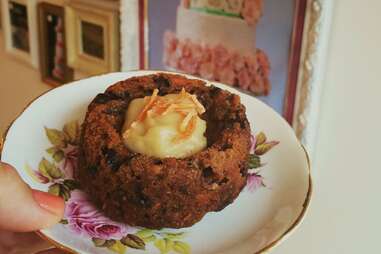 Plateau
What you're getting: Vegan carrot cake
If you're looking to impress someone who's abstaining from butter, cream, and eggs, have no fear -- Montreal is not devoid of vegan-yet-gluten-loaded options. Sophie Sucrée offers all manner of sweet, dairy, and egg-free treats, and chief amongst them is the carrot cake with cashew cream cheese frosting and a sprinkling of candied carrots.