Paid Content For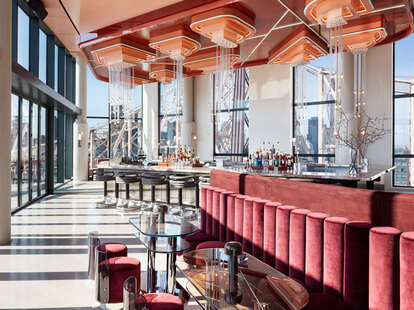 Steve Freihon
Steve Freihon
Ah, dining in New York City. A missed subway connection and frantic sprint to the finish line. A looooong day of one too many scrums and a neverending stream of Jira tickets. Coursework that could knock a triple major at MIT off their feet. Whatever the day threw at you, you made it. Now, you shall eat.
But after a year-and-a-half of dining at home staring at your own four walls, you're ready to flash your vaccination card and not only have a feast for your stomach, but one for your eyes, too. So iron a blazer, say a prayer to the MTA gods, and get ready to dine at some of the most visually stunning new dining hot spots in the city.
Roosevelt Island
This newcomer atop The Graduate Roosevelt Island really delivers on the postcard-worthy views front with floor-to-ceiling windows affording spectacular vistas of the 59th Street Bridge. Coolest of all, when you're settling into a meal here, the bridge is at such an angle that it almost feels like part of your dinnertime conversation.
There's both indoor and outdoor space here, and we particularly love grabbing a grey bar stool under the watchful gaze of a museum-worthy chandelier, designed by NYC's Parts and Labor Design, or one of the moody, maroon velvet banquettes. All this Futurism design — enhanced by chrome finishes, black mosaic tiles, and custom lighting — plays nicely with timeless favorites: champagne, caviar, and the occasional bad, buzzed decision.
Midtown East
Tucked away in Midtown East is this relaxed yet sophisticated Italian haunt inspired by the sensory experiences of Southern Italy, starting with the restored yellow Vespa that greets you outside the front door. A bi-level setup, there's much to savor visually in this carefully appointed venue, from the Pietra Lavica-tiled walls with a white marble bar on the first floor and a shower of twisting vines and flowers alongside a stone wall and window shutters that call to mind the streets of Italy. Pops of color come from yellow and royal blue chairs and forest green banquettes. To further boost those Mediterranean vibes, there's a golden mosaic pizza oven with a blue glazed subway tile backdrop.
While we're partial to the divine buttermilk pancakes with fresh berries and the lobster Benedict on the brunch menu, dinner is equally dazzling with our go-tos running the gamut from the verdure pizza with arugula, bell peppers, red onions, and cherry tomatoes to the spaghetti alle Vongole with Manilla clams, parsley, garlic, and bottarga (salted, cured fish roe). Needless to say, you're in good hands and forkfuls with whatever you order from Michelin-starred Chef Antonio Salvatore.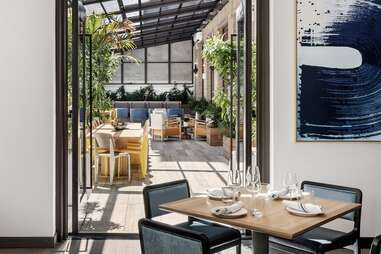 Midtown West
You'd never guess you're in bustling midtown at the calm oasis that is Nearly Ninth. The interiors get the luxe treatment from internationally renowned design studio Meyer Davis, with plenty of burnt oranges, blues, and neutral hues complemented by gold flourishes. The views of the Empire State Building from the roof don't hurt, either. Nearly Ninth consists of five venues, including a sit-down restaurant, rooftop space, and a bar. While it's nice out, we're partial to the roof for a cocktail and some happy hour eggplant parm or meatball sliders before heading indoors for a proper meal.
The Italian-inspired cuisine is equally inventive and comforting. Some recent standout dishes include Orecchiette with grilled corn, blistered sun gold tomato, oregano, and Parmesan, the Kale Caesar with Pecorino, toasted bread crumbs, and lemon, and a scoop or two of seasonal gelato from il laboratorio del gelato for dessert. Whatever you eat, the big windows and plenty of greenery throughout the interior spaces sure make for a welcome change from that folding tray table in front of your television.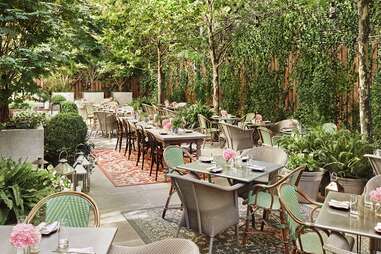 Lower East Side
You've got gold-and-teal banquettes, dreamy backlit plants, dim lighting, and a neutral color palette. Now, all you need is a reservation so you can catch up with a loved one under eye-catching photographs of Peru and New York City inside or in the Bowery Garden (a popular choice for brunch).
Anything you order from Chef Diego Muñoz — formerly of Astrid y Gastón, the number one ranked Latin American restaurant on the World's 50 Best Restaurants list — and his team will be handled with finesse in the wood-fired grill, rotisserie, or wood-burning oven, but we're partial to the grilled octopus, Long Island scallops, and quinoa stir-fry.
The Peruvian food Muño doles out is a veritable melting pot of Incan, Spanish, Moorish, African, Italian, Japanese, and Chinese flavors, and we're yet to meet a menu item we don't like. Or a brunchtime Bloody Mary with macerated beets, aji limo chile, and cucumber that we regretted.
Flatiron District
A beloved stronghold of the city's restaurant-scape, Junoon brought Indian food in the Big Apple to new heights, reopened this summer in a new Flatiron location a stone's throw away from its original storefront. Some noteworthy elements of the new space include larger-than-well-life "Tree of Life" sandstone sculpture dividing the front dining room, handsome leather banquettes, a Carrara marble bar, Bocci raindrop light fixtures and an abstract painting of the "Tree of Life" by Dolly Unithan.
Large, handcrafted beeswax candles reflecting off of distressed mirror walls and an open chef's counter to catch sights of the desserts being made set the backdrop to your meal, which on any given night may include smoked masala ribs with a vindaloo spice rub and chaat masala apple or Tellicherry duck and Chettinad lobster rasam with black pepper and curry leaf.
Midtown
Before you sink your teeth into a Turkish-style flatbread with whipped sheep's milk feta, you'll have that "Toto, I don't think I'm sitting in front of my TV anymore" moment as you marvel at the refined interiors. INC, the architecture and design firm that led both the building transformation and chef John Fraser's restaurant build, managed to create a space that pulls from the building's mid-century aesthetic seamlessly blended with a Grecian ambience.
Intended to create a "view from the ocean" of the Aegean, IRIS features hand carved woodwork, in blond, weather-worn tones balanced with high gloss lacquer and polished chrome to channel sea vessels. This is all tied together with a high, wooden ceiling that the designers say is to create the appearance of a ship's deck flipped upside down. Completing the mix are light wooden carpentry, marble tables, plenty of greenery, and a bar plucked out of a yachter's fantasies.
The perfect backdrop for kneaded bulgur with fava beans and haricots verts or that Aegean stew with poached sea bass, lobster, and vegetables à la Grecque in a rich shellfish broth that you'll be dining on, stay for a while and relax — sans seasickness.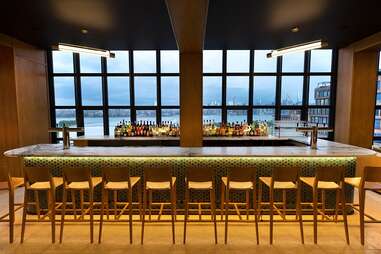 Williamsburg
They had us with lobster salad. In all seriousness, though, we feel très fancy at this delightful French-style bar on the sixth floor of Williamsburg's Wythe Hotel from chef partners Aidan O'Neal and Jake Leiber (Le Crocodile, Chez Ma Tante) and restaurateur Jon Neidich of Golden Age Hospitality (Le Crocodile, Acme).
Design highlights include colorful tiles around the bar, oak wall paneling, marble tabletops, cozy green banquettes, and mid-century modern chairs. The real pièce de résistance is the view, of course, with floor-to-ceiling windows allowing for sublime views of the city and East River.
Savor those views as you sip on a glass of natural wines from an international selection curated by sommelier Rafa García Febles' (Le Crocodile) or a cocktail, frozen drink, or zero-proof (alcohol-free) libation from bar manager Sörine Anderson's (formerly of Nitecap, Death & Co). When hunger strikes, order the aforementioned lobster salad, plus the marinated eggplant, and chilled mussels.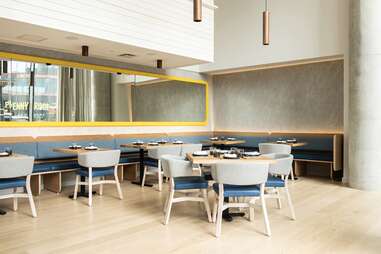 Long Island City
It's hard to argue with chef Dan Kluger's PB nachos, a pile of tortilla chips loaded with tomatillos, corn, avocado crema, and strawberry and tomato salsa. Ditto for his tuna crudo "melt" and roasted cauliflower. But noshing on these expertly executed dishes is all the better when it's under the new eatery's 26-foot ceilings coupled with floor-to-ceiling windows. Shades of blues, greys, and yellows, provide a sense of calm while you dine, and natural wood and custom wood-and-LED chandelier light fixtures from LIC's StickBulb, round out the deal. Inc and Richard Lewis Architects clearly did a good job here, and thankfully the food is an equally strong match for the warm atmosphere.
Some favorites include mozzarella sticks made with herbs, fontina, Parmesan, served with a smoked tomato sauce to start, the skate Milanese for a main, and the chocolate soufflé pudding with marshmallow "fluff" and honeycomb candy for dessert. Located in the JACX, a new live-work-play development by Tishman Speyer, the eatery gets its name from a former Long Island Railroad station that used to serve residents and industry in these parts. Now, forgo the LIRR for a trip on the subway and thank us later.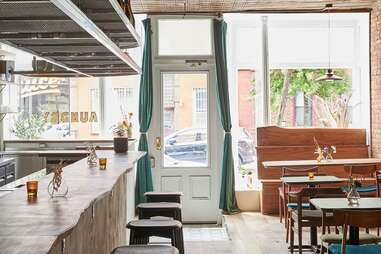 Greenpoint
Sometimes a gorgeous bistro doesn't mean in-your-face modern art or a splashy spiral staircase, but something that instantly makes you feel welcome. Such is the case of the Brooklyn satellite of the Parisian original that serves as an incubator for young international chefs.
Outfitted by Brooklyn-based design studio, re-a.d, the space pays homage to the restaurant's former life as a laundromat with a minimalist aesthetic, the original tin ceiling, exposed brick, and the exterior "Laundromat" sign. Coupled with new additions like sconces by Parisian studio Ovalum, custom tiles by Atelier Zelig, vintage chandeliers from Hudson's Far Out Finds, and custom wood by Adrian Dentzel at Atelier 80 built locally by Brian Welch at Where Good Things Are Made, it's a chic modern farmhouse in an urban setting.
Each chef at Fulgurances will stand their post for a three-to-six month stint, with French chef Aaron Rosenthal starting on August 26. We won't ruin the surprise of what these creative gastronauts drum up, but expect epic tasting menus with a wine pairing available should you choose to raise a glass at the nicest laundromat we've been to yet.
Midtown South
For a pastry experience in a lovely setting, it's hard to outshine Marvelous By Fred's new Manhattan outpost that reflects the interiors of the original Lille, France, flagship location designed by Frédéric Vaucamps and his wife, a mural artist. Décor-wise, the space is inspired by the post-French Revolutionary period. Think: an 18th century fresco replica, Italian Rosso Verona marble countertops for the bakers' work stations, hand-applied gold leaf motifs on custom black French cabinets, and wash-textured walls.
Obviously, it's hard to miss the nearly half-ton Bohemia crystal chandelier, a replica of Habsburg ruler Maria Theresa's iconic coronation chandelier dating back to 1711, but we're also mesmerized by watching the pâtissiers at work, which you can see thanks to the open floor plan. Now, a chocolate croissant or "The Eccentric Mini Merveilleux," a meringue covered with cherry whipped cream and coated with crystallized meringue bits? Life is short, order both.