Healthy pizza??? You bet.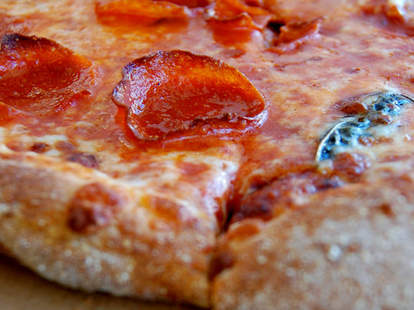 Food scientists are continually trying to make unhealthy food less so, from low-fat dressing, to SnackWells cookies, though those are really only tolerable when dipped in regular ranch. Hoping they've unlocked the secret to doing the same to pizza, the guys behind Naked Pizza.
Co-founded by an evolutionary anthropologist and some guy who actually has money, lime green walled/wood & stone-accented Naked (which took $750,000 to develop its own not-deadly pizza, before enacting plans to proliferate throughout the nation starting in New Orleans, and now Miami) is partially funded by Mark Cuban and Patriots owner Robert Kraft, two guys one guy already with experience owning a winning franchise. Their pies're made deliciously live-past-50-friendly by packing the crusts with 12 seeds/grains loaded with dietary fiber, using hormone-/antibiotic-free meats, fresh-daily sauce, and skim-milk cheese, and by adding zero butter, sugar, preservatives, or trans fats, which over the years, can make you look even worse than your Trans Am. House creations include the Mediterranean with artichoke/sun-dried tomato/onion/black olive/feta and the black beans/jalapeno/cheddar/pico Pima, or you can get wacky with your own toppings (eg, artichoke, pineapple, all-natural pepperoni, sausage) on original, thin or gluten-free crust, which you can top with a white sauce made with a blend of Omega 3-rich canola, but not Omega Red-rich canola, cause that'll be the Arkady.
They're also offering sides like mozzarella-/cheddar-topped breadsticks on their chewy "Ancestral Blend" bread, plus a spinach salad with bell peppers, mushrooms, black olives, red onions, and blush wine vinaigrette, rich poppy seed, or buttermilk ranch dressing -- although after all this healthy eating, you should really be saving that for your Chocodiles.