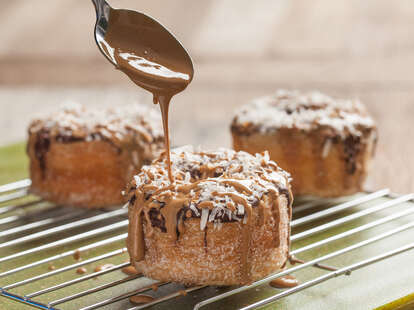 Courtesy of Five Daughters Bakery
Courtesy of Five Daughters Bakery
Donuts are officially the new "it" pastry of the Nashville bakery scene and seeing as it's February, donuts are also a very acceptable (and delicious) excuse to break those diet-related New Year's resolutions. Luckily for us all, the donut scene in Nashville is experiencing a wonderful boom, and there are now quite a few great spots across the city to satisfy that sweet tooth, and these eight are a great starting point.
Franklin & other locations
This widely popular donut shop is relatively new to the Nashville pastry scene but Five Daughters has made a lasting impression and even opened up a second shop in 12 South last month. Since the line can quite literally stretch all the way out the door, you'll have to get out of bed early to grab one of the 100-layer donuts (their 'cronut') before they sell out, which happens frequently. If you're curious how things are looking while you're still lazing in pajamas, just pull up their website and check out the live streaming donutcams that are running on both of their shops.
Green Hills
The Donut Den has been a staple bakery in Nashville since the 1970s, and locals are very serious about their loyalty to the Green Hills shop. Its bright neon sign, which manages to elicit an instant sugar craving merely from driving by it, was taken down in 2009 and then promptly put back up after a surprising response of outrage from devout lovers. The apple fritters are an absolute must but, really, you can't go wrong with a single one of its donuts.
Donelson
Despite being a chain that dots the South, Shipley DO-Nuts still has the delightful down-to-earth feeling of a family run bakery. Keep things simple with a dozen fresh donut holes or simple glazed donuts or, if you want something a bit more substantial, try the cake donuts or cinnamon bear claw.
Downtown & other locations
Utterly Nashville is a specialty bakery that's most popular for its macarons and its magically fluffy donuts. Its baked goods can be bought on the weekends at Crema, seven days a week at Pinewood Social, and occasionally at other shops including Hey Rooster. But, you can't just go strolling in at any time of the day expecting to enjoy one of their surprisingly large donuts. If you want an Utterly Nashville donut from Crema, for example, you're going to need to get there well before 9am to have any chance of getting one before they're all sold out, because, yes, they're that good.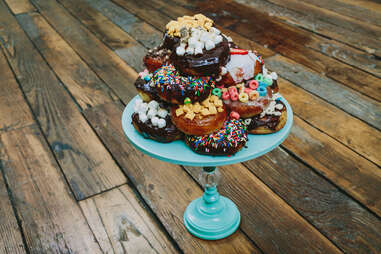 East Nashville (& Other Locations)
DOH Nashville does not have a permanent location yet, but you can still get its sugar-packed donuts at Tower Market & Deli in East Nashville as well as Atmalogy off West End. It has some creative flavor combos including Nutella + potato chips (called the Dirty Hipster donut), cookies n' cream + toasted marshmallow (called the Smoreo), as well as classic double-glazed donuts topped with your choice of Froot Loops, M&Ms, and more.
Sylvan Park
This all vegan and gluten-free bakery prides itself in using only the best and mostly organic ingredients in their pastries, which simultaneously manages to make you feel slightly better about eating a donut while also dissipating the idea that vegan and gluten-free food is taste-less. The donut menu is often a recreation of classic favorites such as their 'Samoa' donuts, pumpkin spice donuts, and salted caramel pecan donuts.
East Nashville
If you're looking for a good meal with an amazing donut-dessert to follow, Eastland Cafe is your dinner destination. While not actually a bakery, they still have one of our all time favorite donut dishes in town: the Granny Smith Apple Doughnut. This dessert comes with two warm apple donuts that are topped with a semi-savory sea salt gelato.
Mount Juliet
A bit outside of the city in Mount Juliet, Gourmet Donuts is still absolutely worth the trip. Its wide selection of donuts includes all of the standard favorites from glazed to cake donuts and even classics completely covered in sprinkles. They also have festive donuts for every major holiday, which means you never again have to show up to Aunt Etna's house without Turkey-themed delicious donuts.
Love free donuts? Find out where to stock up for this year's National Donut Day on Friday, June 2, 2017.
Sign up here for our daily Nashville email and be the first to get all the food/drink/fun the Music City has to offer.
Brita Britnell is a Nashville Native food photographer, writer, and self-proclaimed donut critic. You can follow along with her culinary journey @bbritnell