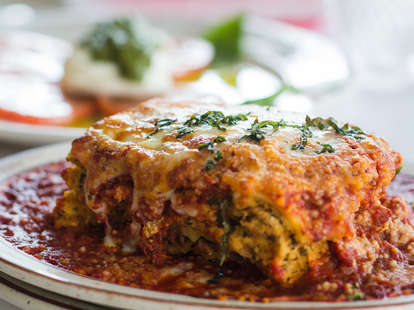 Let's be honest here. If there's one thing that Nashville is NOT known for, it's Italian food. However, the truth is that we have a surprisingly large number of truly fantastic Italian restaurants here in Music City. In case you aren't familiar with all of them, we're here to set the record straight.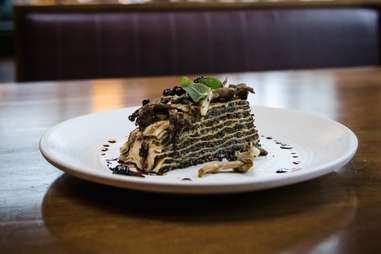 The Gulch
Moto features inspired rustic-modern Italian cuisine in a building that was once a mechanic's shop. The menu's a contemporary approach to authentic Italian cooking that utilizes consciously sourced produce from local farms and artisans balanced by premium product imported from Italy. Moto's headliners are seasonal 'market' items and house-made pasta dishes. The emphasis is on small plates (as opposed to many Italian restaurants that serve family sized servings).
Downtown
This Downtown Italian joint prides itself on being "Nashville casual/NYC chic." And that's fitting as Trattoria Il Mulino is a New York-based Italian restaurant that's relatively new to the scene in Nashville. It's located right next to the Bridgestone Arena with a great outdoor patio for people watching and offers classic menu items like ricotta meatballs, calamari, and an assortment of pastas as well as a signature craft cocktail list. The kitchen also serves wood fired pizza -- a favorite of Trattoria regulars.
Germantown
City House is an extremely popular place in Nashville for one big reason: pizzas. It has other delicious classics like cavatelli, but what you're here for is the belly ham, mozzarella, grana padano, oregano, and chilies pizza. It's by far the most popular dish, and after fighting for the last slice, you'll see why. To complement that, check out the bourbon-heavy craft cocktail list. Or grab a wine, it has that too.
West End
Amerigo is a casual dining spot that's great for large family dinners and workday lunches. It has an entire gluten-free menu making it an option for those with food allergies who still want to enjoy classic Italian dishes (bring on the pasta and bread!). Among the less traditional dishes, a weekly lunch special of Nashville hot chicken pasta Alfredo. It's one of those things that you might not expect to work well, but somehow it tastes amazing.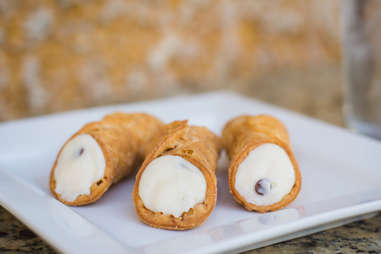 Hillsboro Village
Savarino's is said to have the best cannoli in all of Nashville, and we're not here to disagree. But please, don't stop there. Savarino's is surrounded by herb plants which results in the most fresh and delicious plate of pesto pasta you will find anywhere in the city. To top it all off, the place probably has the friendliest Italian family staff. The newest addition to the joint is Amari, the upstairs speak-easy style cocktail lounge.
Sylvan Park
Coco's Italian Market is family-owned and run by chefs with vast knowledge of Italian family cooking. Much like the restaurants you'll find in New York, Coco's features a full market where you can peruse authentic Italian products, produce, and homemade pastas (get the ravioli). You can even play bocce while waiting to be seated.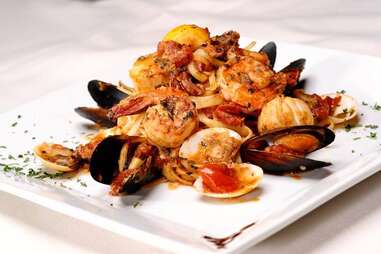 West End
Valentino's Ristorante is an upscale Italian restaurant equipped with a full lounge, large dining area, and even a wine cellar that can be rented out for large groups or private parties. Its extensive menu has much to choose from (bucatini, antipasto, lobster ravioli, etc.) and we highly recommend going in planning to order a multi-course meal. This place is fancy which makes it a great spot for special occasions and an excuse to dress up. It also might be smart to make reservations. Most importantly, don't leave without having a piece of the tiramisu.
Sylvan Park
Caffe Nonna is a traditional, family-run Italian restaurant that has been a Nashville favorite for years now. The Lasagna Nonna is one of the most popular dishes and is loaded with layers of butternut squash, spinach, ricotta, and two different kinds of famous sauces. Nonna has a particular focus on the freshest ingredients, which is reflected in every bite. It's open for both lunch and dinner to satisfy your Italian cuisine cravings anytime of day.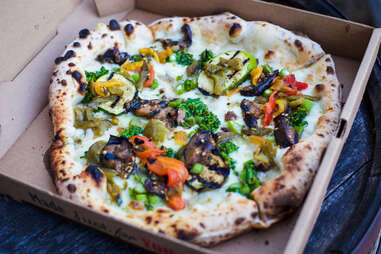 Edgehill
If there's one thing that we should endlessly thank Italy for, it's pizza. And Bella Napoli is THE place for authentic Italian pizza in Nashville. The Parma Pizza, piled high with prosciutto, arugula, and large pieces of parmesan, is one of Bella Napoli's most popular pies. Each one's cooked fresh to order in a wood-fired brick oven and left uncut when it's delivered to the table (the traditional Italian way to serve a pizza as it keeps the crust and cheese fresher). Also, the lovely outdoor patio area is always quiet and perfect for casual outdoor dining.
Berry Hill
Mama Mia's has an extensive Sicilian menu and the classic dishes, such as the lasagna or the ravioli, are the way to go. Everything on the menu is made with all fresh -- and homemade -- ingredients and served with a side of garlicky bread (quite possibly the best part of any Italian meal!). It also has a phenomenal list of homemade pizzas and calzones.
Belle Meade
Finezza is a true family-run Italian bistro that's been a Nashville favorite for nearly 25 years. It's also one of our favorite spots in the city for a good glass of wine since it has a long list of varietals from Italy and all around the world. We're big fans of both the make-your-own pizzas and build-your-own pasta dish with several different kinds of sauce, toppings, pasta, and meat items to choose from so that you get exactly what you want.
East Nashville
Italia is an East Nashville staple and for good reason. It caters to all wants, needs, and dietary restrictions with vegan, gluten free, whole wheat, and of course, regular crusts. The menu also includes an array of pasta dishes and mediterranean cuisine. The Mediterranean, Meat Lover, and 'Drag-it through the Garden' pizzas are all excellent options.
Sign up here for our daily Nashville email and be the first to get all the food/drink/fun the Music City has to offer.
Brita Britnell is a Nashville-based food blogger and photographer who was raised by an Italian father and frequented many Nashville Italian joints growing up.