The Nashville Originals are a group of restaurants that have joined together to preserve the independent spirit of eateries that are still the backbone of the culinary environment of Music City. In the face of a constant stream of restaurant openings backed by corporate groups or emblazoned with the name of country music stars, the Originals maintain a laser focus on service and creative food. They support their fellow member establishments, as well as all sorts of local charitable organizations.
The group's most visible initiative is their annual Nashville Originals Restaurant Week when members offer special meal deals or create new à la carte prix fixe menus to encourage diners to come in and revisit an old favorite where they might not have eaten in awhile or to discover a new preferred spot. This year's Restaurant Week runs from January 20-26, and the participating restaurants are offering some great meal deals! Check out some of the best of the best and remember to support these important independent restaurants, or else they may not stick around forever.
MORE: Check out the best restaurants in Nashville, period.
Recommended Video
The Fasties: Kat Thompson Mukbang
Berry Hill
Don't let the paucity of parking deter you from visiting here. Just leave your car across the street in the 100 Oaks parking lot and play Frogger crossing Thompson Lane. Then order their $29.20 or $39.20 (depending on which entree you pick) Restaurant Week deal. Your meal also includes a choice of appetizer or dessert. The power picks for main courses are Yellow Porch's legendary saffron-tinged paella or their dijon and herb-encrusted rack of lamb.
Midtown
Midtown Cafe is a stalwart of the Originals and one of the few spots in town that still employs long-time employees who truly appreciate the value of proper service. They're offering bargains at both lunch and dinner, including $5 glasses of wine to take the edge off the afternoon. The midday deal is just $15.20 for two courses, and their lemon artichoke soup is the perfect starter with a recipe so secret that national magazines have begged for it for years. Follow that up with one of Nashville's best shrimp & grits plates or the sweet and rich Coca Cola BBQ beef short ribs. Then take a nap. Or come back for dinner where three courses are just $29.20 with wine pairings available for $15.19. Save room for a slice of Midtown's fantastic coconut cake.
Green Hills
Nashville's best (and punniest) deli offers a deal for you and your date with meals for two for only $20.20, almost 10 bucks less than regular price. Each of you can choose a half sandwich from their Reuben, Turkey Reuben, Rachel or Turkey Rachel along with a cup of their homemade soup. Noshville's matzo ball soup is seriously legit.
Wedgewood-Houston
If you don't think that the thigh is the most delicious part of a chicken, then we just can't be friends anymore. They agree with that concept at this quaint little chicken shack near the Fairgrounds where they specialize in dark meat. Their Restaurant Week discount allows two to eat for $20.20, dining on an applewood smoked chicken taco special plus two sides and a dessert. There's no fryer at Smokin' Thighs, so don't go looking for french fries. Pick the kickin' slaw and smoked chicken chili instead.
Belmont/Hillsboro
This beloved little neighborhood Mexican joint is taking a different approach to Restaurant Week. Instead of developing an à la carte offering of their regular items, they're smoking a whole hog and using it to create special dishes to celebrate their independencia. Their chile relleno features a roasted poblano stuffed with smoked pork meat, bearns, cheese, rice, and topped with poblano cream for just $13. They'll pull the pork putt for carnitas which will become the star of a $14 stuffed plantain dish drizzled with local honey and chili oil. 
Brentwood and Franklin
These casual dining spots work hard to stand out in a crowded restaurant scene south of Nashville by featuring creative recipes executed with precision. For Restaurant Week, $30.20 gets you a choice of a goat cheese and roasted red pepper app or bacon-wrapped shrimp stuffed with gouda and a jalapeno that would be right at home coming off the grill at a tailgate party. Pair your app with a quasi-healthy "Resolution Bowl" of sauteed veggies or grains topped with shrimp or chicken. Or you can double down on the seafood with a blackened salmon plate over a bed of grilled asparagus. There are no bad choices here.
Germantown
Offering one of the best views of downtown from the perspective of looking up at the Capitol from behind, Germantown has long been a favorite locale for power lunches and romantic dinners. For Restaurant Week, they're making it easy (and hard) for you. The simple part is that they've just offered their entire regular menu with your choice of any entree plus either a salad or dessert for the $20.20 fare. That'll save you $10-15 off your bill depending on what you pick. The difficult part is deciding between Germantown's pan-seared swordfish, sweet and savory plum pork or NY strip served under a balsamic reduction. Nobody said this would be easy.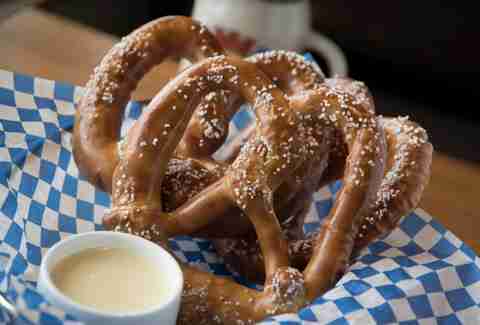 Donelson
With its hidden entrance down a hallway from the main concourse at Opry Mills Mall, you might not even know that there's a huge beer hall hiding out at Shopryland. There's also an exterior entrance from the parking lot if you choose to eschew getting caught up in the retail madness. In addition to huge steins of German beers served in a pretty bona fide simulacrum of a Munich biergarten, they're offering a traditional meal of a pretzel with sweet mustard and braised veal goulash accompanied by a dense serviette dumpling for just a Jackson plus a Lincoln.
Melrose
Named after the brand of bowling balls that used to roll down the alleys in the former tenant of the building that Fenwick's now occupies, this breakfast/lunch diner doesn't like to complicate things. Their straight ahead menu of classic diner fare ranges from breakfast pancakes to lunch sandwiches to a meatloaf like momma made. Their Restaurant Week offering is simple, too. Just pick any two entrees plus two cups of coffee or iced tea, and flip your waitress $25 and you're good. Well, you should tip her too, you cheapskate.
Sylvan Park
McCabe Pub has survived as a neighborhood fixture for almost 40 years for several reasons, not the least of which is the availability of ample parking, a rarity in this culinary hotbed part of town. The bar has an atmosphere like Nashville's "Cheers," a place where regulars greet each other with a friendly shout and newbies are welcomed with open arms and cold mugs. If you need more reasons than that to visit, how does two smoked gouda cheeseburgers plus fries or chips for $19 grab you? You'll be a frequent flyer in no time.
Sign up here for our daily Nashville email and be the first to get all the food/drink/fun the Music City has to offer.