Nashville is growing so fast it's hard to keep up with the micro-neighborhoods appearing on every corner (and knowing what to call them -- is it 8th South or Melrose? Is it The Nations or Historic West Town? Which is it?!). Well, what if -- due to some weird, yet worryingly believable local ordinance -- you could only eat and drink at ONE of those neighborhoods? What then? And which would you chose?! Well, we ruthlessly pitted 13 of the most prominent against each other to see which came out on top...
Recommended Video
Tuna Eyeball with Timothy DeLaGhetto and Ben Sinclair
12. West End/Elliston Place
The spotlight may be shining on younger neighborhoods at the moment, but West End and Elliston Place are home to historic music venues and classic spots like Tin Angel, Elliston Place Soda Shop, and The Gold Rush. Next time you're in the area, try the hot chicken and waffles at West End Café, the deviled eggs with sugar bacon or the grilled artichokes at BrickTop's, catch the game over beers at Jed's, try Hog Heaven for heavenly BBQ by the park, or hit up Springwater Supper Club, which is one of the best dive bars in town. From I-440, venture down West End through Elliston towards Church for some of the best exotic cuisine from Woodlands to Bombay Palace to Nama Sushi Bar to Suzy Wong's House of Yum.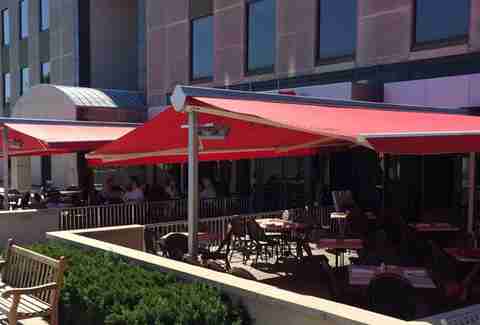 10. Sylvan Park/Charlotte Park
The Murphy Rd/46th Ave strip of The Local Taco, Park Café, McCabe Pub, Neighbors of Sylvan Park, and Caffé Nonna, is small, but hosts some frequented dining and drinking hangouts for the locals. Star Bagel Cafe anchors the newly paved roundabout and Dose Coffee and Tea and Headquarters bookend the neighborhood on caffeine and Wi-Fi fixes. Charlotte Ave is bursting with new developments like M.L. Rose, The Beer Pale, and FLIP burger boutique (coming soon). Another notable West Nashville mention is The Stone Fox, which is equally popular for its dance parties, live music, and having one of the best brunches in town.
9. Hillsboro Village/Belmont
Hillsboro Village is a historic, four-block collection of shops, bars, and restaurants, like the eclectic coffee house Fido, Jackson's Bar and Bistro for weekends on the patio, and Sunset Grill and Cabana, which are longtime staples to the local dining atmosphere. Sam's Sports Grill is the place to "Titan Up" or "Anchor Down" in the fall, and The Villager Tavern is a right of passage for dog bowl slurping on your birthday. On Belmont Blvd there's Bongo Java, PM has the best sushi pizza, Chago's Cantina, blvd Nashville, and don't forget the International Market & Restaurant.
8. Music Row/Demonbreun Hill/Edgehill Village
Music Row is sandwiched between two neighborhoods; one stacked for dining and the other for drinking. Edgehill Village has Taco Mamacita with the best crushed ice margaritas and Korean BBQ tacos, Edgehill Café has great coffee and breakfast sandwiches, Bella Napoli Pizzeria sports amazing Neapolitan-style pizza, and Legato Gelato is known for inventive flavors from Madagascar bourbon to sweet potato and bourbon brittle. The thigh-burning hill of Demonbreun is the playground for adults with Dan McGuinness Irish pub for throwing back car bombs at Rock 'N Roll Residency nights, Two Bits for its vintage arcade games and giant Jenga, and Tin Roof for darts and patio spectating.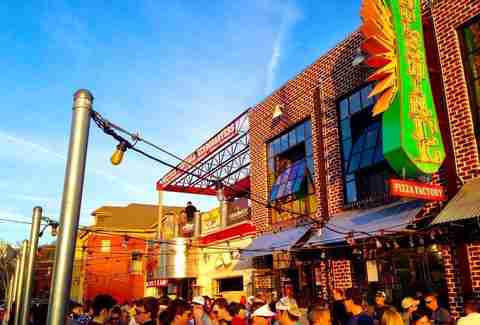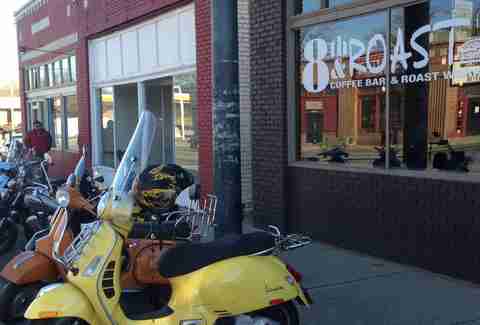 3. The Gulch
The Gulch is a relatively newer neighborhood for Nashville, but rapidly grew in population and popularity for its high-rises, shops, bars, and restaurants that opened there. That's not to mention a budding beer district with Czann's Brewing Co., Yazoo Brewing Co., Jackalope Brewing Co. and TN Brew Works opening breweries and tasting rooms here. There's even java brewing with the recent addition of Barista Parlor Golden Sound. The days of fine-dining options in The Gulch consisting of Watermark Restaurant and Sambuca are behind, and newcomers The 404 Kitchen and Jonathan Waxman's Adele's, in addition to the MStreet block of Moto Cucina + Enoteca, Kayne Prime, Saint Añejo, Whiskey Kitchen, and Virago have made this young neighborhood a top contender for best restaurants.
2. Downtown/SoBro
It's hard to believe now, but at one point when you wanted a fine-dining experience or to celebrate a special occasion Downtown, your options circled around spots like The Palm or Merchants Restaurant, and that was before the swanky renovations. Now, there's The Southern Steak & Oyster, Pub5, Acme Feed & Seed, Etch, and The Farm House; and just a skip away, Pinewood Social and Husk make it hard to deny SoBro is not only a "thing", but a top dining 'hood. Unique additions to the area are the Goo Goo Clusters store on 3rd and City Winery just opened a Nashville location on Lafayette and will begin making its wines in-house in early 2015. Lower Broad continues to own the nightlife in honky-tonk fashion with Robert's Western World, The Stage on Broadway, and Paradise Park to name a few...
1. East Nashville
Granted, there's a slight advantage for size, but there's no denying the list of quality bars and restos weighs heavier on the East side, not to mention the Hot Chicken Festival and The Tomato Art Festival. If you break the neighborhood into smaller areas, the lists of great bars and restaurants are still endless. In Five Points you have Marché Artisan Foods, Margot Cafe & Bar, The Treehouse, Five Points Pizza, I Dream of Weenie, and Bongo Java; as well as bars like 3 Crow Bar, The 5 Spot Live, and The Red Door Saloon. In Lockland Springs, there's Lockeland Table, The Silly Goose, and Two Ten Jack. Then there's The Pharmacy Burger Parlor & Beer Garden, Holland House Bar & Refuge, and Mas Tacos Por Favor in Greenwood, plus the Village Pub & Beer Garden, Pied Piper Eatery, and Watanabe in Inglewood. And that's just the start...
Sign up here for our daily Nashville email and be the first to get all the food/drink/fun the Music City has to offer.