There are definitely some land mines in play when one attempts to select and rank the best dining neighborhoods in Nashville. First, there's the definition of the physical boundaries of a neighborhood, both within our guidelines -- and in general. Where the hell is Arnold's? Is it The Gulch? SoBro? Pie Town? If you're thinking of joining the complaint line, may I suggest you just queue up at Arnold's instead. Secondly, do you rank by a combination of quality and volume of restaurant offerings? Considering you're going to walk away from this read with a year's worth of bucket-list dining suggestions all over town, let's just realize how lucky we are to have so many choices.
Recommended Video
The Chopped Cheese Pizza Has Arrived!
12. The Nations
Essentials: Fifty-First Kitchen & Bar, House: A Social Eatery, Taqueria la Juquilita, Centennial Cafe
Considering the money pouring into this neighborhood as part of residential and retail development, it won't be long until the gritty Nations has fully morphed into Historic West Town and all the culinary opportunities that befit its new uppity status thanks to refined spots like Fifty-First Kitchen & Bar. But don't worry, there are still great casual options such as House: A Social Eatery, Taqueria la Juquilita, and Centennial Cafe.
10. Sylvan Park
Essentials: Caffe Nonna, Miel, Park Cafe, McCabe Pub
When it comes to residents losing their ever-loving minds about diners parking in front of their residences, Sylvan Park preceded 12South by a few years. But we can't help it. The cozy neighborhood vibe of the bars and restaurants like Caffe Nonna, Miel, Park Cafe and McCabe Pub are so attractive, we're just gonna keep coming.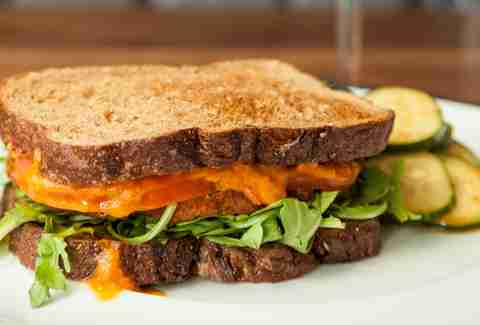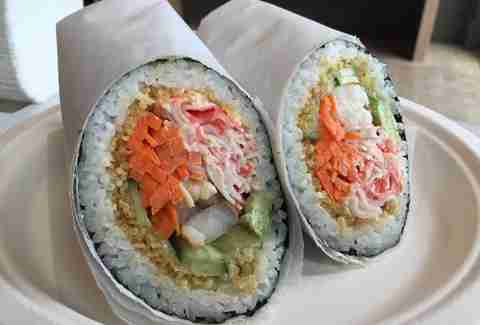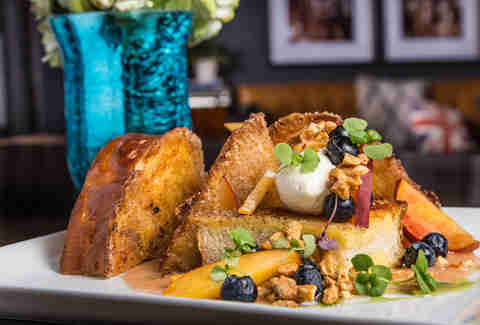 7. Melrose
Essentials: Sinema, The Smiling Elephant, The Hook, M.L. Rose
For a neighborhood that had only a handful of residents a decade ago, Melrose has quickly built a reputation as a fun and funky place to live with noted eateries such as Sinema and The Smiling Elephant. Not especially walkable yet, it's a difficult place to bar hop. Pick a favorite spot like The Hook or M.L. Rose, and settle in for the long haul until it's Uber o'clock.
6. East Nashville
Essentials: Margot Cafe, Marche Artisan Foods, The Treehouse, Lockeland Table
While the descriptor "East Nashville" may be too generic now that Mainlanders have actually learned the names of a few discrete neighborhoods across the Cumberland, the dining scene is anything but generic. If the only restaurants in the area were chef Margot McCormack's two popular eateries, Margot Cafe and Marche Artisan Foods, it would warrant inclusion on this list, but there is plenty of culinary variety and excellence at favorites like The Treehouse and Lockeland Table to draw you over to the People's Republic of East Nashville.
5. Midtown
Essentials: The Catbird Seat, Le Sel, Midtown Cafe, Hattie B's
Two Strategic Hospitality properties, The Catbird Seat and Le Sel, highlight the best of the best in the primarily commercial area, but Randy Rayburn's Midtown Cafe remains the anchor of the neighborhood and one of the most popular business lunches in town. The line of hungry hot-chicken lovers waiting outside of Hattie B's is another constant.
3. 12South
Essentials: Epice, Josephine, Edley's Bar-B-Que, Urban Grub
The most walkable strip of dining destinations in town, 12South is a mile of opportunities with many excellent choices along the way. It's bookended by the Mediterranean delights of Epice and the modern Pennsylvania bistro fare of Josephine (yeah, that's a thing). Find a parking spot somewhere in the vicinity and roll the dining dice. You won't be disappointed. Edley's and Urban Grub are solid places to get started.
2. The Gulch
Essentials: The 404 Kitchen, Biscuit Love, Prima, Otaku Ramen
One would not expect to find great restaurants in an area that was once the gulch dug underneath the main avenues of Downtown to route the railroads through Downtown without interfering with automobile traffic. If one really felt that way, one would be dead wrong, because the burgeoning Gulch neighborhood has become one of the most vibrant residential and dining areas in town. For breakfast, lunch, dinner, or drinks, there are always multiple excellent choices along the tracks. Plan your itinerary around Biscuit Love, Otaku Ramen, Prima and The 404 Kitchen.
1. Germantown
Essentials: City House, Rolf & Daughters, 5th & Taylor, Germantown Cafe
Quite simply, Germantown is where some of the absolute best chefs in town hang their toques. Multiple chef-driven restaurants have opened in the neighborhood over the past decade, taking advantage of interesting architecture and residential complexes that are springing up all over like wildflowers. The reservation books at City House, Rolf & Daughters and 5th & Taylor are also filled with residents of other neighborhoods who are just now figuring out that all the streets there are named after presidents. Germantown Cafe remains a steady option that was Germantown when Germantown wasn't cool.
Sign up here for our daily Nashville email and be the first to get all the food/drink/fun the Music City has to offer.