Nashville's restaurant scene is bursting at the seams, and consequently, so are our pants -- this time last year, we turned a page in the local culinary scene with newcomers garnering national attention, and the momentum has no signs of slowing down. Keeping the score so far, here are the biggest openings this city has seen in 2014...
Recommended Video
Here's Our Travel Guide to This Nation of Over 7,000 Islands
Downtown
Acme opened in mid-summer uniting locals in merriment over their newfound reason to venture Downtown. On top of their four levels of entertainment with The Hatchery music venue on the third level and the bar and restaurant on the first, they recently resurrected Sam "The Sushi Nazi" Katakura and built out the perfect space for Acme Sam's Sushi on the second level. The street food-style menu delivers what we have come to expect from owner Tom Morales (TomKats, The Southern Steak & Oyster, Saffire) and Chef Matt Farley, also of The Southern, with Beer Belly Tacos, a curried chickpeas and fried egg vegetarian dish called The Hatchery, and of course, hot chicken being among the standouts.
Melrose
Sinema is a grand revival and homage to the historic, Melrose Theatre (originally built in 1942). Old Hollywood glamour is carried throughout the luxe décor from the tufted velvet booths, mirrored walls, and ceilings to a grand spiral staircase leading to the upper lounge complete with legendary music photography and selfie mirrors in the restrooms. The modern additions include a custom kitchen and pastry station viewable to guests dining along the centered, community table. Executive Chef Dale Levitski puts a modern twist on classic American dishes that will leave you dreaming of the pork chops with root beer demi-glace and caramel corn profiteroles while you drool in your sleep. However, brunch is his specialty with quinoa waffles, duck frittatas, and eggs like you've never seen before. Just don't forget to add the Champagne bubble service.
The Gulch
Jonathan Waxman's Adele's has provided Nashville with another culinary powerhouse. While there are touches of Southern ingredients like the Benton's bacon ground into the Meatballs & Polenta with grana, as well as previous, signature dishes like the JW Chicken with kale & green sauce, the menu is a delicious ode to the chef's Mother, who inspired his flare for California cuisine with French and Italian influences. The décor is simple in design, sleek, and casual, featuring a large wood-burning oven and open kitchen floor plan for guests to get in on the action. The bar peeks through the garage doors (from the building's former tire shop) onto a Mediterranean-style patio with a skyline backdrop.
SoBro
Built within a 30k-square-foot warehouse in SoBro, Nashville is the fourth and largest location for City Winery. The resto & music venue surrounds the winery, not only serving its own blends on tap, but also a 400+ bottle international wine list. The wine-inspired, Mediterranean menu from Chef Kristin Beringson (formerly of Holland House) includes small bites from the Savoy & Napa Cabbage Salad and Crispy Risotto Balls stuffed with short rib and pimento cheese, to large plates like the Beet & Bacon flatbread and the Spice Crusted Lamb Loin. There are 14 taps of wine sourced from California to Argentina's finest grape varieties. As soon as 2015, all wine on tap will be made in-house within their state-of-the-art, stainless steel kegs and environmentally low-impact operating system.
East Nashville
The innovative dining concept trending throughout urban cities was brought to Nashville by ramen queen, Chef Sarah Gavigan (Otaku South). The full-service restaurant, patio, and 1k-square-foot gallery space serves the creative, East Nashville community as a place to pop up, whether it be an art gallery, ramen house, brunch spot, wedding venue, cooking demonstration, or private dinner. Gavigan's authentic ramen and Japanese dishes are served four days a week, but stay up to date on social media to get in on the specialty dinners from a whole hog Sunday supper to paella Saturdays.
Downtown
It's not easy to make an impact before you've even opened, yet when Chef Maneet Chauhan (Iron Chef and Chopped) announced choosing Music City for her latest venture, locals were chomping at the bit. Now that it's swung its doors, Chauhan celebrates the beloved British combo of traditional, Indian cuisine served pub-style. There's even a nod to Nashville with her version of the meat & three; chef's choice of protein and sauce served with three sides of naan, basmati rice, raita, papadum, or chutney.
East Nashville
A Japanese-inspired pub, or izakaya, Two Ten Jack is the first of its kind for Nashville. Patrick Burke of Seed Hospitality (Zumi Sushi) created a casual, unpretentious neighborhood hangout, a perfect izakaya setting where Chef Jessica Benefield (formerly of Virago) along with Culinary Director Jason McConnell (Red Pony, Cork & Cow) can dish out gourmet ramen, yakitori (skewers), sushi, and other Japanese-inspired comfort foods. Craft cocktails on tap, sake & shochu, and boutique Japanese whiskies are on hand to complement the well-rounded ramen house.
The Gulch
Another recent, but long-awaited opening is Prima, located on the bottom level of the Terrazzo building in The Gulch. The high-end steakhouse is brought to us by Community Hospitality (Josephine, Burger Up) and boasts a 3k-bottle capacity wine cellar. Chef Salvador Avila's menu -- featuring wood-fired, bone-in meats spiced with South American and Latin flavors, whole roasted fish, local poultry, and shared veggie plates -- almost steals the spotlight from the 1,800-piece chandelier light installation by artist Bruce Munro hanging above the main dining room.
The Gulch
This trendy, Italian restaurant and bar opened earlier in the year on the MStreet block of The Gulch. Chef Andy Hayes' rustic-modern approach has garnered Moto a spot atop many best-of lists for Italian in Nashville. Starters like the Duck Fat Olives, the Wagyu Beef or Lamb Meatballs; the house-made pastas like the Black Spaghetti or Blueberry Lasagna; or any of the seasonal market items, make this cucina a stand out addition to the MStreet house. 30 rotating wines by the glass, craft cocktails, and house-made limoncello round out the enoteca side of Moto.
12South
Maher Fawaz (Kalamatas) opened Epice at the beginning of the year and the Lebanese bistro continues to grow in popularity as one of the best ethnic eateries in town. Chef William Zaitz (Downtown Hilton) fell in love with Lebanese food through his wife, a Lebanon native, and has created a healthy, spice-rich menu of traditional dishes at affordable prices. The Hummos Beyrouti is their take on the traditional hummus by adding braised ground sirloin and pine nuts. Sandwiches like the Tawook with grilled chicken and the Makanik with sirloin sausage and pomegranate molasses draw the heavy lunchtime crowds, while entrees like the Fassoulya with lamb shank and white bean cassoulet keep them coming back for dinner.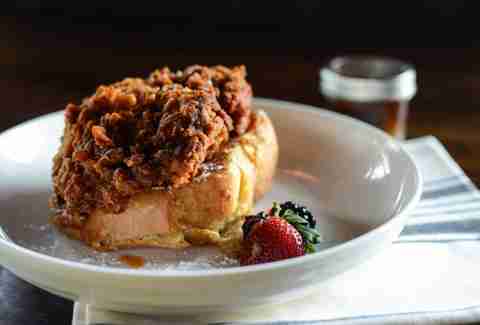 The Gulch
Naturally, there had to be a hot chicken mention. It's been a good year for Nashville's signature dish with record-breaking attendance at the Nashville Hot Chicken Fest and new openings like the Charlotte Ave Hattie B's to Party Fowl in The Gulch, where the bird is cooked "Nashville Hot" or "Poultrygeist" -- the only party foul here is not taking the heat seriously when we say to order with caution. You can order your hot chicken atop Texas toast or maple bourbon beignets, over nachos, or alongside stuffed French toast after a long night of partying. I mean, HOT CHICKEN AND STUFFED FRENCH TOAST, need there be more?
Sign up here for our daily Nashville email and be the first to get all the food/drink/fun the Music City has to offer.