C
ontrary to the established laws of supply and demand, new restaurants continue to open in Nashville at a furious rate. The latest hot spots seem to be pulling crowds away from the bustle of Downtown and into places like East Nashville, which has a new joint great for food from the Iberian peninsula or Germantown, where you can now satisfy a shellfish craving year-round or get fresh, hand-cranked sausages while watching a game. Whether you're a tourist or a local, Music City's appetite for great, new food is as bottomless as a cup of Waffle House coffee. Here are some of the latest, greatest Nashville restaurants where you should grab a table right now.
Recommended Video
Art of the Meal: Chloe Rose Makes Super Mario Bros Art With Hot Sauces
Downtown
High-end comfort food you can watch being made through an open kitchen
Considering that Gray & Dudley is located inside the 21C Museum Hotel, it's no surprise that the decor is modern and edgy with effigies of wolves and sheep hanging from the walls. However, the food on the plate is its own type of art, thanks to soulful presentations of elevated comfort food classics like the perfect diner-style thin pork chops grilled to the exacting doneness. If you get one thing, go for those pork chops, which are served with Brussels sprouts, sweet potatoes, pine honey, and delicious fermented chiles.
SoBro
A classic American steakhouse serious about its beef
This spin-off of a Charleston steakhouse offers a dramatic interior with soaring ceilings and a clubby environment befitting a shrine to red meat. Lots of places serve wet-aged steaks nowadays, but the dry-aged signature steaks at the Oak are revelatory: rich, slightly funky, and unlike any beef you'll find at a national chain. If you want the best, get the 20-ounce Certified Angus Beef bone-in ribeye.
Germantown
High ceilings, seafood, and an unparalleled raw bar
Forget that old warning about not eating oysters unless there's an "r" in the name of the month. Call it "Raugust" if that makes you feel better, but anytime is the right time to order bivalves from Henrietta Red's menu of fantastic oysters and clams from around the country. If you don't like it raw, the kitchen also demonstrates impressive expertise cooking all sorts of seafood.
Wedgewood/Houston
A delicious homage to the legendary writer, complete with a daiquiri tap
In addition to a tremendous cocktail menu, including the Papa's eponymous version of the classic daiquiri available on tap, Hemingway's serves up unpretentious food to soak up all that great booze. The king trumpet mushroom dish is ingeniously designed like a deconstructed pizza that will make you forget it's vegetarian, made with charred cauliflower & sunchokes, parsnip puree, and roasted tomato vinaigrette.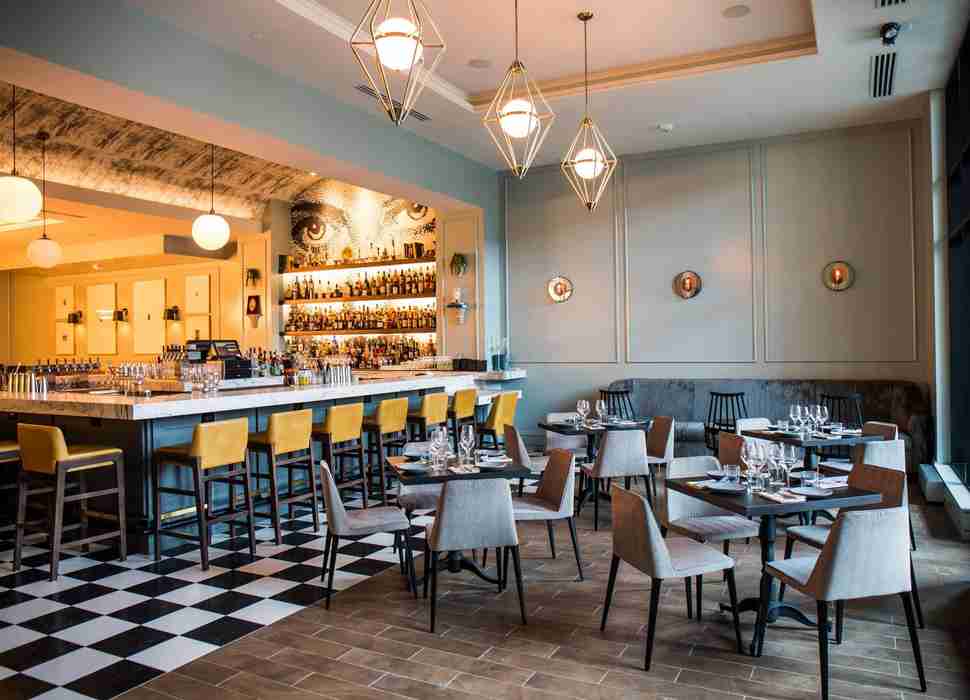 Midtown
The best spot for big groups and New American cuisine
Bring some friends because Henley offers communal eating at its best. Between the snacks, like oysters and aged hams served from a rolling cart, the small plates suitable for mixing and matching, and the large-format communal platters heaped with chicken or beef, this is not a restaurant for selfish people. I guess you could always team up with the table next door if you don't have enough dining buddies. You'll need them to enjoy the excellent short rib, which comes from Bear Creek Farm and is served with smoked and grilled broccoli.
East Nashville
Authentic, cheap Greek street fare served on large wood tables
The Darsino family came over from the old country almost 50 years ago, but this fast-casual Greek eatery is the first chance that many Nashvillians have had to sample their bold flavors and elevated street foods. Pick from a list of souvlakis or skewers of grilled octopus to taste the essence of Peloponnesian cuisine. The Korinthian lamb, which is served over hand-cut fries with oregano and mizithra cheese, is a rich, irreplaceable dish that you would probably never think to call street food.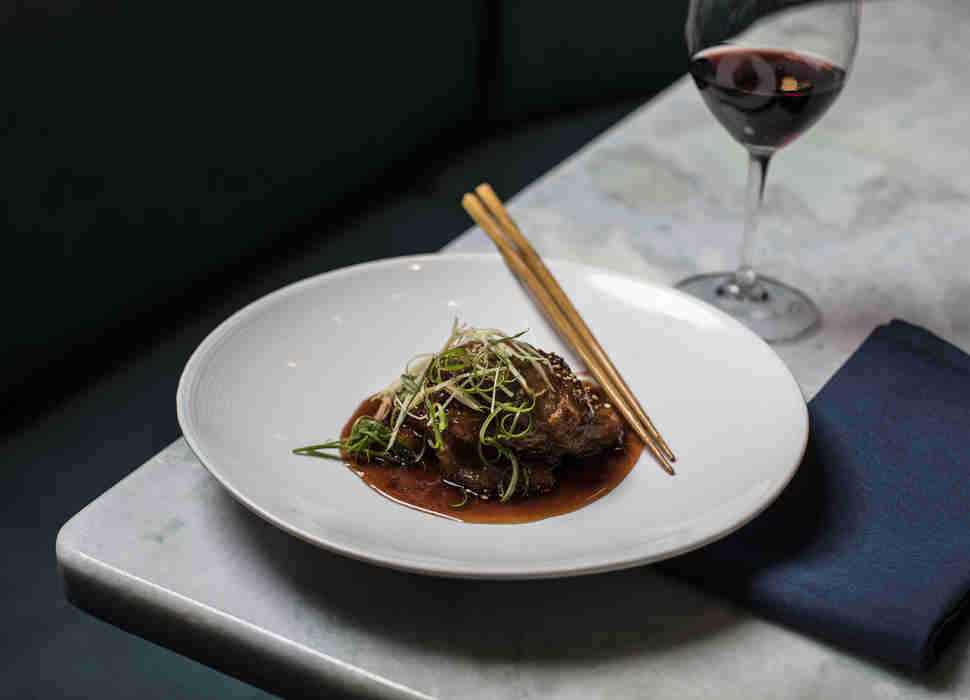 Downtown
A warmly lit spot for contemporary Chinese and Chinese-American cuisine alike
While it's not the straight-ahead, classic Chinese restaurant that some Nashvillians have been hollering for, Tànsuŏ, from celebrity chef Maneet Chauhan, is pretty impressive in its own right. The buzzing atmosphere and hip decor make it popular among the girls-night-out set, and the inventive takes on Cantonese cuisine will bring in the snobbier foodies, regardless of their proclivities to the party crowd. Try the lamb dumplings off the dim sum cart, Tànsuŏ's take on Chinese-American dishes like General Tso's, or give in to the party entirely and dig in to the Peking duck!
Midtown
A pun-filled, art deco diner that puts an international twist on American classics
Maneet Chauhan, celebrity chef and judge on Food Network's Chopped, has now opened three restaurants in the same building in the North Gulch. Mockingbird joins Chauhan Ale & Masala House and the above-mentioned Tànsuŏ to offer a trio of stylish, internationally-inspired eateries. Mockingbird features a gorgeous art deco vibe and kitschy mismatched plates to serve up fancified diner classics with clever names like Don't Worry, Brie Happy; Poultry in Motion; and Seoul Purpose. And while the names may be goofy puns, the food is seriously good. Don't miss out on The Bird is the Word: a plate of huge fried chicken thighs with chorizo decked out with white gravy and salsa verde mashed potatoes.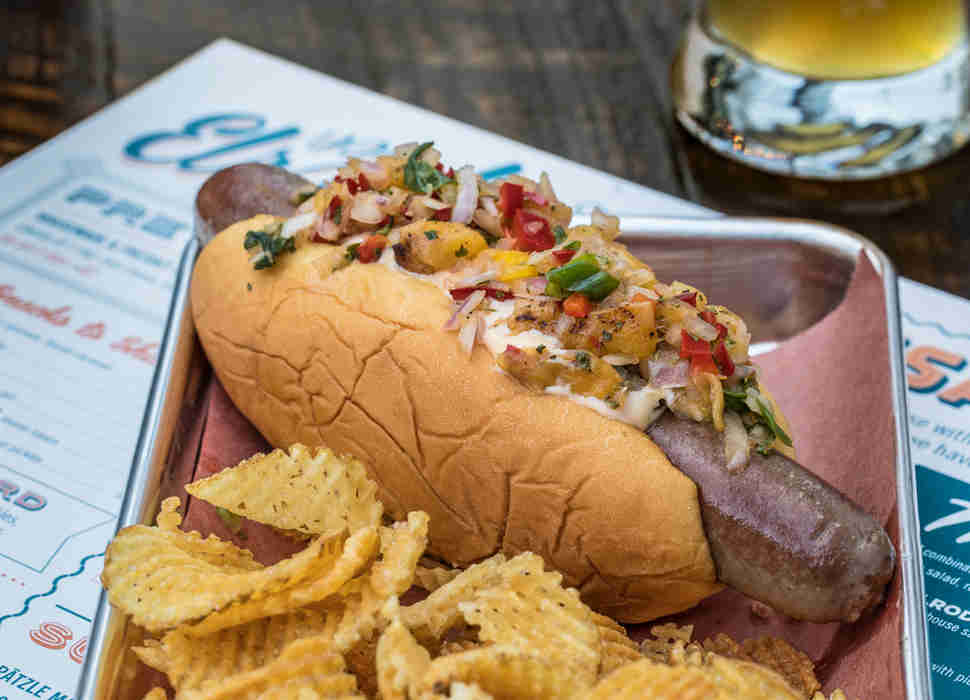 Germantown
Hand-cranked sausages and 36 taps of cold beer to choose from
This convivial new beer hall and sausage emporium is conveniently located right next to the city's minor league ballpark, so baseball fans can stop by for a pre- or post-game beer and a snack. These sausages are some of the best of the wursts in town, and decadent poutine dishes served over Belgian fries smothered in gravy and cheese will delight everyone except your cardiologist. For my money, try the vanh mi Thai chicken sausage topped with quick pickles and tiki sauce.
West End
A casual Italian empire sticks the landing in Nashville
Chef Gerard Craft had already earned a vaunted reputation (and a James Beard Award) in St. Louis before bringing an outpost of his empire to Music City, but now that he's here, he's quickly becoming a local favorite. The bright and modern interior of his casual Italian restaurant is invigorating, and the atmosphere is family-friendly. Craft's version of bolognese is decidedly old-school, thanks to the inclusion of earthy chicken livers just like Nonna would have added to her ragu, and the lasagna made with verde bolognese, spinach pasta, mozzarella, and bechamel tastes even better.
East Nashville
Spanish and Portuguese food from a menu that changes every day
This hip East Nashville tapas spot focuses on the food of the Iberian peninsula, which means you can expect plenty of excellent seafood dishes, exotic spices, and luscious Spanish hams. Order up a few small plates paired with a drink from their unique cocktail menu including eight (count 'em, eight!) varieties of gin and tonics and a host of Old World wines for a dining experience that is literally foreign to the neighborhood. The menu shifts every day, but try to get there while their excellent braised rabbit with garlic broth and piment d'Espelette is still on offer.
Sylvan Park
A tight menu focused on BBQ and burgers, tailored for comfort and flavor
Pat Martin is best known as the pitmaster/owner of the wildly popular Martin's Bar-B-Que chain, and he does serve a fine pulled pork sandwich at his new restaurant, Hugh Baby's. But the emphasis is on burgers, both the fresh-ground beef patties and the Friday-only special of Slugburgers -- a Mississippi tradition made with a deep-fried soy and a pork patty served with pickles, raw onion, and mustard. Don't sleep on Hugh Baby's hot dogs, either! They're exceptional. Hugh Baby's deliberately keeps its menu short and sweet, and the best thing to get is the double cheeseburger with American cheese, lettuce, pickle, onion, tomato, and comeback sauce.
The Gulch
A chic coffee shop best for enjoying the sweeter things in life
Brought to you by the team behind local favorites Taco Mamacita and Clyde's on Church, Milk & Honey is all about the sweet stuff. Gelato, paletas, pastries, and a top-notch coffee program are natural draws during the morning meal, but the restaurant stays open late to satisfy your breakfast for dinner desires as well. Everything is made from scratch, so it's fresh all day. If you get nothing else, try their Nutella latte.
Sign up here for our daily Nashville email and be the first to get all the food/drink/fun the Music City has to offer.