The pies, they are a-changin'. As Nashville continues to up its pizza game with the addition of Donato's, the total number of pizza joints in the mile between Pizza Perfect and DeSano is now at an even half-dozen. And that's just in that mile. If you've got a craving for a big baked bread circle topped with sauce, cheese, and whatever else -- look no further.
West End
While many Nashvillians claim to prefer Napolitano-style pizza, these same folks often complain that the middle of their pies get too soggy. Actually, this is a natural side effect of the VPN's process of using fresh tomatoes and a very short trip through the oven. What they probably really want is a cracker-crisp crust that is more like a New York-style pizza. NY Pie even offers a NY Sriracha chicken topped with "hipster ketchup."
Music Row (& other locations)
This popular pizzeria has more than doubled its seating area with the addition of a new bar and dining room, but crowds still pack the joint on weekend evenings. Fortunately, since the pizzas come out of the screamingly hot stone ovens within a couple of minutes, you still won't have to wait long for one of its premium pies, like the San Gennaro with San Marzano tomato sauce, sausage, peppadews, garlic, caramelized onions, scamorza, mozzarella di bufala, and Pecorino Romano cheeses.
Antioch
The ancient city of Antioch was one of the capitals of the Roman Empire, and there's definitely an Italian influence over this modern-day Antiochian pizzeria. There's nothing fancy about the plastic cutlery and styro plates, but its crispy, NY-style pie is worth the trip to the 'burbs.
As a bonus, you can hit the daily buffet and you won't need to make a choice of just one pizza variety.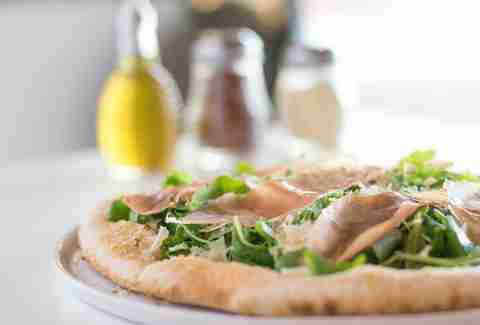 West End and Williamson County
Porta Via recently changed its name to emphasize that it is more than just a pizza spot. However, it still trades on its status as a VPN (Vera Pizza Napoletana)-certified pizzeria with super-traditional, Old World-style Italian. Add a menu of excellent pasta dishes and many varieties of gelato, and you've got lots of reasons to visit.
Music Row (& other locations)
The two boots in the name of this NYC-based pizzeria refer to the shapes of the state of Louisiana and the country of Italy, so it's no surprise that spicy Cajun flavors meld with Galbani whole milk mozzarella to create piquant pies. The pizzas are cheekily named after pop culture icons, so you'll have to read the menu closely to figure out the difference between "The Newman" and "The Dude." [Hint: the Dude really ties the room together.] A local favorite is "The Kitty," featuring hot chicken from Two Boots' neighbors across the street at Hattie B's.
Music Row (& other locations)
A Nashville favorite for more than 30 years, Pizza Perfect has fed generations of hungry Vandy students, specializing in NY/NJ-style pizzas along with pasta, sandwiches, salads, and calzones. The calzones are especially filling, so don't be afraid to ask for a box if your eyes are bigger than your stomach... because those overstuffed cheese bombs are bigger than your head.
Music Row (& other locations)
Tucked away in the middle of the Edgehill Village complex, Bella Napoli may have one of the quaintest courtyards in town. Enjoy a couple of slices and some Italian vino (by the glass) while live music entertains you under the lights of the patio. Particularly popular is the classic margherita, where the mozzarella di bufala holds up well to the infernal 800-degree oven that puts the perfect amount of char on the bottom of the salty crusts.
East Nashville
Sometimes you need a perfectly greasy slice served up on a paper plate. The walk-up window at Five Points Pizza is the perfect equivalent of a culinary disco nap when you need some extra fuel to continue your bad idea exploits from bar to bar in East Nashville. To accentuate the NY vibe, there are NO SUBSTITUTIONS allowed on those slices.
Downtown
At Manny's in the Arcade Downtown, they've got that authentic Noo Yawk attitude in spades. The décor is nothing to phone home about (except the front of the building), but the pizza is legit, with thin crust or Sicilian styles available hot out of the oven. Its stromboli and calzones are also worth a try. Pro tip: you can park in the Arcade alley between Church and Union, and they'll bring your carryout order right to the car.
Downtown
Joey's brother Manny split off from the family biz to open his own House of Pizza in an old sandwich shop right off of I-40 at Fesslers Ln. Originally from Brooklyn, Joey brought his family and its recipes with him, and it shows. Get anything with meatballs on it: pizza, pasta, hell...order 'em on a plate.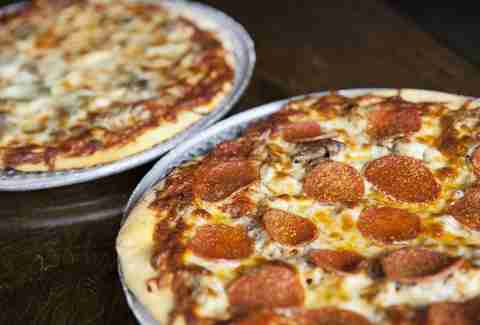 Germantown
If you've got some time on your hands and a hankering for some Chicago-style pizza, 312 Pizza Co. is the place to go. Good things come to those who wait, and the crowds and long cooking times of these deep-dish cheese bombs pretty much guarantee that you'll have to stretch your lunch hour to get in and out at midday. When your boss asks where you've been, blame it on the traffic.
Music Row (& other locations)
If you can get past the fake Foghorn Leghorn/Dr. John love child voice actor that Soulshine uses for its radio commercials, you'll actually find some decent pizza. Despite the fact that Two Boots -- just across the street -- also features down-home Southern ingredients in its pies, Soulshine goes further south (Bob Marley style) with Caribbean pulled chicken and jerk seasoning. Soulshine also earns a nod for its great selection of regional craft beers and nightly schedule of live entertainment upstairs.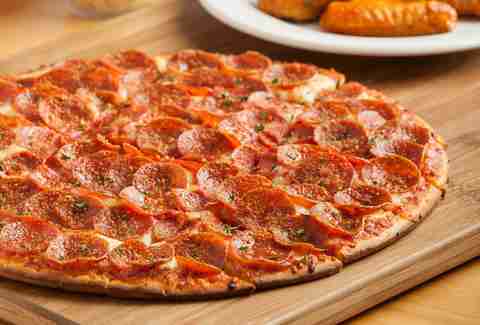 Music Row (& other locations)
Midwestern transplants to Nashville swear by this chain out of Columbus, OH, and for once, locals are actually listening to them. Thin crust pies are covered from edge to edge with tasty toppings and then cut into party-style square pieces for easy sharing. The Founders Favorite with heritage pepperoni, family recipe sausage, shaved ham, and banana peppers is particularly addictive. Don't keep count of how many slices you eat, since 12 sounds like a lot. And in a nod to its Music City location, Donato's actually features live music Thursday-Saturday nights.
Sign up here for our daily Nashville email and be the first to get all the food/drink/fun the Music City has to offer.
Chris Chamberlain is a lifelong Nashvillager who loves all sorts of pies: pot, apple, or pizza. A three-pie dinner would be a dream come true. Follow him at @CeeElCee.