The hardest part about wrangling all your friends into one place to eat is picking a venue that everyone will enjoy, and that will also -- kindly -- accommodate your large (and often rowdy) group. Have no fear, we're here to help: here are 11 restaurants in Nashville neighborhoods that are all great for large groups. You'll want to save this for later.
Melrose
Whether you're looking to buy out the whole restaurant, or simply reserve the lounge or one of its other private dining spaces, Sinema has you covered. The rock 'n' roll decor offers a unique experience for parties, and its innovative menus have something for everyone to enjoy. Sinema has options for parties of 24 all the way up to 300!
How to reserve: Online or info@sinemanashville.com
SoBro
Take one quick look at the map of Pinewood Social and you'll quickly understand why this venue is amazing for groups. Not only does it have a private dining room (which accommodates 16 people), but you can also reserve some or all of the bowling alley (which accommodates up to 40 people). The outdoor area, which includes a courtyard, bocce ball, and two small pools, is first-come, first-served, but can be reserved for special occasions.
How to reserve: events@pinewoodsocial.com
Downtown
This place is huge! It's three stories, and features various options for large groups, including casual dining downstairs as well as on the rooftop, which overlooks both the river and all of Downtown. For groups of 15-20, you can reserve a section of the second floor, which is ideal for cocktails and light bites. Acme also has a private dining and event space on the third floor with a beautiful view of the city and seating capacity for up to 200 people.
How to reserve: Online and reservations@theacmenashville.com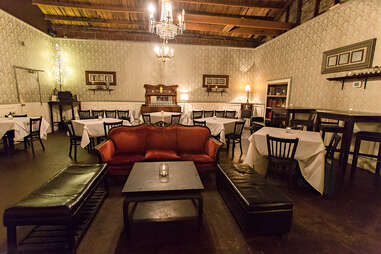 East Nashville
The Holland House is great for large groups that are looking for an intimate setting with the feel of a relative's old Victorian house. The James Room accommodates parties of up to 60 (or even smaller parties of just 20). For smaller parties, the furniture will be arranged so that there's a dining area as well as several lounge areas for before and after the meal. For an extra fee, the courtyard can also be reserved.
How to reserve: Online or gghollandhouse@gmail.com
The Gulch
Sambuca has several options for large groups, ranging from renting out the entire restaurant to accommodate 500 people, to reserving the sky loft to seat 80, to reserving a space for cocktails and hors d'oeuvres for just 10. It also has a robust menu with lots of options to satisfy even your vegetarian and gluten-free friends.
How to reserve: Online
12South
Josephine's private room is the perfect setting for large group gatherings, and the fact that it's closed off from the rest of the restaurant makes it ideal for groups a bit on the rambunctious side. The room seats 24 and requires that the party order from a set menu which can be customized ahead of time.
How to reserve: Ashley.Dehnke@CommunityHospitality.com
Hillsboro Village
Cabana is ideal for groups of 12 people or less. Its private cabanas are especially popular for bachelorette parties with naughty and nice baskets that can be purchased for the table (complete with tiara and all). The curtains to the cabanas can be closed (for maximum privacy), and each booth has a plugin that allows you to play your own music, watch your own movie, or control the TV so that you don't miss... whatever the hell bachelorette parties watch (Armageddon, maybe?). For larger events, you can also rent out the back patio to seat up to 150.
How to reserve: events@cabananashville.com
Midtown
Because everyone wants to eat their New French cuisine sitting atop swanky peach-colored booths, right? Le Sel has several great group options depending on your needs. You can either rent out the sophisticated private dining room that's upstairs (seats 24), or you can reserve the downstairs bar area for cocktail parties.
How to reserve: Online or 615-248-8458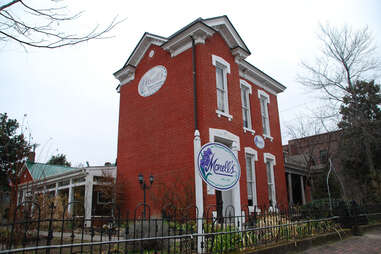 Germantown
Monell's is set up for group dining, with large family-sized tables positioned throughout the restaurant. Ordering is easy because there's a fixed menu each day, with large dishes being served to the whole table. There are certain rules for dining at Monell's, however: pass to the left; take as much food as you want, but eat all that you put on your plate; and the most strictly enforced rule, no cellphones at the table.
How to reserve: The only downside to Monell's is that it does not take reservations. So, we recommend that you get there on the earlier end of lunch/dinner to ensure that you can get a spot at one of the family-sized tables.
Berry Hill
The Pfunky Griddle can be rented out to seat parties of 40 or more (but is not available during breakfast and lunch hours on Saturday and Sunday). Each table in the restaurant is equipped with a large griddle in the middle so that you can create your own funky pancakes. If you don't want to rent out the whole restaurant, you can still go with a big group and sit at one of the larger tables.
How to reserve: (615) 354-4294 to rent out the whole restaurant, otherwise it's first-come, first-served
West End
This restaurant is best saved for those times when you really want to impress your boss -- or your significant other's extended family who you are meeting for the first time. Its two private rooms are more on the formal side of dining, and can seat parties of up to 12 and as large as 22.
How to reserve: cmiller@1808grille.com

Sign up here for our daily Nashville email and be the first to get all the food/drink/fun the Music City has to offer.
Brita is a Nashville-based food photographer who always finds a way to get invited when the party is being held at one of these places.