RIP: 10 shuttered Nashville bars & restaurants that we'll miss
As we reflect back on the year that Nashville surged to the top of many best-dining-scene lists across the nation, we should pause and recognize some of our fallen brethren that left us in 2014. As any great journey to excellence goes, there were some casualties along the way. Let us take off our caps and pay our respects to these 10 shuttered bars and restaurants we will miss.
Watanabe
East Nashville
After six years of loyally serving sushi to the East Nashville community, Watanabe announced it would not be renewing its lease and closed mid-November. Not only was it hard to find great sushi in that part of town, but its no-frills atmosphere and good food on the cheap was becoming even more of a rarity, thus making it harder to let go.
 
Boscos
Hillsboro Village
It just wasn't cool. I think what hurt the most was the not knowing why. Not even a goodbye letter or post-it of farewell. In September, "loyalty members" received an email notification from corporate (before employees!) that Boscos Nashville would close its doors after 19 years in the Hillsboro Village location, a month after they closed the Cool Springs location. Boscos, I loved your Flaming Stone and it stings that you still pop up on my GPS.
Music City Tippler
Midtown
A short-lived effort for another restaurant trying to survive the seemingly difficult retail space of the Adelicia building, Tipler served its last Moscow Mule earlier this fall. It had a cool vibe, inspired by the NY location, and we will miss those late-night dance parties that got weird quickly, as well as packing out that tiny patio on hot summer nights.
Fiddle & Steel Guitar Bar
Downtown
One doesn't often admit having ended up here after a long night out, but we all have done it on more than one occasion and it holds a special place in our hearts. After 18 years in the famed Printer's Alley, Fiddle & Steel has bowed out gracefully after a multi-million-dollar purchase took control of the building and two others with plans to convert to a boutique hotel. Yuck. New Year's will be its last hurrah in the alley.
Past Perfect
SoBro
For over eight years, Past Perfect was the neighborhood bar and restaurant to many Downtown residents. But rather than mourning its house-infused vodka concoctions and dimly lit, laid-back saloon style, there is hope on the horizon. The owner claims to be working on a new concept in another SoBro location. 
 
Café Fundamental
East Nashville
A neighborhood favorite, the French brasserie nestled into the unassuming space across from The Family Wash announced the closing mid-summer when Chef Jamie Watson needed to take a step back for health reasons. Watson is currently working on other ventures including a bar/restaurant in Marathon Village, but there are no opening dates as of yet.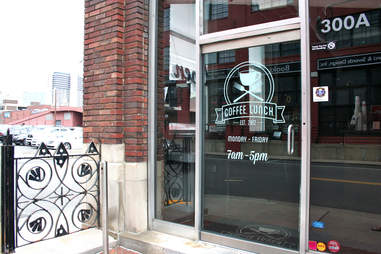 Kendall Mitchell Gemmill
Coffee, Lunch
SoBro
Coffee, Lunch was the perfect neighborhood spot for Downtown businesses and residents to run in and grab, well, coffee and/or lunch. This wasn't your average sandwich shop either. Most of its salads and sandwiches rotated seasonally, but its classic steak sammie was one of the best in town. 
 
Rumours Wine Bar
The Gulch
The beloved Rumours, which garnered a loyal fan base over its seven-year run in the 12th South neighborhood, moved to a corner spot at the bottom of the Icon building in early 2013. After about a year and a half in business, the owners announced that rising rent prices and lower foot traffic contributed to its struggle and reason for closing. Dammit!
Antica
East Nashville
It was short lived (about eight or nine months), but Antica had all the right pieces to the puzzle. Chris Stowe (a veteran to the Nashville dining scene) at the helm, a delicious tapas-style menu, and a convenient location within the retail space of 5th & Main. However, the force was not strong enough with this one, and was consequently shuttered to make way for a bacon-themed sports bar, Field House.
 
Eastside Fish
East Nashville
Again, the Eastside took some hits this year. Eastside Fish, located just off Gallatin Pike, closed at the beginning of the year without much notice or reason. Eastside Fish was home to the Giant King Fish sandwich on white bread with pickles, drenched in hot sauce and mustard. We will sorely miss the "crunkest" fish in town.
Sign up here for our daily Nashville email and be the first to get all the food/drink/fun the Music City has to offer.