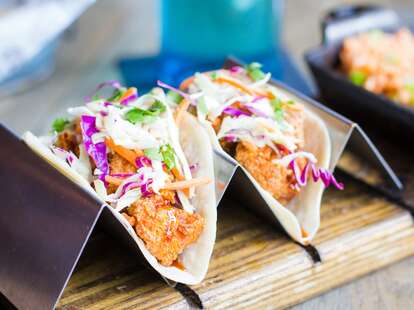 Brita Britnell/Thrillist
Brita Britnell/Thrillist
Chicago has its deep dish pizza. Philly has its cheesesteaks. Seattle has its absurdly milky coffee. And Nashville has its hot chicken. Visitors come from all over to burn their tongues at places like Hattie B's, Bolton's, and Prince's, but there's more to the city's hot chicken scene than just the iconic spots -- that's why we tracked down the spice-laden dishes from restaurants you won't find on any hot chicken best-of list, including Nashville Lifestyles, Visit Music City, and yours truly.
Hot Chicken Buns
Otaku South (address and info)
East Nashville
What goes perfect with a big bowl of ramen? Nashville hot chicken topped with kewpie slaw on a steamed bao bun. Obviously. The Hot Chicken Buns are on its "Snacks" menu and make for the perfect appetizer.
Nashville Hot Chicken
Tenn Sixteen Food & Drink Co. (address and info)
East Nashville
When Tenn Sixteen first opened its doors, it did not feature hot chicken on its menu because the head chef wanted to make sure that he did Nashville hot chicken justice. He traveled around to all of the best hot chicken joints in town and tested his own recipe until he perfected it, using fresh ginger and white pepper.
WK Hot Chicken
Whiskey Kitchen (address and info)
The Gulch
At Whiskey Kitchen, the WK Hot Chicken is one of its chef's specialties, and for good reason; it's cooked up Southern-style in an iron skillet and served with creamy chipotle mac & cheese (which deserves an article all on its own). And since you're there, you might as well pair your hot chicken with some world-class whiskey.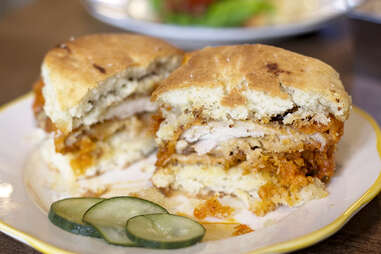 The Princess
Biscuit Love (address and info)
The Gulch
We mentioned Biscuit Love in our round-up of The Best Breakfast Spots in Nashville, but we're listing it again because its biscuits really are that amazing. Its take on hot chicken comes in the form of this buttery & delicious hot chicken biscuit that's drizzled with honey and served with pickles (naturally).
Nashville Hot Nuggets
The Sutler Saloon (address and info)
Berry Hill
Hot chicken makes an appearance on The Sutler's delicious menu in the form of delicious Nashville Hot Nuggets. The dish consists of buttermilk-battered chicken breasts, livers, and gizzards served in the traditional fashion: on top of a thick piece of toast with a side of pickles. Find them on the "Late Nite Eats" and "Snacks" menus, and never look back.
Hot Chicken + Waffles for brunch and Hot Chicken Tacos for lunch or dinner
Saint Añejo (address and info)
The Gulch
Saint Añejo is a Mexican restaurant in the Gulch with a rock & roll vibe to complement an interesting menu. It features several hot chicken options, incl. Hot Chicken Tacos, Hot Chicken Skillet Nachos, AND its new brunch menu was just rolled out, which includes this Hot Chicken + Waffles dish topped with -- get this -- a cream cheese drizzle.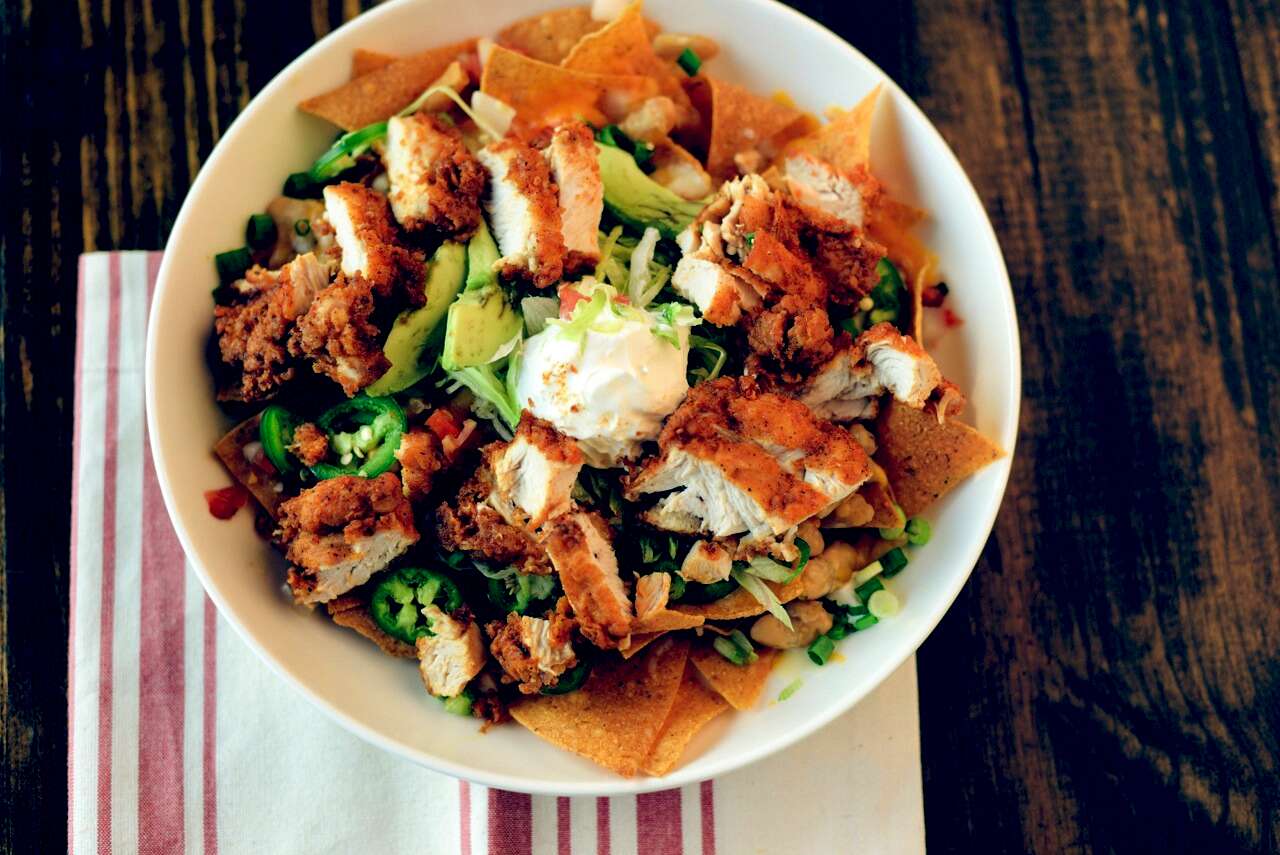 Fried "Hot Chicken" Nachos
Party Fowl (address and info)
The Gulch
Party Fowl is new to the hot chicken scene in Nashville and it has some unique dishes, ranging from Fried "Hot Chicken" Nachos to Hot Chicken Po' Boys and Hot Chicken Breast & Beignets. Its nachos are made with homemade bacon-fried tortilla chips, and topped w/ hot chicken plus all of the usual nacho trimmings.
Sign up here for our daily Nashville email and be the first to get all the food/drink/fun the Music City has to offer.